Donald Trump Appears to Tell Female Reporter, 'I Know You're Not Thinking, You Never Do'
President Donald Trump had a hostile encounter with ABC News Senior White House correspondent Cecilia Vega during a news conference Monday.
During a Rose Garden speech about a proposed White House trade deal between the U.S., Mexico and Canada, the president called on Vega to ask a question. "She's shocked that I picked on her. She's like in a state of shock," he joked. Vega answered "I'm not, thank you," to which the president accused the reporter of not thinking.
"That's okay, I know you're not thinking, you never do," he appeared to say.
Vega next attempted to ask a question about Supreme Court nominee Brett Kavanaugh, and the president refused. He'd talk about Kavanaugh "later," he said. "How about talking about trade, and then we'll get to that." After asking a question about trade and then pressing once more on Kavanaugh, a White House aide took away her microphone.
The president did eventually come back to Vega for her Kavanaugh question, but when she asked a follow-up, he told her "you don't understand what I'm saying, you do understand you just won't report it that way."
Vega later tweeted about the president's attempts to push her question. "A news conference means you get to ask whatever question you want to ask #FirstAmendment," she wrote.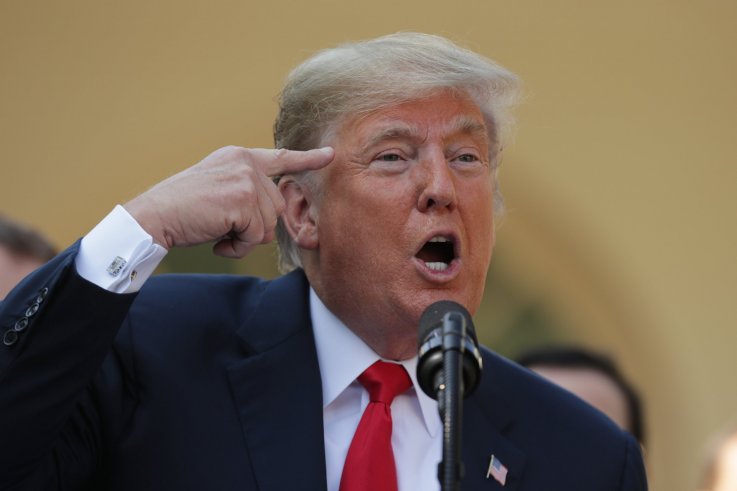 In another tense interaction during the press conference, Trump shouted down CNN reporter Kaitlan Collins as she attempted to ask a further question about Kavanaugh.
"Now that you've answered several questions on trade, I'd like to turn to Judge Kavanaugh," she said.
Trump interrupted her question and tried to move on to another reporter. "Don't do that. Excuse me. Do you have a question on trade? We'll do one or two more questions on trade," he said to Collins. "Don't do that. That's not nice, and besides that, somebody is before you." A White House aide removed her microphone.
Later, Trump returned to Collins, but cut her off once more when she attempted to follow up on her question. "You know what, you've really had enough. You've had enough," he said.
Former White House Director of Communications and Director of Communications for the Hillary Clinton 2016 presidential campaign later weighed in on Trump's comments, tweeting that, "intimidation like that is last ditch method from men like to maintain control over women. And it won't work."
Trump did end up commenting extensively on accusations of Kavanaugh's sexual assaults and the FBI investigation into them.
"What he's gone through over the last three weeks is incredible," he said. "It's unfair to him at this point."
He also said that Kavanaugh did have "difficulty" with drinking, but that he seems to have since overcome that difficulty.
Kavanaugh has faced allegations of sexual misconduct by three women, Christine Blasey Ford, Deborah Ramirez and Julie Swetnick. He denies all allegations.
Donald Trump Appears to Tell Female Reporter, 'I Know You're Not Thinking, You Never Do' | U.S.