Donald Trump 'Thinking About' Defying Supreme Court and Issuing Executive Order for Census Citizenship Question
President Donald Trump isn't relenting in efforts for his administration to add a citizenship question to the 2020 census, despite the Supreme Court already blocking such an attempt.
The president told reporters Friday he was "thinking about" issuing an executive order and unilaterally imposing the question, a move that would defy the Supreme Court and would likely delay the questionnaire, as it's already begun to be printed by the Department of Commerce.
Trump further said he believes he has several options to add the question, which critics have opposed because they argue it would deter minorities and undocumented people from responding. The census, among other things, is used to redraw congressional districts based on populations and could impact the political landscape of Congress for a decade.
"We're thinking about doing that," Trump said of an executive order. "It's one of the ways—we have four or five ways we could do it. We're doing well on the census."
He later acknowledged that the census would be used to redraw congressional districts.
"No. 1, you need it for Congress — you need it for Congress for districting," Trump continued. "You need it for appropriations — where are the funds going? How many people are there? Are they citizens? Are they not citizens? You need it for many reasons."
Any effort to circumvent the Supreme Court by way of executive order would also likely act as fuel to the fire for the dozens of House Democrats who have advocated for an impeachment inquiry into the president to be initiated.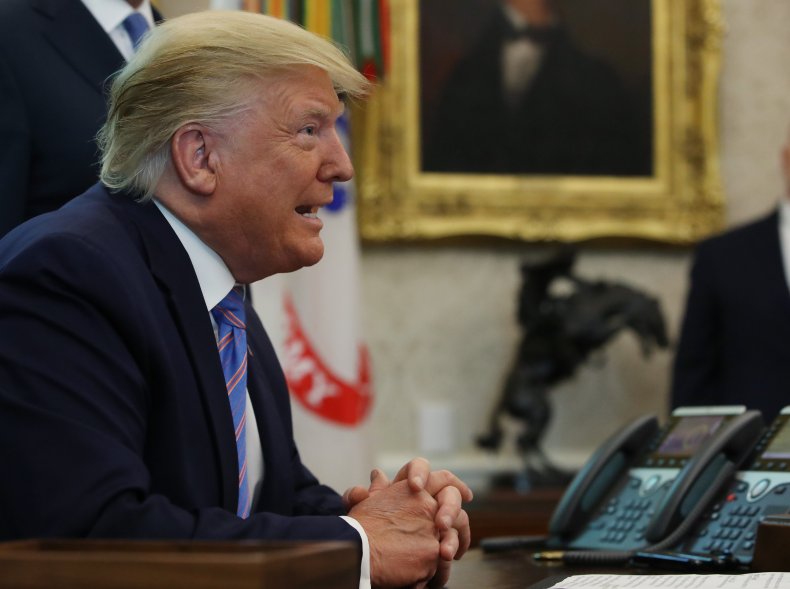 In a major reversal from his own administration, Trump said in a tweet Wednesday he was "absolutely moving forward" with the citizenship question. Just hours prior, the Justice Department confirmed to Newsweek it was dropping a legal effort to include the question. But the agency said later in the day it had changed its position and aligned with Trump.
The Supreme Court last week blocked the Commerce Department from adding a citizenship question, with Chief Justice John Roberts alleging the stated reasoning that the question would help enforce the Voting Rights Act was "contrived" and lacked justification.
"Accepting contrived reasons would defeat the purpose of the enterprise. If judicial review is to be more than an empty ritual, it must demand something better than the explanation offered for the action taken in this case," Roberts wrote. "We do not hold that the agency decision here was substantively invalid. But agencies must pursue their goals reasonably. Reasoned decision-making under the Administrative Procedure Act calls for an explanation for agency action. What was provided here was more of a distraction."
In a tweet, Trump blasted the court's decision as "totally ridiculous." He contradicted the Justice Department by saying he requested if lawyers could "delay the Census, no matter how long." It's unclear how he would do so, as the Commerce Department has said it's already begun to print the 2020 census. And under current law and the Constitution, a president's ability to delay a census is restricted.
Speaking to reporters, Trump gave his take Friday on what Roberts meant by his written legal opinion.
"The judge didn't like it. I have a lot of respect for Justice Roberts, but he didn't like it," Trump said. "But he did say, 'Come back.' Essentially, he said, 'Come back.' That's what he was saying. So, we'll see what happens. We could also add an addition on, so we could start the printing now and maybe do an addendum after we get a positive decision."