Donald Trump Says 'Chain Migration' Immigrants 'Are Not the People That We Want'—That Includes Melania's Parents
President Donald Trump in a speech on Monday pushing his immigration agenda amid the longest ever government shutdown spoke out again against people who come to the United States through "chain migration"—like his own in-laws.
"Do you think the country is giving us their finest? No, they're not. No, they're not. They're giving us the opposite of their finest," Trump said at the American Farm Bureau Federation's 100th annual convention in New Orleans, referencing Mexico.
The president continued that "doesn't work out too well, this lottery system," but that it is the law "passed by Democrats and I guess Republicans."
Trump continued that they are "sick, demented laws that have to be changed," ripping the visa lottery and people who enter the U.S. through the lottery or chain migration, a term used to reference a program that allows U.S. citizens to sponsor their immediate family members for legal residency. It is the program that first lady Melania Trump used to put her parents from Slovenia on the path to American citizenship.
"The people that are sent to our country are not the people that we want," Trump announced. "They come in through the lottery, they come in through chain migration."
President Trump then referenced a man who killed eight people and injured a dozen others and claimed he had 22 relatives coming in or already in the U.S.
"It's very hard because the Democrats don't want to change them, but I hope that common sense and people like this can persuade them," the president said of the immigrant laws. "Because it's gotten to a point where you have to. We really have no choice. And we're fighting hard, we're fighting really hard for you and we're making a lot of progress, I can tell you that."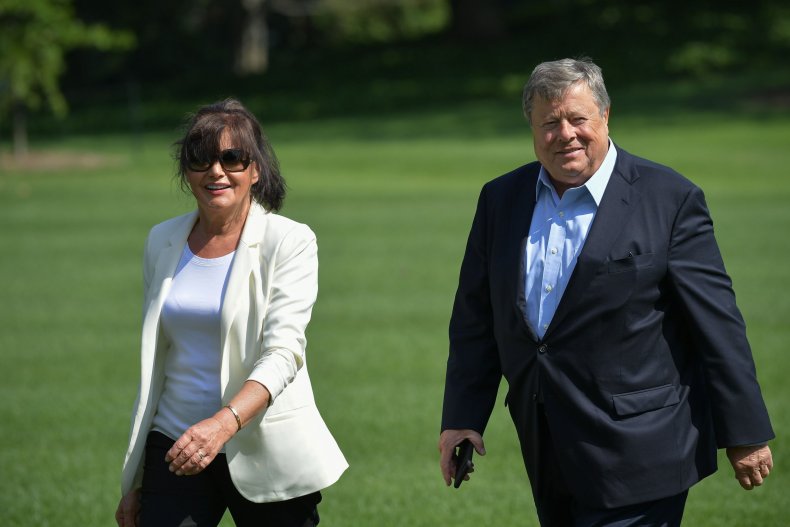 Melania Trump's lawyer Michael Wildes in August confirmed that the first lady's parents, Viktor and Amalija Knavs, obtained their U.S. citizenship through chain migration, after refusing to explain for some time. It is a program that the president has repeatedly spoken out against and threatened to end.
Wildes told The New York Times: "I suppose" the Knavs went through chain migration, adding that, "It's a dirty—a dirtier word," and that "it stands for a bedrock of our immigration process when it comes to family reunification."
The president in November 2017 tweeted: "CHAIN MIGRATION must end now! Some people come in, and they bring their whole family with them, who can be truly evil. NOT ACCEPTABLE!"