President Donald Trump's legal team reportedly paid a former porn star, Stephanie Clifford, $130,000 for her silence after an alleged sexual encounter while he was married to Melania Trump.
Related: Who is Stormy Daniels? Trump paid former porn star Stephanie Clifford $130K to keep quiet
Clifford, 38, who goes by the adult-film name Stormy Daniels, said she had a sexual encounter with Trump in July 2006 at a celebrity golf tournament in Lake Tahoe, The Wall Street Journal reported Friday. In October 2016, Trump lawyer Michael Cohen organized a payment to prevent Clifford from discussing the alleged encounter with Trump, according to the report. It is unclear whether Trump was aware of the payment.
Cohen told the Journal that Trump and Clifford deny that the incident occurred and called the allegations "outlandish" and a "false narrative."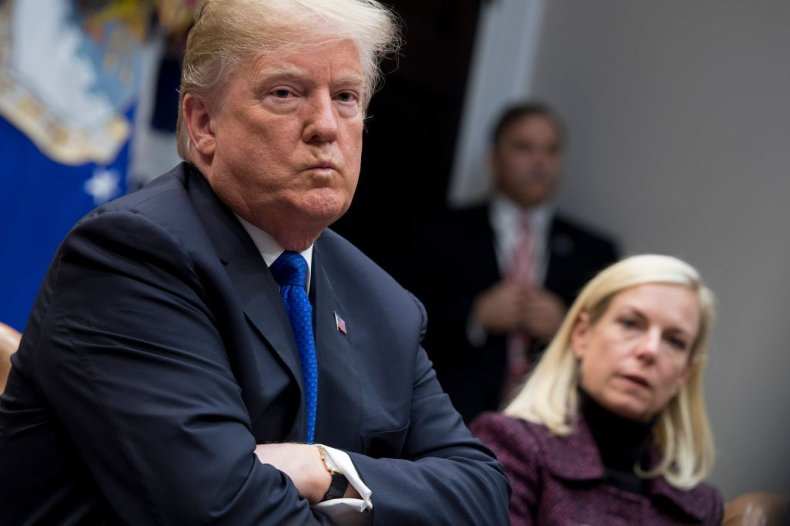 Trump and Melania were married in 2005, a year before the alleged encounter. Trump has repeatedly denied separate reports that he has engaged in inappropriate sexual conduct with any women. Melania has never publicly commented on allegations of Trump's unfaithfulness, which have emerged multiple times during their marriage.
Trump reportedly cheated on his first wife, Ivana Trump, with Marla Maples in 1990. He divorced Ivana—his wife of 15 years and the mother of Donald Trump Jr., Ivanka Trump and Eric Trump—in 1992. Maples would go on to become Trump's second wife in 1993 and the mother of Tiffany Trump. Maples and Trump divorced in 1999, and he dated Melania for several years before they married. Melania is the mother of 11-year-old Barron Trump.
The Wall Street Journal reported in November 2016 that Trump had an affair with Karen McDougal, the 1998 Playmate of the Year, in 2006. McDougal was slated to share her allegations in a $150,000 story for the National Enquirer, but the article was never published.
Around the same time as the reported payout, Trump's presidential campaign was hit with allegations that he had sexually harassed women, including a recording that Trump apologized for. In it, he says: "You know, I'm automatically attracted to beautiful—I just start kissing them. It's like a magnet. Just kiss. I don't even wait. And when you're a star, they let you do it. You can do anything."