Donald Trump 'Cherishes Women,' Says Fox News Host Jesse Watters, Dismissing Allegations of Harassment
Fox News host Jesse Watters on Tuesday night rejected suggestions that President Donald Trump should apologize to women who have accused him of sexual impropriety, claiming Trump has helped the women's careers.
On Sean Hannity's show Tuesday, guests Watters and Jessica Tarlov discussed Bill Clinton's failure to apologize to Monica Lewinsky over the affair that resulted in the Democrat president's 1998 impeachment.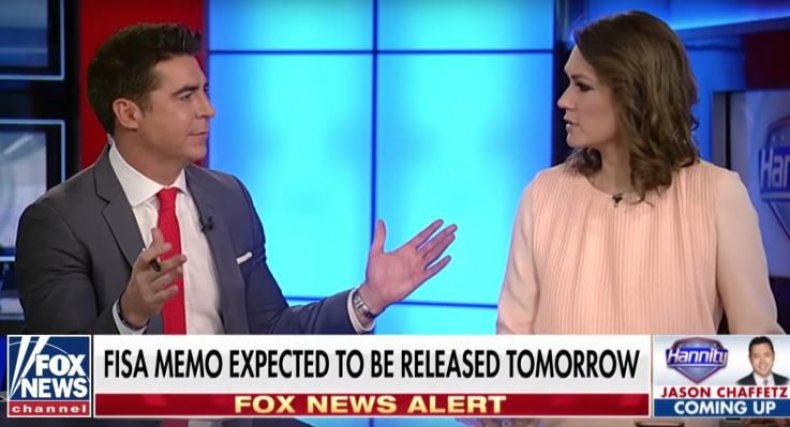 "I think he absolutely should have apologized to her. I think that Hillary Clinton should also have said it was a mistake, and it was an abuse of power, that's fundamental to the #MeToo movement," said Fox News contributor and political consultant Tarlov
Watters agreed, and alleged that Hillary Clinton had sought to discredit Lewinsky.
"She never got the apology and let's remember Hillary ran that war room — where they fought those 'bimbo eruptions,' and that's a so-called 'bimbo eruptions,' that's not even my language. They called her a floozy, a psycho, a grifter and a clinger," Watters replied. "So, the #MeToo movement has totally boomeranged on the Clintons and they should own up to it."
Tarlov said that "maybe Donald Trump could also apologize to all the women he has taken advantage."
Watters—who is in the midst of a divorce following allegations he had an affair with a colleague— defended the president.
"What do you, mean Miss USA?! He gave those women a lot of opportunities Jessica, come on!" Watters said. "He cherishes women."
Trump is the former owner of beauty pageants Miss USA and Miss Teen USA. Shortly after the release of the Access Hollywood tape in 2016 on which Trump boasted of groping women, former Miss Teen USA contestants said that Trump would enter their dressing rooms while they were changing.
Temple Taggart, a former Miss Utah, told the New York Times in 2016, that Trump kissed her against her will on two occasions.
The president has been accused of sexual assault or inappropriate sexual behavior by 22 women in total. He has also been accused by his former attorney, Michael Cohen, of violating campaign finance laws by authorizing payments to an adult actress and a Playboy model who say they had affairs with him in order to secure their silence.
Trump has denied allegations of sexual impropriety, and has denied having affairs with the women paid off by Cohen.
Donald Trump 'Cherishes Women,' Says Fox News Host Jesse Watters, Dismissing Allegations of Harassment | U.S.