Trump Chicken Calls Donald Trump Out for Being Too 'Chicken' to Release Tax Returns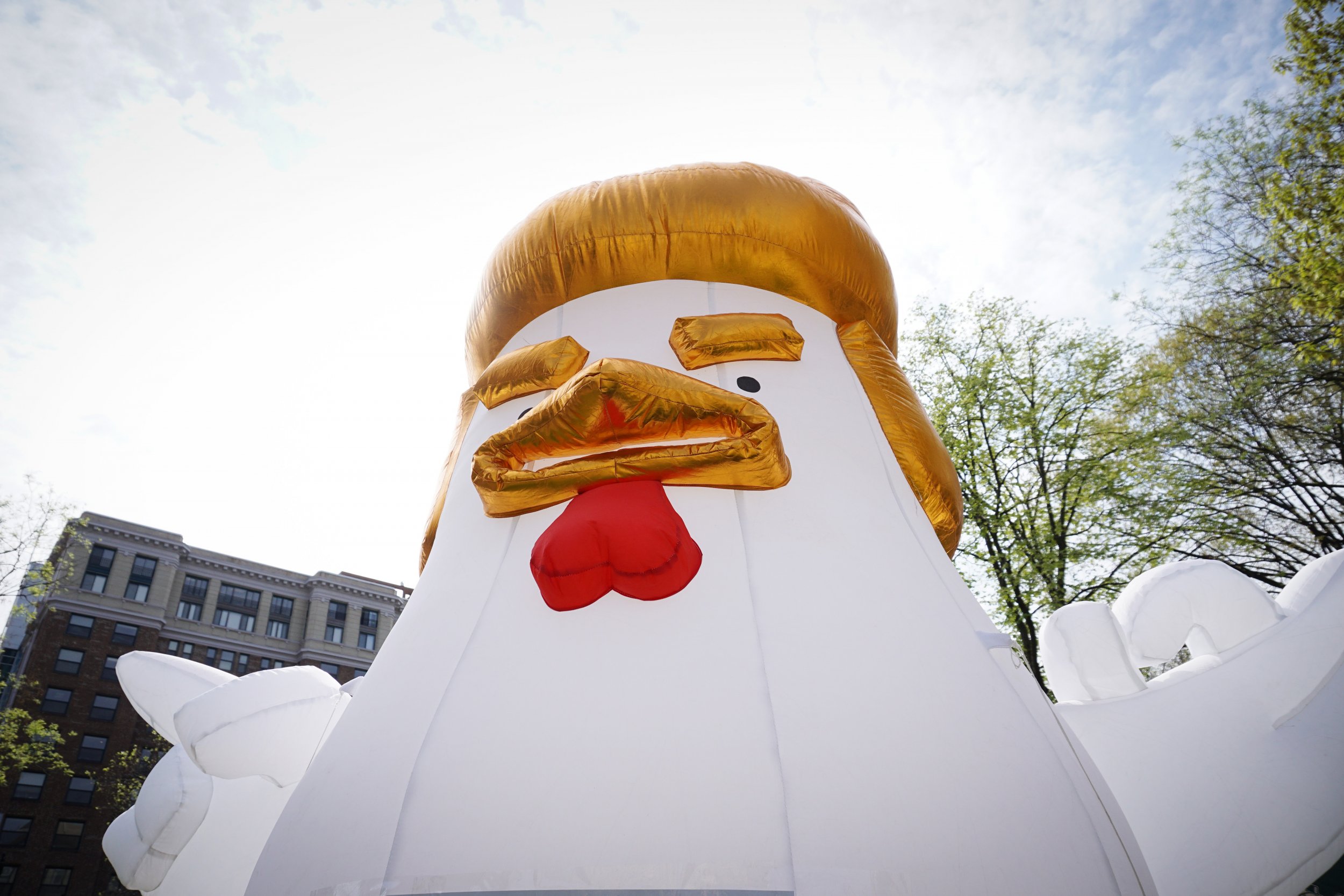 Those in favor of President Donald Trump releasing his tax returns took their message to the National Mall in Washington, D.C., on Wednesday, with an inflatable chicken.
The Tax March Chicken, as the group refers to it, is a large inflatable chicken standing at about 30 feet tall that's fashioned to resemble Trump. Its appearance was an effort by the event's organizers, Tax March, to convince Trump to release his tax returns and to call him out for being too "chicken" to do so.
The chicken arrived in Washington, D.C., one day after The New York Times released an article about "dubious tax schemes" Trump allegedly participated in during the 1990s. The article contrasted Trump's campaign claims that he was a self-made man with the amount he reportedly received from his father, Fred Trump's, real estate company.
The amount Fred Trump's company gave Donald Trump would be equivalent to $413 million today, according to the Times. The article claimed Donald Trump and his siblings also helped his parents dodge taxes by taking improper tax deductions and disguising millions of dollars in gifts.
On behalf of the family, Donald Trump's brother, Robert Trump, said that all appropriate gift and estate tax returns were filed after their parents passed away.
"Our family has no other comment on these matters that happened some 20 years ago, and would appreciate your respecting the privacy of our deceased parents, may God rest their souls," Robert's statement to The New York Times read.
In response to the article, Trump tweeted that the "failing New York Times" did something he's never seen done before in his life.
"They used the concept of 'time value of money' in doing a very old, boring and often told piece on me," he tweeted.
The push to get Trump to release his tax return began during his candidacy and has continued since he became president. In April 2017, a march was held in protest of the president not releasing his tax returns and has since grown into a self-described "national movement," Tax March. According to its website, the group is led by "working Americans who are tired of systems that are rigged in favor of the super-rich."
In light of the recent New York Times article, Senator Orrin Hatch told CNN on Wednesday that Trump may have to release his tax returns but contended that if Hatch were Trump, he wouldn't want to give them up.
Hatch called it "funny" that The New York Times wouldn't bring the accusation up during the 2016 presidential election and added that he would be "happy" to look into the report.
Taran Singh Brar told the front-page editor of Huffington Post, Philip Lewis, that he purchased the inflatable chicken for $1,300 and that it serves as a visual protest.
"Trump is too chicken to release his tax returns, to stand up to Putin," Brar told Lewis.
In aerial shots of the area, the chicken is visible from the White House, where the president and his family reside.