Trump Retweets Video Where He Asks Young Girl If She Has 'A Lot Of Money'
President Donald Trump retweeted an older video on Monday morning of himself greeting a young fan, in what appears to be the lobby of a Trump hotel, and asking the child if she's rich.
The video, which was reposted by conservative British media personality Katie Hopkins, is captioned, "This is Trump off camera. Making time for ordinary people. Caring for the regular voter & their child. This is why he wins."
The president, however, is on camera and can be seen in the video stopping to chat with a group of supporters as he makes his way through a lobby. In the group is a young girl who the president asks, "Are you a Trump fan? You'll vote for Trump in 10 years, right?" (It's unclear when the video was filmed, but presidents are only eligible to serve in the oval office for eight years.)
A man accompanying the young girl then tells Trump how nice his hotel is and says they come there all the time.
The president asks a woman, "Are you mom?" when she says yes he looks at the girl and says, "look what you produced!" The man explains that the family hail from California and the Philippines, the president the goes to sign the child's campaign poster and asks, "Is she rich?"
Trump then looks at the girl and asks, "Do you have a lot of money?" He then says thank you and walks away.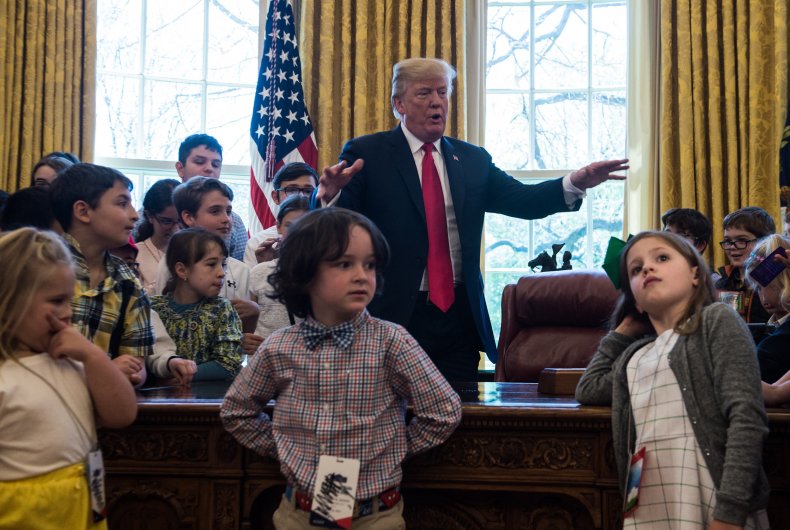 The president responded to Hopkins on Twitter by reposting the video and writing, "Thank you Katie!"
Hopkins is a popular far-right media personality and activist in England who became famous after appearing on the UK version of The Apprentice. The president has retweeted her complaints against London's first Muslim mayor, Sadiq Khan, and immigrants in Germany who she referred to as "Merkel's migrants." Hopkins has publicly called migrants "cockroaches" and said that there should be a "final solution" for Muslims.
This is at least the fifth time in recent months that Trump has retweeted Hopkins.
Hopkins responded to Trump's retweet on Monday. "No, thank you President Trump. Because of you and the 64 million GREAT Americans who voted for you - Britain finally has hope," she wrote.
This is not the first time the Trump has discussed money with young children. The president took time to speak to the kids of White House reporters last April during "Take Our Sons and Daughters to Work Day" where he told them that "our economy is at a level that perhaps it's never been at and all over the world they're talking about our great country and how well we're doing."
He also issued some advice to the young children.
"Never take drugs, don't drink alcohol, don't smoke, enjoy your life. You don't need it. It causes a lot of problems. So just remember that. If you learn one thing — I didn't come up here to say that, but I will say it. I say it all the time to my kids," he said.