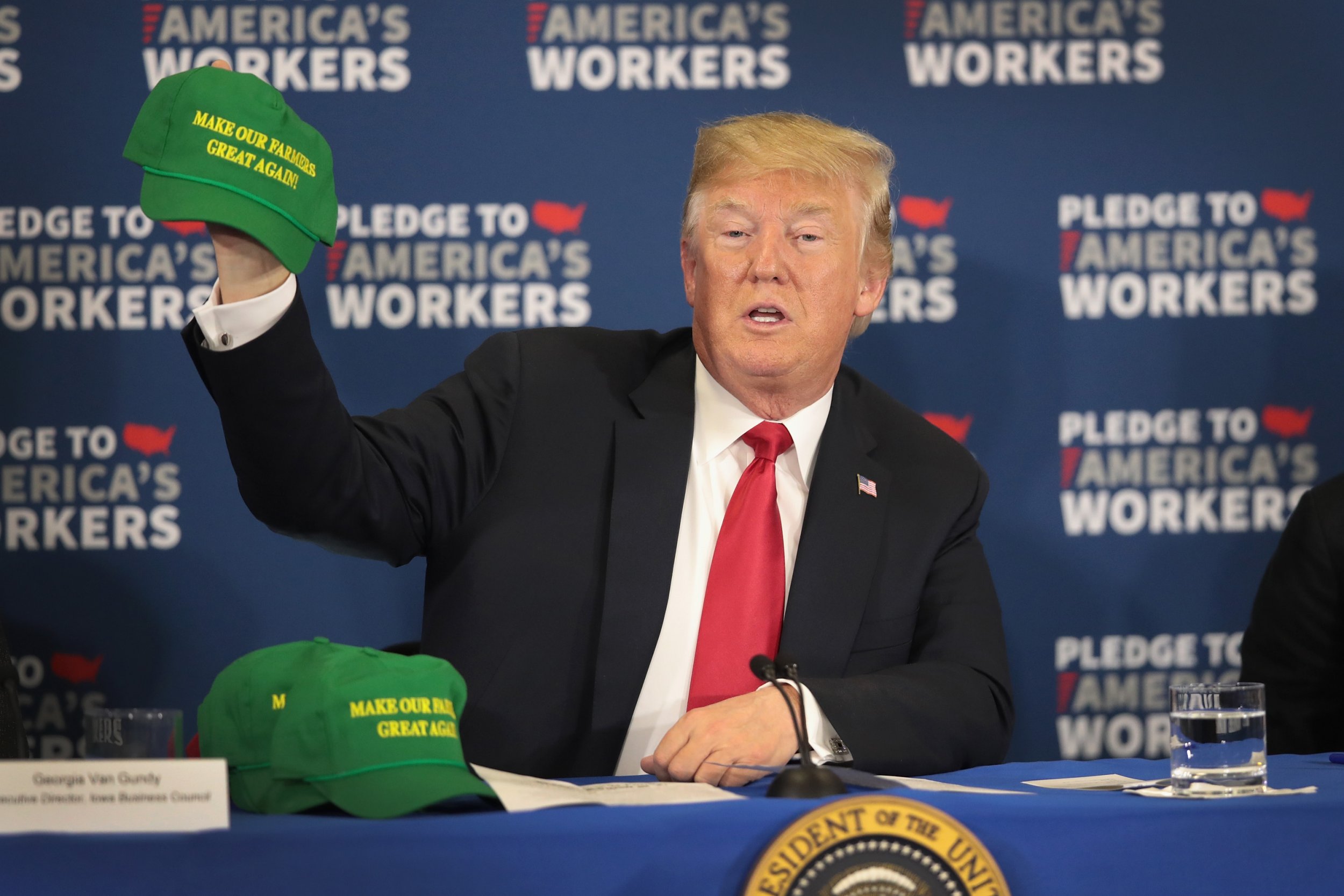 President Donald Trump on Tuesday morning accused China of trying to interfere in United States elections by attacking American farmers, ranchers and industrial workers who Trump said were loyal to him.
"China has openly stated that they are actively trying to impact and change our election by attacking our farmers, ranchers and industrial workers because of their loyalty to me," Trump tweeted. "What China does not understand is that these people are great patriots and fully understand that China has been taking advantage of the United States on Trade for many years. They also know that I am the one that knows how to stop it. There will be great and fast economic retaliation against China if our farmers, ranchers and/or industrial workers are targeted!"
Trump not only accused China of attempting to meddle in the upcoming elections but promised to retaliate economically if his supporters were harmed in the midst of an intensifying trade war between the two countries.
Overnight, Trump announced a new 10 percent tariff on $200 billion worth of Chinese goods arriving in the U.S. starting next week, adding that the tariff would increase to 25 percent at year's end.
China on Tuesday morning fired back by imposing tariffs of up to 10 percent on $60 billion worth of U.S. imports, effective September 24. The new tariffs on 5,000 American products, including coffee, flour and aircraft, were a "forced response" to Trump's latest levies, the Chinese government said in a statement.
Trump had previously tried to direct election interference investigative efforts toward the Chinese and away from the Russians, 13 of whom were indicted by as part of special counsel Robert Mueller's investigation into election interference earlier this year.
"All of the fools that are so focused on looking only at Russia should start also looking in another direction, China," Trump tweeted last month.
The following day, National Security Adviser John Bolton said that ahead of November's midterm elections U.S. officials were worried not only about election interference from Russia, but also from China and other countries.
"I can say definitively that it's a sufficient national security concern about Chinese meddling, Iranian meddling and North Korean meddling that we're taking steps to try to prevent it," Bolton said on ABC.
Many farmers, ranchers and industrial workers voted for Trump in 2016. Despite the trade war with China, Trump's approval rating since May has risen in key farm states, according to a Morning Consult poll released last month. In Iowa, for example, Trump's approval rating among rural voters increased from 48 percent from January to May, to 50 percent in June and 51 percent in July, as the trade war escalated.