A week before Vice President Mike Pence accused China of election interference in a bellicose speech at the conservative Washington think tank the Hudson Institute, the same institute hosted an event where participants advocated for an end to the trade war between the Washington and Beijing.
"We should focus not on the tariffs and tit-for-tat and this kind of narrative. We should think about how we can benefit and how we can keep the world in prosperity and have another four decades of continuous growth between the U.S. and China," said Huiyao Wang, president of China's Center for China and Globalization and an adviser to the Chinese government.
China's ruling Communist Party has a web of influencers working across the United States to promote pro-Chinese views via think tanks, universities and the media. In his speech at the Hudson Institute, Pence noted that China had "initiated an unprecedented effort to influence American public opinion, the 2018 elections and the environment leading into the 2020 presidential elections," using "covert actors, front groups and propaganda outlets to shift Americans' perception of Chinese policy."
But experts said that there was no evidence to suggest that China was actively working to influence the upcoming midterm elections the way Russia did during the 2016 presidential race. During a hearing Wednesday, Homeland Security Secretary Kirstjen Nielsen noted that the administration had not seen any attempts to compromise election infrastructure.
Security experts echoed that sentiment. "From the perspective of offensive cyberattacks, [the Chinese] target government systems and try to exfiltration data," Priscilla Moriuchi, a cybersecurity expert at the tech firm Recorded Future, told Newsweek. "But we've never seen them target U.S. election systems at the state or federal level."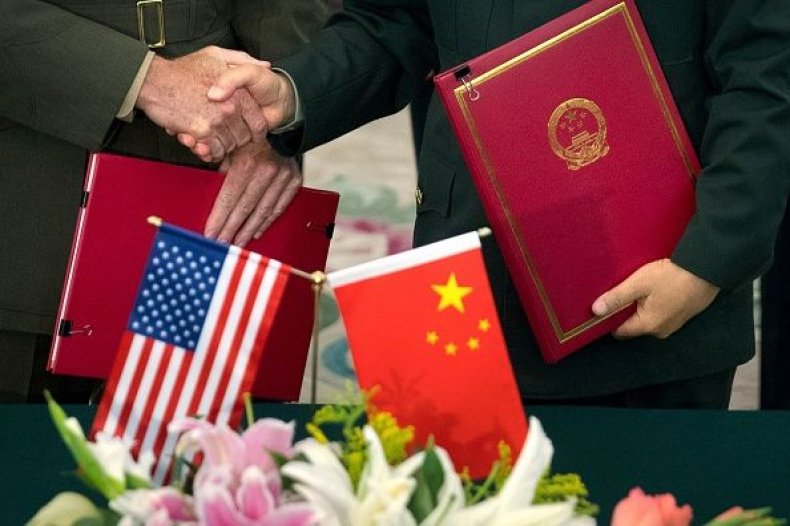 Ever since President Donald Trump arrived in the White House in January 2017, political analysts and pundits have become preoccupied with Russian election interference. U.S. intelligence agencies concluded that the Russians worked to install Trump in office and ensure that Russian President Vladimir Putin's nemesis Hillary Clinton was defeated using targeted social media campaigns and the hacking of sensitive political information. Security officials said Russian hackers attempted to probe the electoral systems of more than 20 states, although they did not change votes.
But even as Russia captured headlines, some international security officials had been murmuring in the background that Russia wasn't the foe Washington should be focusing on. A stealthier, wealthier and more formidable opponent was quietly try to influence U.S. public opinion and sway hearts and minds, some warned.
Then, on September 26, as Trump chaired the United Nations Security Council meeting, the president dropped a bombshell.
"Regrettably, we found that China had been attempting to interfere in our upcoming 2018 election, coming up in November, against my administration," Trump told the council, despite the fact that he and his administration are not running in the 2018 midterm elections. "They do not want me or us to win because I'm the first president ever to challenge China on trade. And we are winning at trade. We are winning at every level," Trump continued, as Chinese officials looked on stony-faced.
At first, observers were incredulous. Was the president, who is known for hyperbole, inventing ghosts to distract from the ongoing special counsel investigation into his campaign's alleged collaboration with Russia to influence the 2016 elections?
But in a press conference the next day, Trump doubled down on his assertions and claimed that there was plenty of classified evidence of Chinese interference that would soon be revealed. In the days following, other Trump administration officials reiterated those claims. At Hudson, Pence told the audience that Russian interference "pales in comparison" with Chinese efforts.
And during an interview with 60 Minutes on Sunday, Trump said that the Chinese meddled in the 2016 elections, despite the fact that intelligence agencies have never alleged that.
Many China analysts argued that the threat from Beijing was real. But unlike the Russian efforts, Chinese influence operations are both long-term and sophisticated. China is not trying to influence the midterm elections in the obvious way Russia did in 2016, experts said. Instead, Beijing's influence operations are part of a decades-long attempt to change public perceptions about the authoritarian regime.
"To date, we have less substantive evidence of much less activity by Beijing in America in comparison to the copious evidence of the wide-ranging activity that Russia has, and continues to, carry out," Allen Carlson, an associate professor at Cornell University who focuses on China, told Newsweek. "This is not to say that Beijing is without fault, but rather that China has become a rather convenient target for an American administration that is loath to admit to the role Russia played in the 2016 election."
Robert Manning, a China expert at the Washington-based think tank the Atlantic Council, said the evidence of election interference presented by Trump and Pence, such as an ad China published in Iowa's Des Moines Register, didn't worry him.
"Frankly, the things that Trump and Pence mentioned in terms of election interference are absurd. Ads in newspapers? They've been doing that for years. I'd rather have Putin take out ads than hack into state election systems," Manning told Newsweek.
Manning said he frequently had blunt and critical conversations with Chinese officials in D.C., and no one had attempted to censor his research on China policy. But China does attempt to funnel money into universities and think tanks in what may be a futile attempt to shape public opinion, he said.
"I think the influence stuff is more an attempt to create soft power, which they don't have much of because [Chinese President] Xi Jinping is a control freak who wants the Communist Party-ization of everything," Manning said. "They are funding chairs and universities, and they're doing a lot of things to influence the influencers, so to speak, on China. But every country does it. And given the current U.S. views on China, whatever they're trying to influence, they're not doing it very well."
Chris Johnson, the Freeman Chair in China studies in Washington's Center for Strategic and International Studies (CSIS), said he could tell when Washington's relationship with Beijing was strained by the number of visits he got from former and current Chinese officials.
"There will be some disruption in the bilateral relationship and you'll see think tank people like me get contacted, usually by some foreign ministry official or former official, and they'll come in waves. That usually tells you the center has some concerns. We just went through that a few months ago," Johnson, who spent two decades working in foreign affairs and intelligence for the U.S. government, described to Newsweek.
Johnson said he believed that China, which is still an emerging power, is just starting to understand how soft power works. Officials in Beijing are sometimes confused when their efforts to fund or co-opt a think tank don't immediately result in the institution toeing the party line, he said. Johnson has made a rule against accepting Chinese money because "it's complicated and it can come with other strings." Nevertheless, he said CSIS would receive "friendly reminders" from Chinese officials when they hosted events about Taiwan.
"They are under orders from Beijing to deliver the talking points, but I never felt that it would jeopardize my ability to go [to China]," Johnson said. "It shouldn't surprise us that an authoritarian regime does this. They are pretty overt. This is something we should monitor, but we don't need to be freaking out."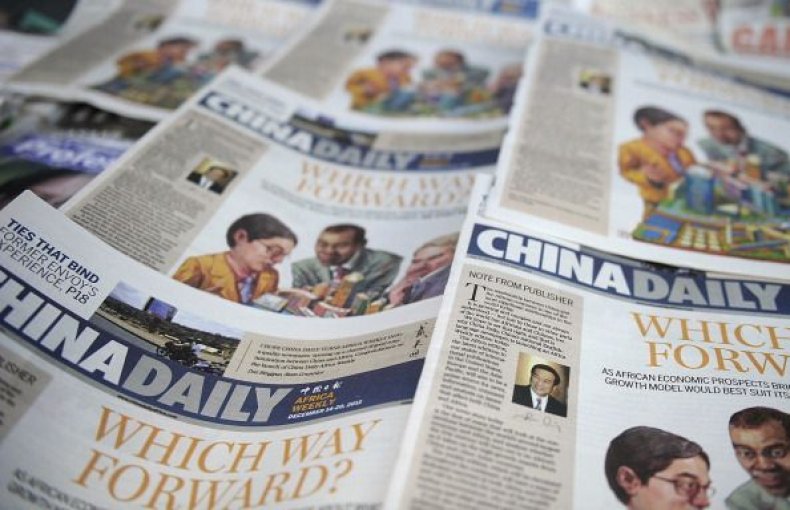 Meanwhile, some Chinese efforts to shape narratives are conspicuous. There are at least five dozen Chinese media outlets operating in the U.S., including small newspapers, radio stations and online news outlets. Most of those publications target the Chinese-American community.
Recently, the Justice Department ordered two Chinese state-run outlets, Xinhua and China Global Television Network, to register under the Foreign Agents Registration Act (FARA). China Daily, another English-language, Chinese-government-linked outlet, had already been registered under FARA since 1983.
Trump used his speech at the U.N. to call out China Daily for allegedly placing "propaganda" in newspapers across the U.S. Indeed, the outlet's FARA disclosures revealed that China Daily spent almost $16 million on U.S. influence activities since the beginning of 2017, some of which was spent placing ads in U.S. newspapers like The Wall Street Journal and The Washington Post.
But the publication didn't hide its defense of China. Recent ads placed in the Wall Street Journal dismissed the Trump administration's allegations of Chinese election meddling and highlighted Beijing's efforts to pressure Trump to stop arms sales to Taiwan.
An op-ed published in China Daily on October 8 slammed Pence's speech at the Hudson Institute for being racially and ideologically biased against China.
"Presented in a very condescending way in the tone of a typical Christian missionary, his speech was full of fake and grapevine information about China's actions and second-guessing of its intentions in its engagement with the world, such as its Belt and Road Initiative, international media, Chinese students studying in the US, and so on," read the op-ed, written by Wenshan Jia, a professor at Chapman University, a private institution in California. "Most unacceptably, such thinking about China is characterized by both a deeply racial bias against China and an ideological agenda against China."
In a conversation with Newsweek, Jia described himself as a bilingual and bicultural public intellectual who had been in the U.S. for over two decades researching intercultural communication. He writes op-eds for the Orange County Register and China Global Television Network, among other publications, but his efforts to place op-eds in the Washington Post and Foreign Affairs Magazine were unsuccessful, he said. Jia claimed to have no connection to the Chinese Communist Party and said he doesn't always agree with China Daily's editorial positions.
"I did write for them often in the past several years. I wanted to write, it was my initiative. I do think I'm intellectually not really aligned with the official position, but I'm sympathetic with the official position," Jia told Newsweek about his relationship with China Daily.
Jia, who is a fellow at the Beijing-based Center for China and Globalization and is affiliated with the National Academy for Development and Strategy at China's Renmin University, institutions that are undoubtedly constrained by political ties to the Communist Party, also participated on the Hudson Institute's panel in late September, where he argued for closer ties between China and the U.S. He also advocates for Chinese-Americans to give more to charity to "become a political voice."
Experts say that people like Jia, even if they are not directly connected to the party, are permitted to move between countries freely because they act as de facto ambassadors.
"It's about generating voices and affecting the conversation by making the landscape look a certain way. If you can shape the questions people are working on, you're taking away the capacity of the China-watching community to focus on other things," Peter Mattis, a former CIA counterintelligence analyst who focuses on China, told Newsweek. "This is completely distinct from traditional lobbying."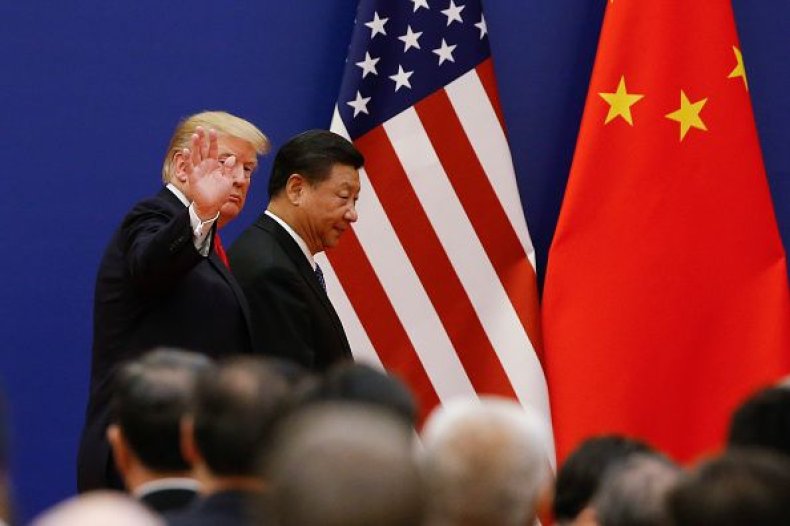 As Trump's trade war with China escalates, companies in Beijing have also turned to traditional lobbyists to protect their business interests in the U.S. According to documents submitted to the Justice Department, Chinese governmental and nongovernmental actors have spent a combined $22 million on lobbying efforts since 2017.
The majority of that money was spent by nongovernmental principles, with China Daily being by far the largest spender for both years. Other companies have attempted to counteract the effect of Trump's trade war by lobbying for their ability to do business in the U.S.
In June, as Beijing and Washington were slapping each other with retaliatory rounds of tariffs, the Chinese company WanKua Chemical hired the company AUX Initiative to lobby for a tariff exemption that would make it easier to open a chemical plant in Louisiana.
Another company, the China-U.S. Club, which works for the China Rilin Industrial Group, a construction firm based out of China's Liaoning province, noted in recent filings to the Justice Department that it planned to lobby the government about its business interests, "which conceivably may involve matters of U.S. government foreign or domestic policy."
None of those activities, however, appear to constitute election interference.
"China is so focused on economic development and intelligence collection, they are very good at it and heavily resourced, but they don't seem to be as interested in our politics," Adam Bookbinder, who worked for almost two decades in the Massachusetts attorney's office to prevent cyberattacks by foreign actors, told Newsweek.
"But they read the news too," he added. "They see Russia has done this with some success, and they have unbelievable resources and technological sophistication. Given all of those things, is it reasonable to think that this is something we should be watching for."