Donald Trump Claims China, Russia Will Grab 'Plenty' of Mail-In Ballots
President Donald Trump has claimed China and Russia will grab "plenty" of mail-in ballots as he again tried to frame the November presidential election as a "rigged" contest waiting to happen.
Appearing on Fox News Tuesday night, the president made the unsubstantiated claim that mail-in voting plans meant people would "grab batches" of ballots and vote several times without proper checks being carried out.
Trump also claimed it was "just common sense" that voting by mail would lead to widespread voter fraud, despite research showing voter fraud is very rare among voters using mail-in ballots.
Speaking on Fox News' Hannity last night, the president said: "This whole thing with this mail-in ballot, that's a rigged election waiting to happen. It's rigged and everyone knows it, because you can't send out 60 million mail-in ballots to everybody... who knows who's getting them?
"The mailmen are going to get them and people are just going to grab batches of them. You talk about China and Russia, they'll be grabbing plenty of them. It's a disaster, it's a rigged election waiting to happen. It's just common sense."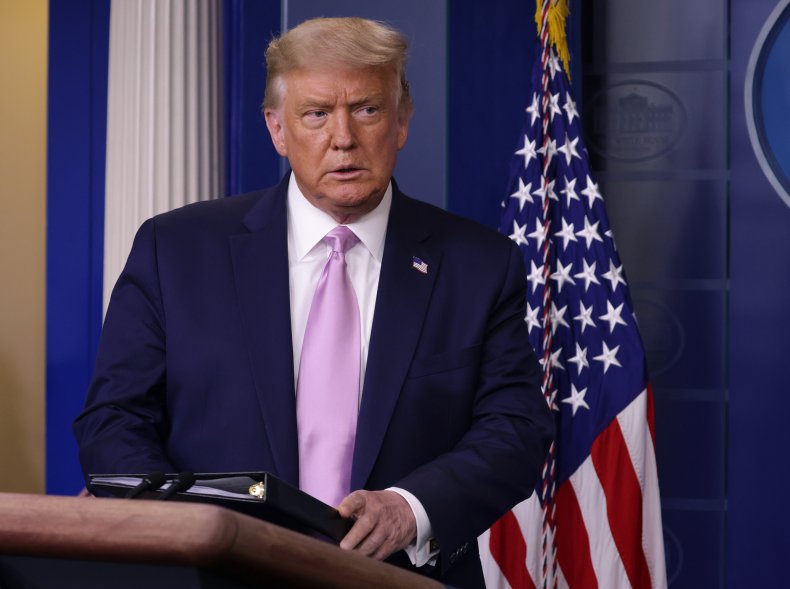 He added that absentee ballots were okay before again attacking vote-by-mail plans underway in several states.
"These mail-in ballots where they send millions of them all over the country, it's going to be a rigged election, and this country shouldn't allow it," Trump said. "The courts have to step in."
The president has repeatedly launched attacks on state plans to introduce mail-in voting systems in an effort to stop the novel coronavirus spreading at polling booths amid the ongoing pandemic.
Last week, Trump's reelection campaign filed a lawsuit against the state of Nevada over its mail-in ballot plans, arguing that the American people would not be able to trust the result of the 2020 race was reached through a "free and fair" election.
Defending the state's planned measures at the time, Nevada Gov. Steve Sisolak said: "During this global pandemic, I made a commitment that we'd do all we can to allow Nevadans to safely cast a ballot in the upcoming November election.
"This bill will help prevent Nevadans from experiencing the long lines at polling locations they faced during the Primary election, which will protect their safety, safeguard their right to make their voices heard, and help reduce the spread of COVID-19."
Research from several election experts shows that voter fraud is very rare in general, including among those who submitted ballots by mail.
"Voting by mail will not make the 2020 election substantially fraudulent or massively corrupt," Ellen Weintraub, the commissioner of the Federal Election Commission, tweeted in May. "There is no basis for that claim. None. Zero. Zip. Nada."
According to the fact-checking service Snopes, a voter fraud database kept by the conservative Heritage Foundation has noted just 145 convictions for fraud by absentee ballot since 1988, a tiny proportion of the total absentee votes cast in that timeframe.
U.S. Election Assistance Commission data shows that more than 57 million Americans voted early, by absentee ballot or vote by mail in the 2016 election. Voting by mail accounted for just under 6 percent of all ballots cast.
A Brennan Center for Justice project found that voter fraud and impersonation were "very rare," adding that "many instances of alleged fraud are, in fact, mistakes by voters or administrators. "
"The same is true for mail ballots, which are secure and essential to holding a safe election amid the coronavirus pandemic," the Brennan Center added.