Donald Trump Is Selling Chris Cuomo 'Fredo Unhinged' Shirts On His Official Website
President Donald Trump's official 2020 campaign website unveiled a new addition to its merchandise page Tuesday afternoon, a t-shirt with a close up picture of CNN anchor Chris Cuomo's face with the text "FREDO UNHINGED" above it.
The political journalist was caught on camera this weekend angrily responding to someone who reportedly called him Fredo, a reference to Fredo Corleone, the son of mob boss Vito Corleone in Francis Ford Coppola's Godfather trilogy. In the classic movie series, Fredo is a womanizing character who often misspeaks.
"Punk-*ss b*tches from the right call me Fredo," said Cuomo in the video that was uploaded to a conservative YouTube channel and later deleted. "My name is Chris Cuomo. I'm an anchor on CNN. Fredo is from The Godfather. He was a weak brother. And they're using it as an Italian aspersion," he continued. "It's an insult to your f*cking people. It's like the n-word for us." He later threatened to throw the person who called him Fredo "down these stairs like a f*cking punk."
Cuomo, however, did not appear offended by the use of the term by commentator Ana Navarro to describe Donald Trump Jr. on his show in January.
President Trump responded to the video on Twitter Tuesday. "I thought Chris was Fredo also. The truth hurts. Totally lost it! Low ratings CNN," he wrote.
The shirt was made available soon thereafter. "Help us annoy Chris Cuomo and buy your 'Fredo Unhinged Tee' now!" the copy on the site reads. The shirt sells for $34.00 and purchases count as a contribution to the Trump 2020 campaign.
"Chris Cuomo defended himself when he was verbally attacked with the use of an ethnic slur in an orchestrated setup. We completely support him," said a CNN spokesperson.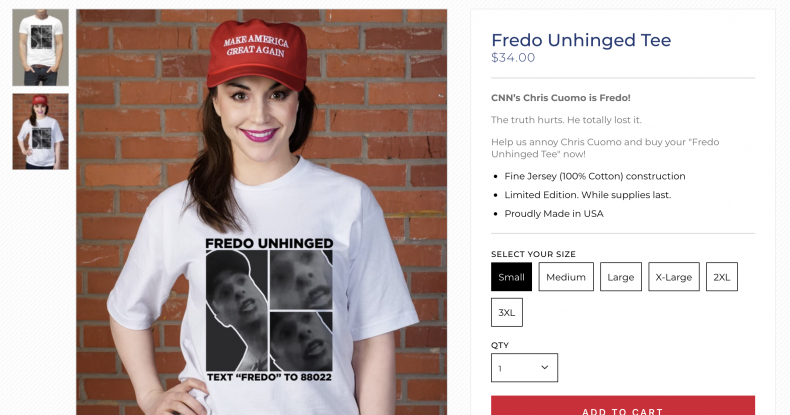 "The use of the word Fredo as an ethnic slur... is a regionalism," Anthony Tamburri, dean of the John D Calandra Italian American Institute at Queens College City University of New York told BBC News. "Italians for the past 140 years have been accused of many things, including being lazy, and therefore I can see how lazy transfers to incompetence, as Fredo was seen in The Godfather."
But Tamburri said that comparing "Fredo" to the n-word was overkill. "As much as Italians have suffered and suffered greatly, African Americans and Jews have had to deal with things we have not had to deal with," he said. Still, "It doesn't in any shape or form condone the use."