Donald Trump Heard Christmas Sermon About Refugees and Love 'In the Hardest of Years'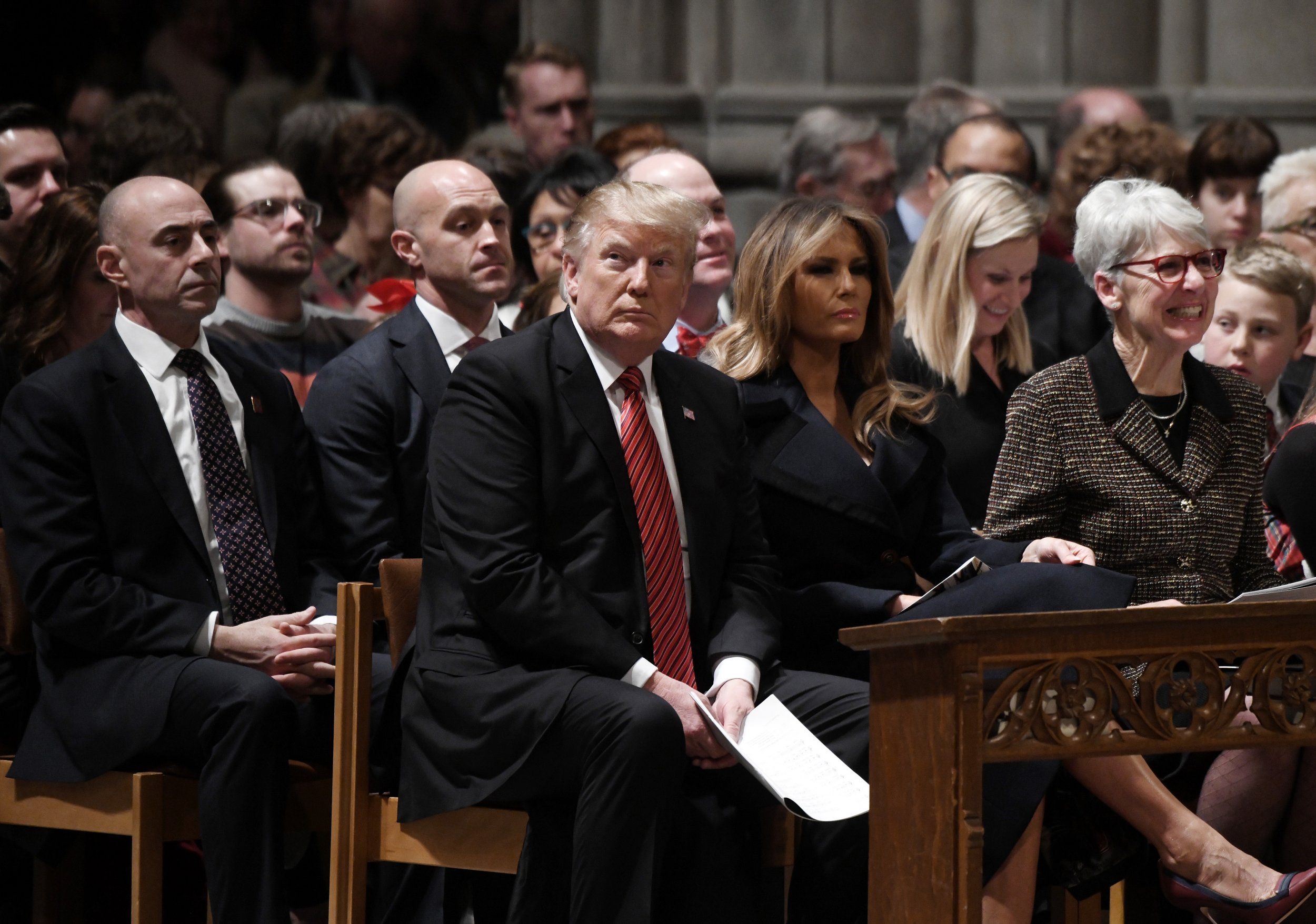 President Donald Trump heard a Christmas sermon this week that centered on loving one another during difficult times and caring for refugees.
The sermon, delivered by Bishop Mariann Edgar Budde at Washington National Cathedral, focused on how the story of Jesus's birth sheds light on showing love even when it's difficult. Trump, first lady Melania Trump, Vice President Mike Pence and his wife, Karen Pence, were all in attendance.
Budde said, in part, according to The Washington Post:
"You only have to read the first sentence of the story to know that there are deep social implications to it, should we place ourselves in this story. It begins with an emperor who could move people about at will. And so two people forced to obey the emperor's edict set out on a long journey on the last month of the young woman's pregnancy. And they were denied a place of comfort in her greatest hour of need.

And it wouldn't be long before they would be forced to flee again, this time to find refuge from violence in another country. It's right there. It's in the text. It's in the story.

And those who passed it on to us wanted us to know Jesus is no stranger to struggle or sorrow or the whims of human cruelty. They wanted us to know, as they did, both the gift and the responsibility of tending to light shining in darkness. We are the ones now to keep the light shining; we are the ones to keep the hope alive. The message of love credible—and that is no small task.

And some years are easier than others. In the hardest of years, it becomes all the more important."
Budde told the Post her sermon had been prepared long before she knew Trump was going to attend, saying the president "went out of his way to participate" and that "policy and practices aside, it's Christmas, and the first family is always welcome."
Trump's rhetoric and hard-line immigration stances, which have included his administration's zero-tolerance policy that separated children from parents at the border, have defined much of his presidency. His insistence on funding a border wall currently has the government shut down. Trump even brought up the border (and "fake news") in a tweet hoping the nation had a good Christmas.
"I hope everyone, even the Fake News Media, is having a great Christmas! Our Country is doing very well," he posted. "We are securing our Borders, making great new Trade Deals, and bringing our Troops Back Home. We are finally putting America First. MERRY CHRISTMAS! #MAGA"
During a hearing in which Homeland Security Secretary Kirstjen Nielsen spoke with lawmakers, Democratic Representative Luis Gutiérrez of Illinois recently railed against Trump-era policies and said Jesus would have been denied in the U.S.
"It is repugnant to me and astonishing to me that during Christmas…a time in which we celebrate the birth of Jesus Christ, a Jesus Christ who had to flee for his life with Mary and Joseph," Gutiérrez said. "Thank God there wasn't a wall that stopped him from seeking refuge in Egypt. Thank God that wall wasn't there, and thank God there wasn't an administration like this or he would too have perished."