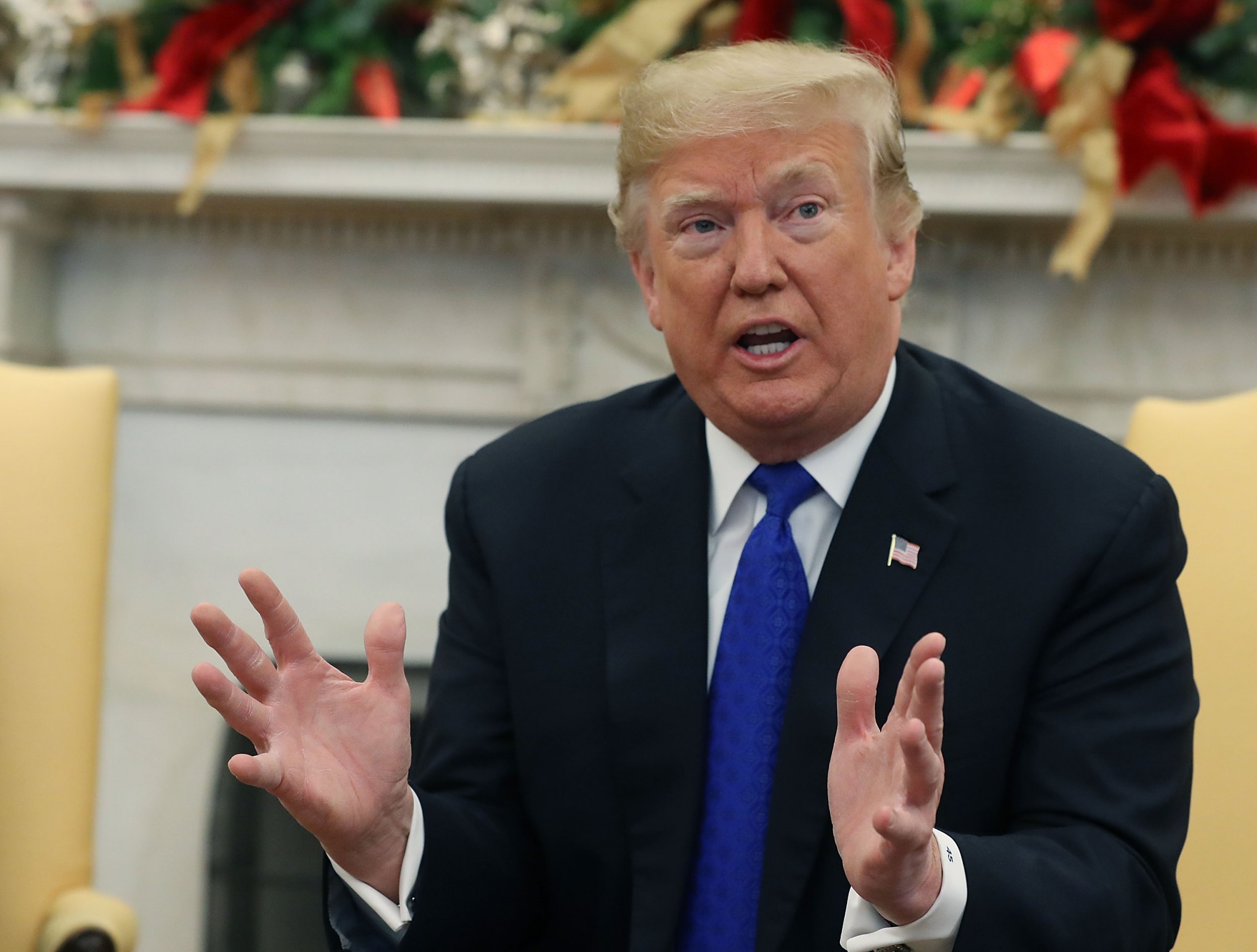 President Donald Trump was struggling to get into the festive spirit on Christmas Eve, tweeting "poor me" and complaining he was "all alone" in the White House waiting for Democrats to make a deal to avert a partial government shutdown.
"I am all alone (poor me) in the White House waiting for the Democrats to come back and make a deal on desperately needed Border Security," Trump tweeted on Monday shortly after noon. "At some point the Democrats not wanting to make a deal will cost our Country more money than the Border Wall we are all talking about. Crazy!"
Trump last week insisted that the government would shut down if Democrats did not include funding for a wall on the border with Mexico. He also said that in the event of a shutdown, he would not go to his Mar-a-Lago resort for Christmas as has been his tradition. Trump had planned to spend 16 days at his resort in Florida, an even longer vacation than 12 months ago.
First lady Melania Trump had already traveled to Mar-a-Lago, but White House Press Secretary Sarah Huckabee Sanders on Saturday tweeted that she "will return from Florida so they can spend Christmas together."
The shutdown is on day three.
While Trump is crying "poor me," hundreds of thousands of federal workers have been forced to go on paid leave. Workers in departments that are considered essential are required to work through the shutdown but will not be compensated until it ends or lawmakers pass legislation for retroactive pay.
For Audrey Murray, 59, who serves as a cleaner at the Smithsonian Institution and the State Department in the evening, the shutdown has bigger implications than not being able to enjoy the holidays at a resort. She may not be able to pay her mortgage.
"It's just so depressing," Murray, who is at higher risk of not being paid back because she is a contractor, told The Wall Street Journal. "My mortgage is due on the first … Nobody should be going through this."
Trump's holiday traditions include attending a Christmas Eve service at Bethesda-by-the-Sea church and holding a New Years Eve party at Mar-a-Lago with tickets going for $650 for dues-paying members, according to The Palm Beach Post.
The president's annoyance with staying in the White House "all alone" was apparent in the many tweets he fired off Monday. He sent 10 tweets, most of them slamming Democrats and blaming them for the shutdown, by 2 p.m.