Chuck Schumer Mocks Trump to His Face: 'When the President Brags He Won North Dakota and Indiana, He's in Real Trouble'
Senate Minority Leader Chuck Schumer openly mocked the president during a heated Oval Office exchange over border security and the spending bill. "When the president brags he won North Dakota and Indiana, he's in real trouble," Schumer told Donald Trump in response to the president saying Republicans made gains in the Senate this election cycle.
While Republicans did win Senate seats from Democrats in North Dakota and Indiana in the midterm elections last month, both states are deep red and voted for Trump in the 2016 presidential election, so Republican wins there were hardly news.
The retort was part of a long, tense discussion captured by cameras between House Minority leader Nancy Pelosi, Trump, Schumer and Vice President Mike Pence. During the meeting, Trump repeatedly threatened to shut down the government if he did not receive full funding for a wall along 1,000-mile long U.S.-Mexico border.
"I am proud to shut down the government for border security... I will take the mantle. I will be the one to shut it down. I'm not going to blame you for it," the president said to the Democratic minority leaders on Tuesday.
Trump told Pelosi that if he "needed the votes for the wall in the House," that he would have them in "one session and we'd be done," but that he needed Senate Democrats to vote for the wall too. Pelosi countered: "Mr. President, you have the White House, you have the Senate and you have the House of Representatives," she said. "The fact is, you do not have the votes in the House."
Pelosi asked that the meeting, which she said was headed in a "downward spiral," to be taken off-camera multiple times, but the president refused. In a post-meeting news conference, Pelosi told reporters that she did not want the discussion to be on-camera out of respect for the president.
"I didn't want to in front of those people say, 'You don't know what you're talking about,'" she explained.
Still, she said this meeting was an example of what the next two years of the president's tenure would look like. "This new Congress will be different than what we've had before," she said. "It will be a Congress of transparency, so people can see. It will be about reaching out and working in a bipartisan way to find common ground. We didn't come here to divide. We came here to unify."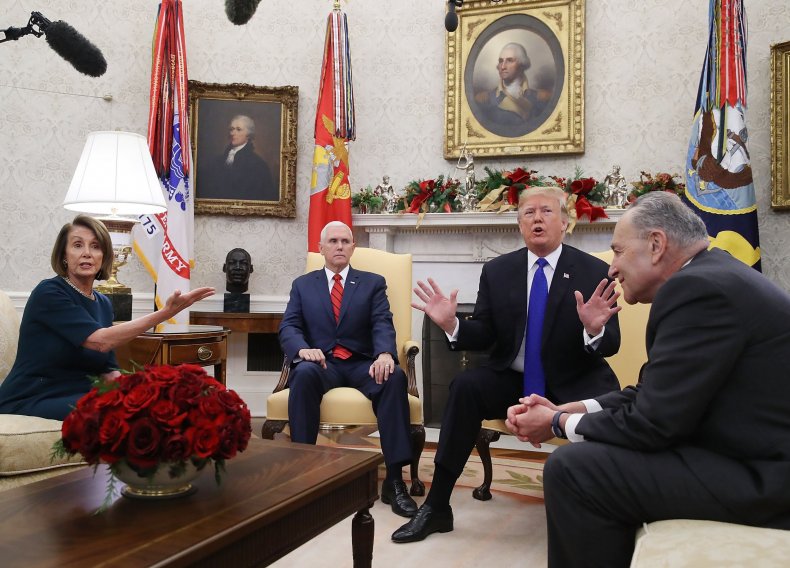 The government is currently set to shut down on December 21 if Congress cannot come to a budget agreement. Trump wants full funding ($5 billion) for the border wall included in the spending bill, while Democrats have offered $1.6 billion for 65 miles of a barrier along the southern border, which the president said was not enough.
Trump promised during his 2016 campaign that he would build a wall and that Mexico would pay for it. "However obsessed he is with the wall, it isn't worth shutting down the government," Pelosi told reporters after the meeting.