Trump Just Likes Funny Names, Says Mnuchin In Defense Of Rally Vulgarities
Treasury Secretary Steve Mnuchin downplayed the "vulgarities" used by President Donald Trump on Saturday, claiming they were just part of the "funny moments" seen at the campaign rally.
Speaking in an interview with Meet the Press' Chuck Todd, who was described by Trump at the rally as a "sleeping son of a bitch," Mnuchin said it was more important to focus on policies than the president's cursing.
Responding to a question from Todd who asked Mnuchin what he would do if a member of his staff used such language, Mnuchin said: "Chuck, you know I've been with the president and at campaigns. You know he likes to put names on people. He did that throughout the entire presidential election. Including all of the Republicans that he beat. So these are campaign rally issues,"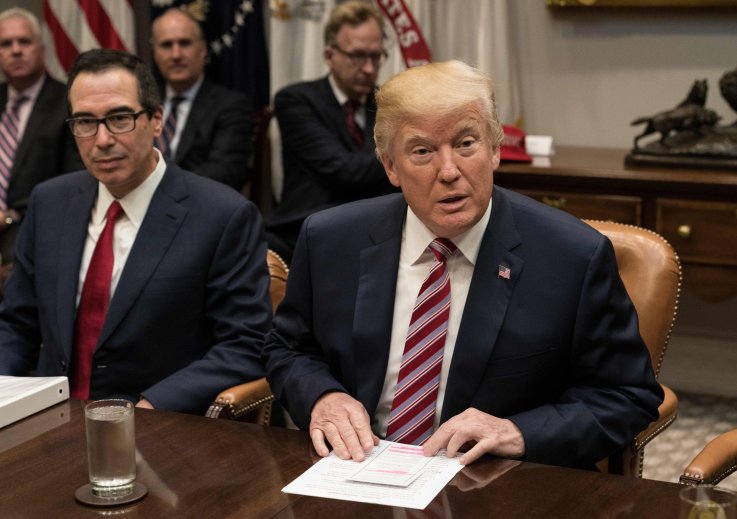 "This is something that is at a campaign rally. And the president likes making funny names," he added, in reference to the president referring to Maxine Waters as "a very low-IQ individual."
Todd, who was singled out by the president during the rally, said he has told his children to respect the office of the presidency and asked Mnuchin repeatedly about the president's comments.
"Again, I think you should be focused on what the policies are. He's using these vulgarities in the context of a campaign rally and obviously there were a lot of funny moments on, on, on that rally," Mnuchin responded, prompting Todd to reply: "Yeah, they were hilarious."
The host had also sent a jokey text in Trump's direction following the rally, in response to him referring to Todd as sleepy.
"I know folks may be tired in the morning due to springing forward, so set those clocks and DVRs now before your eyes get too sleepy," Todd tweeted on Saturday evening.
Trump Just Likes Funny Names, Says Mnuchin In Defense Of Rally Vulgarities | U.S.