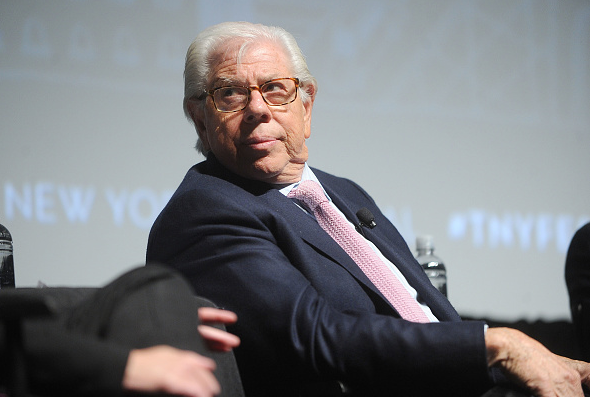 Political analyst and legendary Watergate journalist Carl Berstein suggested President Donald Trump was sparking a "civil cold war" during his appearance on CNN's Cuomo Prime Time on Friday.
Bernstein's claim came following host Chris Cuomo's proposal that Republicans and Trump's base were unfazed by Michael Cohen's claims that the president is a liar, racist and a cheat during his testimony to Congress earlier in the week.
"We are in a cold civil war in this country, and Trump has brought that cold civil war and every day brings it closer and closer to ignition," Bernstein said. "And that is the great danger because everything he does plays to this base that is his way of staying in office, if he can stay in office and be re-elected."
He added: "It's all about that base. It's not about uniting the American people as most previous presidents have tried to put together some kind of coalition with people in the center. Trump has made no attempt to do that."
Despite Trump's clear support of agendas that focus on his core group of supporters, Bernstein noted that the 45th president has been successful in doing something that many presidents before him failed to do.
"He's also been absolutely brilliant in understanding things about our country that other leaders have not in terms of being able to articulate—as Bernie Sanders did—that working people, middle-class people in the country have been screwed over for the last 30, 35 years," Bernstein said. "Relative income, family income has gone down. He was able to identify that in a very effective way.
"What they see in Trump, many people, is someone who feeds their often their prejudices but also feeds their desire to see the other side wiped out," he continued.
Along with calling his former client a con-man, during his testimony to the House Oversight Committee on Wednesday, Trump's former lawyer Cohen accused the real estate mogul of directing him to lie about hush money paid to adult film star Stormy Daniels. He also alleged Trump's son, Donald Trump Jr., and Allen Weisselberg, the chief financial officer of The Trump Organization, were aware of the payments made to Daniels.
The money given to Daniels, whose real name is Stephanie Clifford, was a part of an effort to keep her from speaking about an alleged sexual encounter she had with Trump in 2006 shortly after the first lady, Melania Trump, had given birth to her first child with the president. Trump has claimed he was unaware of any payments made to Daniels, but Cohen testified Trump knew of the first payment made to her just before the 2016 election and specifically asked him to lie about it.
Cohen also claimed during his testimony that Trump asked him questions in regards to a Trump Tower project in Moscow, which was being negotiated in 2016. "Mr. Trump knew of and directed the Trump Moscow negotiations throughout the campaign and lied about it," Cohen said.
Special counsel Robert Mueller is currently investigating Russian interference in the 2016 presidential election and Trump's possible collusion.