Donald Trump Claims the Country Is With Brett Kavanaugh 'All the Way'
President Donald Trump claims that Supreme Court nominee Brett Kavanaugh has the support of the country, just days after Trump mocked the testimony of Christine Blasey Ford, who has accused the judge of sexual assault.
In a tweet on Wednesday night, Trump once again showed his support for the judge, who has been publicly accused by three women of sexual misconduct in what the president had previously suggested was part of an attempt by Democrats to destroy Kavanaugh's reputation and derail his nomination.
"Wow, such enthusiasm and energy for Judge Brett Kavanaugh," Trump said in the tweet. "Look at the Energy, look at the Polls. Something very big is happening. He is a fine man and great intellect. The country is with him all the way!"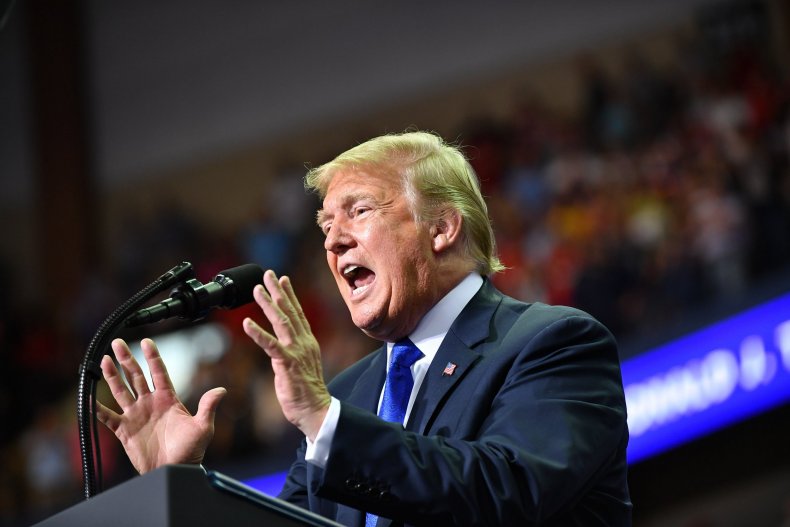 The president did not share any data alongside his tweet, although he may have been referring to a round of Fox News polls that suggested a "Republican trend in the fight for the U.S. Senate. The GOP candidates are helped by increased interest in the election among Republicans and pro-Donald Trump sentiment."
Trump's tweet came shortly after he had mocked Ford's testimony at a rally in Mississippi, suggesting to his supporters that it was strange that Ford could not seem to remember certain details from the night she alleged Kavanaugh sexually assaulted her.
At a rally in Tennessee on Monday night, the president highlighted his contention that the Democrats were attempting to destroy the Supreme Court nominee. "As we've seen in recent weeks, Democrats are willing to do anything and hurt anyone to get their way, like they are doing with Judge Kavanaugh.
"They've been trying to destroy him since the very first second he was announced, because they know that Judge Kavanaugh will follow the Constitution as written," said Trump.
"And he's a good man. Great student, great intellect, never had a problem. All of a sudden, oh, let's go back to high school. Maybe they should go before high school."