Donald Trump Says Doctored Infowars Video of Jim Acosta Exchange Was 'Not Doctored': 'They Gave a Close-Up'
President Donald Trump dismissed experts' findings that a video shared by White House Press Secretary Sarah Huckabee Sanders of the clash between CNN's Jim Acosta and the U.S. leader was doctored.
Speaking with reporters outside the White House on Friday, the U.S. leader said, "They gave a close-up. That's not doctored," according to CNBC Washington correspondent Eamon Javers, without explaining further.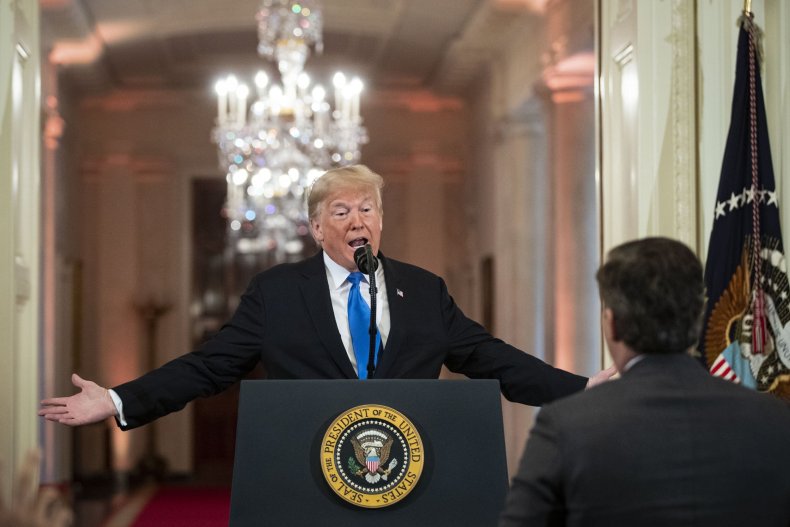 In fact, a number of experts asserted that the footage, which showed Acosta refusing to hand over a microphone to an intern during a heated exchange with Trump, had been sped up, making it appear as if Acosta forced the intern's arm down as she moved to grab the mic.
The video also removed audio of Acosta saying "Pardon me, ma'am," during the incident.
The footage appeared to be the same that was shared on Infowars.com by contributor Paul Joseph Watson.
Watson, a far-right conspiracy theorist who is the editor-at-large of the website, wrote that "Acosta clearly uses his left arm to physically resist/restrain the woman."
Tweeting the apparently doctored footage, Huckabee Sanders said the White House stood by its decision to revoke Acosta's "hard pass."
"We will not tolerate this inappropriate behavior clearly documented in this video," she said.
In the exchange that sparked the incident, Acosta had been asking the president questions about the midterm elections, the migrant caravan and the ongoing Russia investigation.
Trump cut Acosta's questions short, saying, "Honestly, I think you should let me run the country and let you run CNN."
As Acosta tried to ask another question, the president said, "That's enough," adding, "CNN should be ashamed of itself having you working for them. You are a rude, terrible person. You shouldn't be working for CNN."
As Acosta persisted in trying to put his question forward, an intern attempted to grab the microphone out of his hand.
Trump hit out at another CNN journalist, Abby Phillip, on Friday, after she appeared to ask the president whether he wanted acting Attorney General Matt Whitaker, who replaced recently fired Jeff Sessions, to "reign in" special counsel Robert Mueller, who is leading the ongoing investigation into Russian meddling in the 2016 election.
"What a stupid question that is," Trump said.
"What a stupid question. But I watch you a lot; you ask a lot of stupid questions."
Acosta quickly took to Twitter to defend his colleague, noting that Phillip's query was "one of the questions of the day."
This article has been updated with more information on President Donald Trump's comments on Friday.