Donald Trump Claims He Donated $150K from Qaddafi in 2009, But Tax Returns Only Show $23K to Charity: Report
An investigative report on 18 years worth of taxes from Republican President Donald Trump has revealed that he has often exaggerated his public claims of charitable giving without the tax paperwork to back them up.
For example, in 2009, Libyan dictator Colonel Muammar el-Qaddafi paid Trump $150,000 to stay at one of Trump's properties. Although Qaddafi's stay was canceled after neighbors objected, Trump told Face the Nation that he still received the money, and in 2011, Trump told CNN that he charitably donated all of the money.
However, according to The New York Times, Trump's 2009 tax returns only reported $22,796 in business and personal cash gifts that year.
In 2016, Chris Herbert, a public relations worker for the PR agency Brown Lloyd James told Buzzfeed News that Trump had sought to conduct business deals with Qaddafi even though the dictator had supported international terrorism for decades, including the 1988 bombing of Pan Am Flight 103 which killed 189 Americans and 81 citizens of other countries.
When Trump announced his intention to run for president in 2015, he had claimed to have made over $102 million in charitable donations over the last half-decade. But his tax records from 2010 to 2014 showed only $735,238 in cash donations and nearly $47 million in land easements and other non-cash gifts. A land easement is a charitable tax break property owners receive when they don't develop certain properties.
Tax information analyzed by the Times "includes annual totals for business and individual giving but lists only certain corporate donations." However, the publication added, Trump could have personally donated funds without ever reporting them on his taxes.
Amanda Miller, a Trump Organization spokeswoman told the publication, "President Trump gives money privately. It's impossible to know how much he's given over the years."
Newsweek contacted the Trump campaign for comment.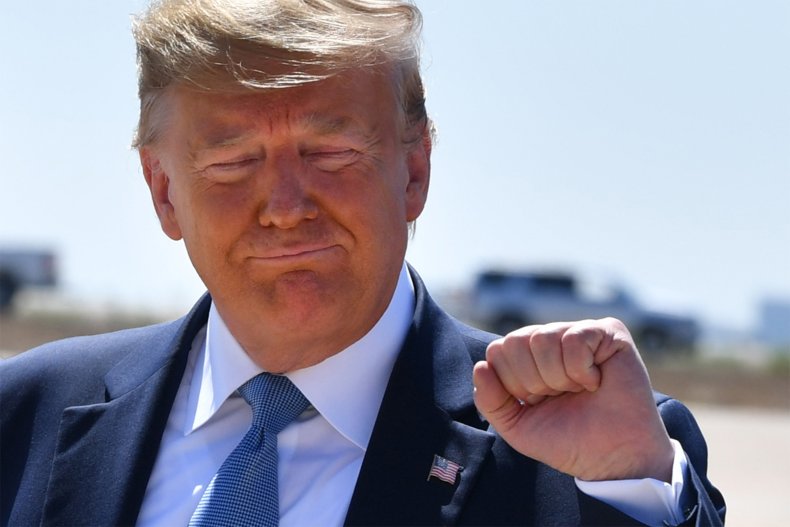 A December 2016 Washington Post article said that its newsroom was unable to verify many of Trump's philanthropic boasts. Among the unverified boasts were Trump's pledges to donate proceeds from Trump University, the salary he earned from The Apprentice reality TV show, personal charitable donations chosen by contestants on Celebrity Apprentice and $250,000 he promised to donate to an Israeli military charity.
The Post's December 2016 article said that Trump had made most of his charitable donations to the Donald J. Trump Foundation. Of the $7.8 million in Trump's charitable donations identified by the Post at that point, $5.5 million, about 70 percent, went to his own foundation.
As of 2016, the foundation's largest donation of $264,631 went to renovating a fountain outside Trump's Plaza Hotel. Trump had also used the foundation's funds to pay for lawyers in legal disputes and for two portraits on himself hanging at his resorts, the publication reported.
The Trump Foundation disbanded in 2018 after then-New York state attorney general, Barbara Underwood, accused it of "functioning as little more than a checkbook to serve Mr. Trump's business and political interests," and of engaging in "a shocking pattern of illegality" that included unlawfully, according to The New York Times.
Trump's promise to give his entire salary as president to charity has been confirmed. He makes four quarterly donations to different organizations, each donation a quarter of his $400,000 yearly salary. In 2019, he donated to the Department of Agriculture, the U.S. Surgeon General's Office, the Office of the Assistant Secretary of Health and the Department of Health and Human Services, according to USA Today.