Donald Trump Claims He Hasn't Sent Texts or Emails for Over a Decade
Former President Donald Trump's communication has been at the center of several court cases and investigations, but he is arguing that there's little else he can provide, in part because he doesn't use text messaging.
"Doesn't email, doesn't text," Jason Miller, Gettr CEO and Trump's former campaign spokesperson, told Newsweek.
A longtime aide to the former president, Miller served on both of Trump's presidential campaigns and on his transition team. He officially left his role as Trump's spokesperson in June, and in the time that he's known and worked with Trump, Miller said he's "never texted with him."
Although it may be possible that Trump has sent or received a text message, he swore in an affidavit that if he's used texting, it's been the rare exception for more than 10 years.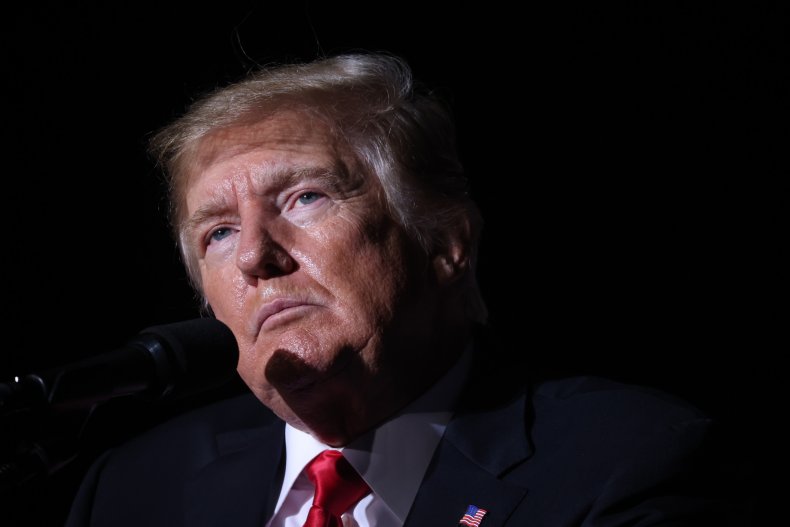 "Since at least January 1, 2010, it has been my customary practice to not communicate via e-mail, text message, or other digital methods of communication," Trump wrote in a recent affidavit.
This isn't the first time Trump's use of his cellphone has made its way into the legal battle. During a hearing in late April, Trump's attorney, Alina Habba, told Judge Arthur Engoron that her client doesn't have the written communication that New York Attorney General Letitia James was seeking.
"President Trump does not email. He does not text message. And he has no work computer at home or anywhere else," Habba said, according to CNN.
Days later, Engoron ruled that Trump should be held in contempt of court for failing to comply with the subpoena in James' investigation. James is investigating whether Trump used financial statements to inflate the value of his assets in an effort to obtain better loans. It's also the subject of a second investigation being conducted by the Manhattan District Attorney.
Describing Trump as one of the most—if not the most—famous real estate agents, Engoron said he was "surprised" that Trump couldn't produce the documents the subpoena sought.
The judge agreed with James that Trump should be fined $10,000 per day and rejected the former president's initial affidavit for being devoid of useful information as to why he couldn't produce the subpoenaed records. Engoron ordered Trump to submit a subsequent affidavit swearing to the details of where files were stored, who had access to them and information about his electronic devices.
In his May 6 affidavit, Trump said that he was issued a Trump Organization cellphone in 2015, but that he no longer had it in his possession and didn't know where it was. He added that he took a Samsung mobile phone to the White House, but it was "taken from me at some point while I was president."
Trump told the judge that he has two phones currently, one which is an iPhone and used for personal reasons. The other was given to him by Truth Social, the former president's social media app, and is used "exclusively for posting on Truth Social," he said.
"I have never placed or received a call, sent or received a text message, or used this phone in any other manner," Trump said.
Who Trump spoke to, and when and what was said, isn't only under the microscope in James' investigation into Trump's business dealings. The former president's communications have also been a focal point of the January 6 Select Committee's work.
Trump has attempted to block the committee from getting ahold of his records, arguing in failed court attempts that the information is classified under the executive privilege he enjoyed as president. He's been largely unsuccessful in blocking the committee from carrying out the investigation and in March, the National Archives released the White House phone logs from January 6.
The logs leave a seven-hour gap in official White House notations of any calls Trump had on that day. After the logs were made public, Representative Bennie Thompson, chair of the committee, said legislators were considering subpoenaing Trump's personal phone records to help fill the holes the White House logs left.
However, the committee has predominantly tried to circumvent Trump to build the case against him. Leaning heavily on testimony from those close to the former president, including White House staffers and two of his children, the committee has also reportedly collected text messages from Mark Meadows, the former White House chief of staff.
The text messages show many people close to the president urging Trump to condemn the Capitol riot or to do so in much stronger terms. The messages also show several conversations about potential plans to challenge election results in the hopes of overturning President Joe Biden's win.
If Trump was committed to his policy of only using text messages on the rare occasion, if ever, the House Select Committee might not be able to uncover a damning message directly to or from the president.
It's unclear why Trump chose January 1, 2010, to implement the practice of not using digital forms of communication.
Newsweek reached out to Trump for comment.