Donald Trump Claims He Won When Asked Why Joe Biden's Team Not Invited to Vaccine Summit
President Donald Trump told reporters that he had not invited representatives from President-elect Joe Biden's transition team to a Tuesday coronavirus vaccine summit because Trump won the election in some battleground states.
Trump has made baseless claims that he won a second term as president and accused Democrats of "rigging" the election in Biden's favor via widespread fraud. Most legal efforts to overturn the results of the election have been unsuccessful. Distributing the COVID-19 vaccines is expected to begin later in December, with a majority of Americans not being able to obtain the vaccine until 2021.
When asked by a reporter why members of the incoming administration were not invited to the Tuesday event, Trump implied that the next president had not yet been chosen.
"Well, we're going to have to see who the next administration is because we won in those swing states," Trump said.
"And hopefully the next administration will be the Trump administration because you can't steal hundreds of thousands of votes," Trump continued. "You can't have fraud and deception and all of the things that they did and then slightly win a swing state. And you just have to look at the numbers, look at what's been on tape, look at all the corruption and we'll see. You can't win an election like that."
Trump has called on state legislators and judges to assist him in rejecting election results.
"Let's see if they have the courage to do what everybody in this country knows is right," Trump said.
Newsweek reached out to Biden's transition team for comment.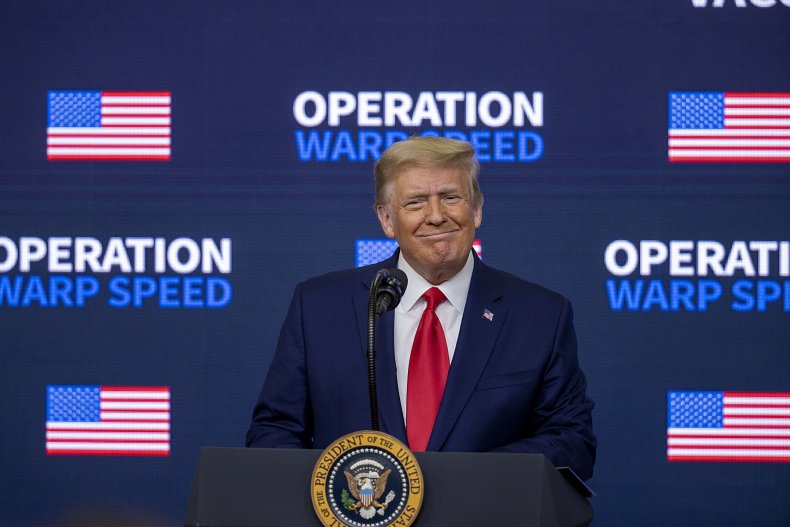 According to the Associated Press, Trump received 232 electoral votes in the 2020 presidential race. Biden garnered 306 electoral votes. A candidate must receive 270 votes in the Electoral College to win the election. After voting in the Electoral College is complete, the votes are counted in January by the U.S. Congress.
Trump has claimed that ballots in some states were counted incorrectly. He has also alleged that certain voting machines were programmed to "flip" votes meant for him to Biden's column. So far, none of Trump's allegations have been proven in a court of law.
Trump's legal team has attempted to have the certified election results in some states canceled out. An attempt in Pennsylvania spearheaded by Republican Representative Mike Kelly was denied by the U.S. Supreme Court on Tuesday.
Despite a growing list of legal losses, attorneys for Trump's re-election campaign have said they would continue to file litigation. According to a statement released Tuesday by Trump's personal attorney Rudy Giuliani and Trump campaign senior adviser Jenna Ellis, they have until Inauguration Day to continue fighting to ensure a second term for Trump.
"Despite the media trying desperately to proclaim that the fight is over," the joint statement read, "we will continue to champion election integrity until every legal vote is counted and accurately."