Donald Trump Claims His Susan Wright Endorsement Shut Democrats Out of Texas House Race
Donald Trump claimed victory in Texas on Monday, asserting that his involvement shut Democrats out of a special election for the state's 6th Congressional District.
"Please explain to the Democrats and RINOs that the reason Texas-06 completely shut out Democrats in Saturday's Jungle Primary is because of my Endorsement of Susan Wright, who surged last week after receiving it," the former president said in a statement. (RINO is an acronym for Republican in Name Only.)
Trump continued, "The Democrats were shut out and now it will be a contest between two Republicans, a very big win. It would be nice, however, if the pundits and Fake News Media would state the real reason for this unprecedented (Democrats have never been shut out before) victory!"
Wright is the wife of the late U.S. Representative Ron Wright, who died from COVID-19 in February. He was the first sitting member of Congress to have been killed by the disease caused by the coronavirus.
She will face state Representative Jake Ellzey, also a Republican, who came in second place in Saturday's special election. Ellzey narrowly defeated Democrat Jana Sanchez, who conceded.
The field to replace Ron Wright had 23 candidates, none of whom captured the majority of votes needed to win the seat on May 1. A date for the runoff race between Wright and Ellzey has not yet been set.
Wright has thanked Trump for his endorsement, which he released on April 26. On Saturday, she tweeted, "Let's go win this!" with the hashtag "Make America Great Again."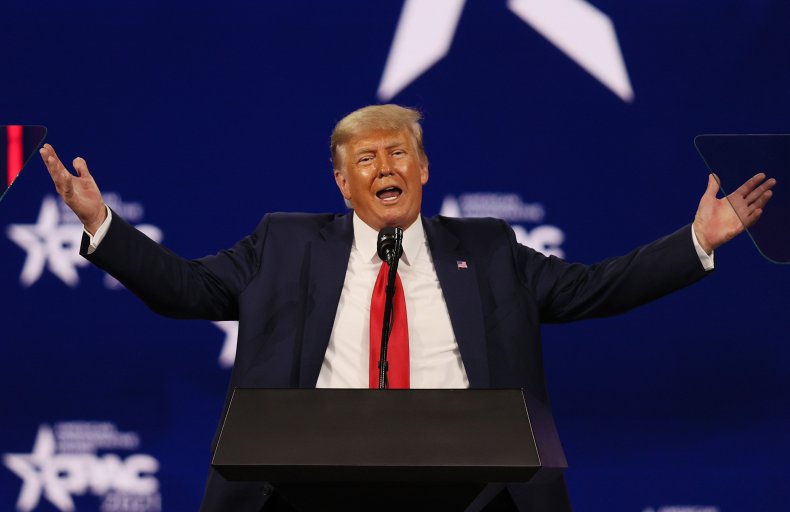 Wright led Saturday's special election with 19 percent of the vote, which was on par with her polling even before Trump's endorsement.
A survey from Data for Progress found Wright leading the field with 23 percent support from likely voters. Sanchez was in second place with 16 percent support, and Ellzey was in third with 13 percent. The poll was conducted between April 5 and 12.
A poll from mid-April conducted by Meeting Street Insights found Wright with 17 percent support from registered voters. Sanchez led that poll with 20 percent. Ellzey was just behind Wright, with 16 percent support.
Both surveys had a margin of error of plus or minus 5 percentage points
Trump himself won Texas's 6th District in the 2020 election but only by 3 percentage points. But his support in the area dropped from 2016, when he easily won it by 12 percentage points.
"Democrats have a come a long way toward competing in Texas, but we still have a way to go," Sanchez said in a statement over the weekend. "Unfortunately...we came up short, and two Republicans will be competing to represent this congressional district."
Newsweek reached out to Wright's campaign for additional comment for did not hear back before publication.
This story was updated to include additional information about the May 1 special election in Texas's 6th District.