President Trump, Despite Rolling Back Over 80 Environmental Regulations, Calls Himself an Environmentalist
President Donald Trump has oft-repeated that the U.S. has the cleanest air and water in the world, which is not true. But this week, he added a new line to his repertoire, just moments after saying that he values wealth over the environment, the president told press at the G-7 meeting in France that he was an environmentalist.
Shortly after skipping a meeting about climate change and the devastating fires burning in the Amazon, the president answered a question about global warming by saying, in part truthfully, that the U.S. is the top energy producer in the world and generates tremendous wealth because of it. "I'm not going to lose that wealth, I'm not going to lose it on dreams," he said.
In the same breath, the president told his audience that he knows "more about the environment than most people." He continued, "I want clean air, I want clean water, I want a wealthy country... I'm an environmentalist. A lot of people don't understand that."
Earlier this month, the president instituted a rule change that would reverse key environmental protections for endangered species and require an economic evaluation to be carried out before any new endangered species is added to list. He has rolled back offshore drilling safety rules, green-lit the Keystone Pipeline, ended 2015's Sage Grouse conservation plans, called for more logging on public lands, and oversaw an Environmental Protection Agency with enforcement at a 30-year low. He's lifted some standards for greenhouse gas emissions from coal plants and approved of offshore oil wells in the Arctic. Under the president's purview the EPA ended its air pollution review panel and repealed methane-emission rules. The Trump administration has rolled back at least 83 environmental rules and regulations, according to The New York Times.
The president left the G-7 meeting in France yesterday amid a cloud of chaos. Will he increase tariffs on China? Will he host the next meeting at his own Miami resort? Will he meet with Iranian president Hassan Rouhani? Who knows. As the president said to the press this weekend, "I have second thoughts about everything."
Those second thoughts seemingly also apply to the environment. In the past, the president has called climate change a Chinese hoax and asbestos poisoning a mob conspiracy. But there's one thing Trump does know: He's an environmentalist.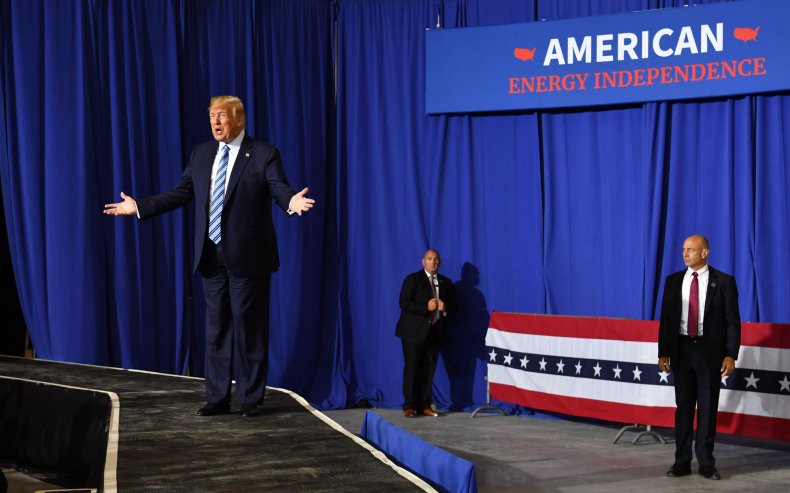 When asked why he skipped the meeting on climate change, the White House said that the president had a pre-planned meetup with German Chancellor Angela Merkel and Indian Prime Minister Narendra Modi. Both leaders were seen in photos attending the climate change roundtable, so unless they have access to a Harry Potter-esque time turner, there wasn't much of a conflict.
When Trump was asked personally why he skipped the session, which had already concluded, the president remarked incorrectly that "we're having it in a little while."