Trump Administration Official Repeatedly Consulted with Climate Change Deniers on Climate Policy
A Trump administration national security official repeatedly consulted with, and sought advice from, a climate change-denial think tank regarding federal energy policy and strategies to influence the public perception of carbon emissions, according to emails acquired by the Environmental Defense Fund under the federal Freedom of Information Act (FOIA).
The emails, exchanged over the course of a year between William Happer, a member of the National Security Council, and advisors at the Heartland Institute, a libertarian public policy think tank, show requests from the administration to consult on a document that attempts to "knock down climate change," according to the Associated Press.
Heartland's mission statement makes the institute's pro-industry position clear: "Radical environmental groups, greedy investor-owned utilities, and liberal billionaires are working together to shut down perfectly good coal-powered electricity generation across America," it reads.
"It's the equivalent to formulating anti-terrorism policy by consulting with groups that deny terrorism exists," Matthew Nisbet, a professor of environmental communication and public policy at Northeastern University told the AP.
One email, also obtained by the AP, from May of 2018 shows Happer discussing NASA Administrator Jim Bridenstine's "puzzling" acceptance of climate change. The email, which Bridenstine was included on, called rising sea levels and temperature changes "part of the nonsense" and asked NASA to "systematically sidestep it."
Bridenstine, a former climate-change denier, recently said his views on the topic "evolved" after joining NASA and reviewing scientific evidence.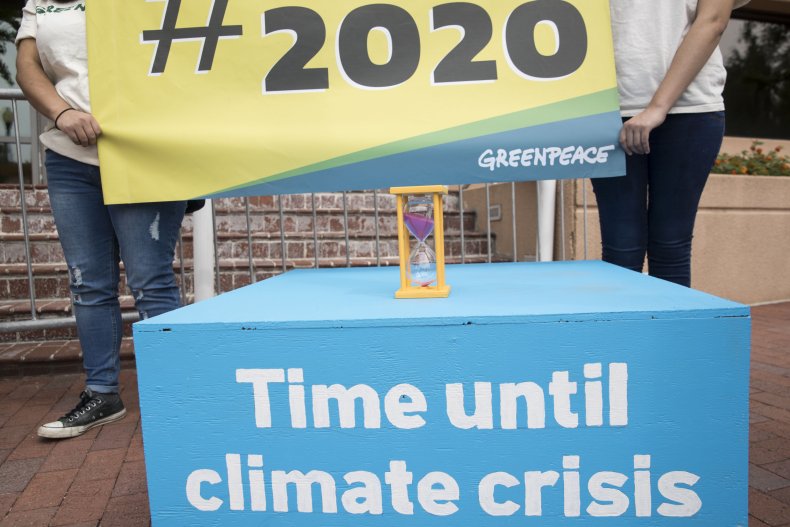 "I don't deny the consensus," Bridenstine said at a NASA town hall meeting. "I believe fully in climate change and that we human beings are contributing to it in a major way."
He later explained his change of heart the The Washington Post. "I heard a lot of experts, and I read a lot," Bridenstine said. "I came to the conclusion myself that carbon dioxide is a greenhouse gas, that we've put a lot of it into the atmosphere, and therefore we have contributed to the global warming that we've seen."
In another email to NASA deputy administrator James Morhard, Harper wrote that he did not like that the agency's website said climate change was man-made.
"I'm concerned that many children are being indoctrinated by this bad science," wrote Happer.
Earlier this year, Happer, who has said that carbon dioxide is "good for humans" and that carbon emissions have been demonized just like "the poor Jews under Hitler," attempted to plan a White House panel discussion to challenge the assertion that carbon emissions were changing the environment.
President Donald Trump has called climate change a "Chinese hoax" in the past. "The concept of global warming was created by and for the Chinese in order to make U.S. manufacturing non-competitive," he tweeted in 2012.