Donald Trump Compares His Shaky Descent of West Point Ramp to Biden's Fall Up Air Force One
In an interview that aired Monday night, former President Donald Trump compared his shaky descent down a ramp following his commencement speech at West Point to President Joe Biden falling up the steps of Air Force One.
Speaking to Fox News host Sean Hannity at Mar-a-Lago in Palm Beach, Trump defended Biden's age from critics that say he's too old to be president.
"He's going to be 79 years old, that is not old, I know many people in their late 80s that are just as good as they were years ago," he said. "78-79 is not old ... I don't think it's even appropriate for me to comment on that. It sort of speaks for itself and people can make their own determination."
The ex-president went on to discuss Biden's recent fall while walking up the stairs of Air Force One, comparing the incident to when he made headlines last year for walking carefully down a ramp after his West Point Commencement speech.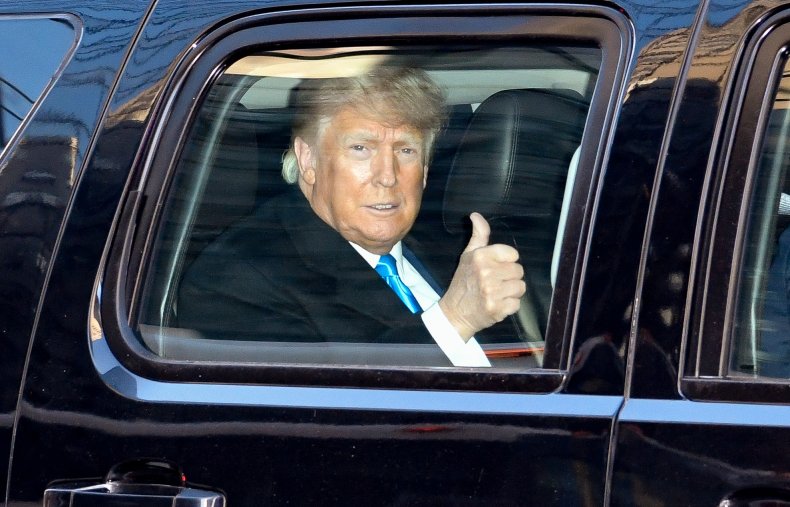 "I know that if it were me, they would be up and down, going crazy," he said, referring to Biden's fall. "I had an instance where on a slippery, slippery ramp, a piece of steel, very steep and very long railings ... and it was pouring at West Point ... the last thing I want to do is go down because when Gerald Ford went down and it was not good."
In June 2020, Trump was filmed carefully descending a ramp in West Point, New York. A 25-second video of the incident was shared online, prompting his critics to speculate about his allegedly ill health.
The creation of the hashtag #RampGate followed and quickly began to trend on Twitter. Most national media outlets either covered the incident or reactions from the public.
In late March, Biden fell three times walking up the stairs to board Air Force One to travel to Atlanta, Georgia. Several media outlets, including Fox News, Forbes and the New York Post, covered the president's fall. It also immediately became a viral meme online.
"Now, when Biden went down three times, the press didn't cover it," Trump told Hannity.
He added: "Air Force One is a very big plane, and usually, what they try to do is shield the wind. I've never seen too much wind. It can get a little windy, but not the kind of wind that blows you over. But if you look at mainstream media or as you say 'lamestream media.' They didn't cover that. If that were a Republican, in particular if it were me, that would be the biggest story for the rest of the year."
Correction (4/20/2021, 3:15 p.m.): This story originally said Mar-a-Lago was in Palm Springs, not Palm Beach. Newsweek regrets the error.