Donald Trump Compares NYC Mayoral Race to 2020 Election: 'An Embarrassment and Total Mess'
Donald Trump is comparing New York's mayoral race to the 2020 presidential election after the city announced a "discrepancy" in the vote numbers.
"Just like in the 2020 Presidential Election, it was announced overnight in New York City that vast irregularities and mistakes were made and that Eric Adams, despite an almost insurmountable lead, may not win the race," the former president said in a statement on Wednesday.
Trump went on to state that "nobody will ever know who really won" the race and suggested the New York City Board of Elections should "close the books and do it all over again."
Confusion gripped the city's mayoral race on Tuesday night after preliminary tabulations from the elections board showed candidate Adams crossing the 50 percent threshold after 11 rounds of ranked-choice voting for the Democratic primary.
But Adams called the latest numbers into question, stating that the new vote total released was 100,000-plus more than the total announced on Election Day.
Soon after, the vote totals were abruptly removed from the city's website. The elections board released a statement that it had included 135,000 test ballots that had not been cleared from the management system despite "rigorous and mandatory pre-qualification testing."
"The Board apologizes for the error and has taken immediate measures to ensure the most accurate up to date results are reported," it said in a statement.
Trump added in a follow-up statement Wednesday that "the New York City Election, even though an embarrassment and total mess, is far better and more accurate than my 2020 Presidential Election—so what are people complaining about!"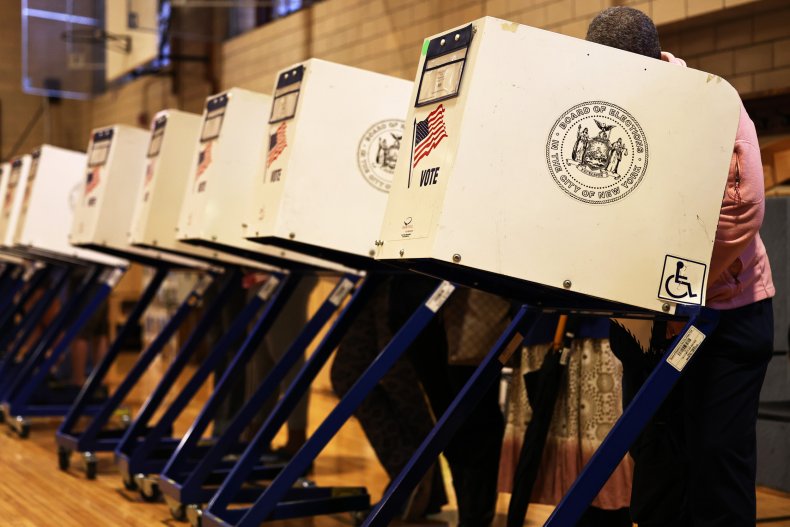 Before the preliminary results were removed from the city's elections website, they showed Adams ahead of former sanitation commissioner Kathryn Garcia by roughly 16,000 votes. Adams was shown with 51.1 percent of the vote to Garcia's 48.9 percent.
Garcia said Wednesday that she was concerned that the ballot discrepancy would undermine public confidence in the election.
"There is no one on my team or where we've been doing observations of opening of ballots that gives us concern that there is something fraudulent happening at all. But we need to make sure that the vote is protected and that we get the result that New Yorkers went to the polls or mailed in at the end of the day," she told CNN.
Garcia added: "It seems like this was a straightforward mistake, but we will definitely be watching and monitoring as we go forward."
New York City's Board of Elections said in an advisory that the unofficial ranked-choice results would be available "starting on June 30."
Updated 10:26 AM ET, with additional information.