Donald Trump Complains That Fox News Focused on a Single Protestor Instead of His Speech: 'That's Pretty Sad'
President Donald Trump complained that his favorite network, Fox News, did not show his Jamestown speech in its coverage and instead focused on a single protestor who disrupted the event.
But John Roberts, the chief White House correspondent at Fox News and the target of Trump's criticism, pointed out that the network had, in fact, carried the speech in full on Tuesday morning.
During Trump's speech, Ibraheem Samirah, a Democratic member of the Virginia House of Delegates, stood up and chanted "Mr. President, you can't send us back, Virginia is our home," as he held a sign that read "Go back to your corrupted home. Deport hate. Reunite my family."
Samirah later tweeted that he is the son of Palestinian refugees and that in 2002, his father was denied re-entry to the U.S. after visiting a sick relative in Jordan. In a statement, Samirah said his protest was against Trump's racist rhetoric and policies.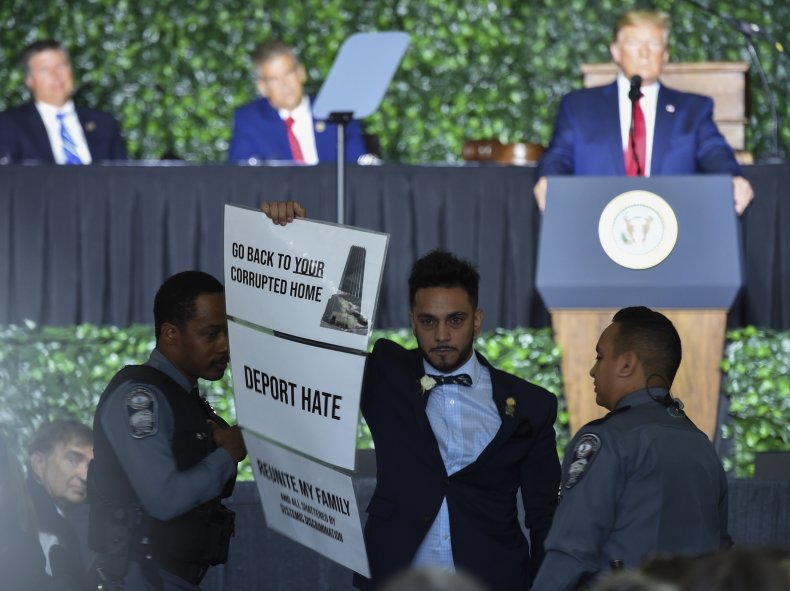 "If I got fair coverage, I wouldn't even have to tweet, it's my only form of defense. If the press covered me fairly, I wouldn't need that. But they don't cover me fairly," Trump told C-SPAN's Steve Scully in an interview on Tuesday.
"For instance, today I was in Jamestown, I made a speech that was said to be a very good speech. It was not a political speech at all. It talked about 400 years ago. I mean, it was an amazing, very important period of time.
"And there was one protestor stood up. And he stood up, and he held up a sign, and he said whatever he said, something—he got more publicity than the speech got.
"Now, I don't need publicity, Steve, at all. But, I just thought it was so terrible. And it was on Fox with John Roberts. He talked about the protestor for almost the entire segment of that.
"And I said, isn't that a shame, one guy stands up—not an impressive person—he stood up and he got all of this, took the whole thing away. One person. It wasn't like, gee, we have 25,000 people going crazy. It was one person. And I say, that's pretty sad."
Trump had already berated Roberts directly upon his arrival back at the White House following the Jamestown speech. Responding on Fox News, Roberts took issue with Trump's criticism.
"In my 1:00 report, we did not show anything from the president's speech because we were focused in that report on the ongoing feud between the president and Congressman Elijah Cummings of Maryland and the fallout from that," Roberts said. "But it should be pointed out that in our 11:00 hour the Fox News Channel carried that speech in its entirety."