Donald Trump Confused Hopes and Facts in Fighter Jet Sale Announcement, Says Finland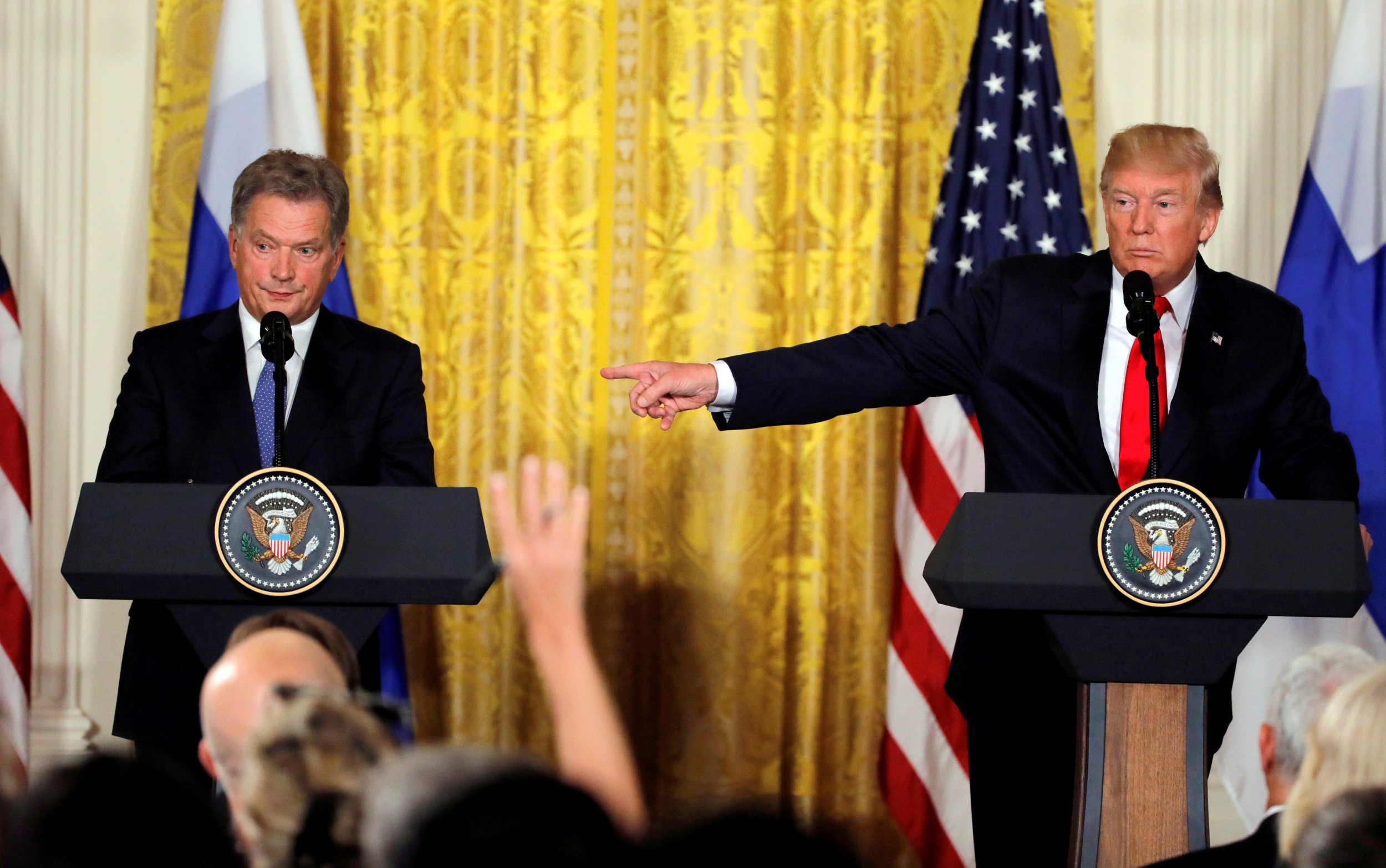 President Donald Trump loves to talk about trade deals. It was with fervor that he announced a new deal to supply Finland's air force with "a large number" of F18 fighter jets from Boeing. The news was a surprise to many, most of all Finland and its President Sauli Niinistö, who was sharing a podium with Trump as he made the announcement.
The Finnish Defense Ministry quickly denied the deal and the president refuted Trump's claim via Twitter. Finland is seeking to replace its current fleet of jets and procurement director Lauri Puranen told public broadcaster Yle that four other fighter jets besides the F18 are also under consideration, namely the Dassault's Rafale, Eurofighter's Typhoon, Lockheed Martin's F-35 and Saab's Gripenwho.
The deal for the jet order will not be placed this year and will likely be left up to whichever government forms following Finland's 2019 elections to finalize.
One of the potential presidential candidates, Matti Vanhanen, criticized Niinistö for not respondng to Trump immediately. Though the president looked surprised during Trump's announcement he did not interject at the time, later tweeting and telling press that the deal for the F18s has not been agreed.
"It seems that on the sale side, past decisions and hopes about future decisions have mixed... The purchase is just starting, and that is very clear here," Niinistö said on Tuesday, Reuters reported.
Finland has a 830 mile-long border with Russia and although the member of the European Union remains militarily neutral, Moscow's political falling out with the West over Ukraine has impacted Finland's own security considerations.
Increased Russian military presence in the Baltics has resulted in numerous intercepts by NATO but also by neutral Finland and Sweden.
During the press conference with Niinistö, Trump broke ranks with many Western leaders, refusing to single out Russia as a security threat, instead saying he considered "many countries a security threat."
His campaign's suspected closeness to Russian officials is currently the subject of investigations by Congress and by the Department of Justice. His persistent refusal to level any explicit condemnation at Russia or its President Vladimir Putin has also prompted U.S. lawmakers to transfer the authority over lifting sanctions on Russia to them, with near unanimous backing.