Donald Trump Praises Job Market, Finance Rates As Why There Has 'Never Been A Better Time' For College Graduates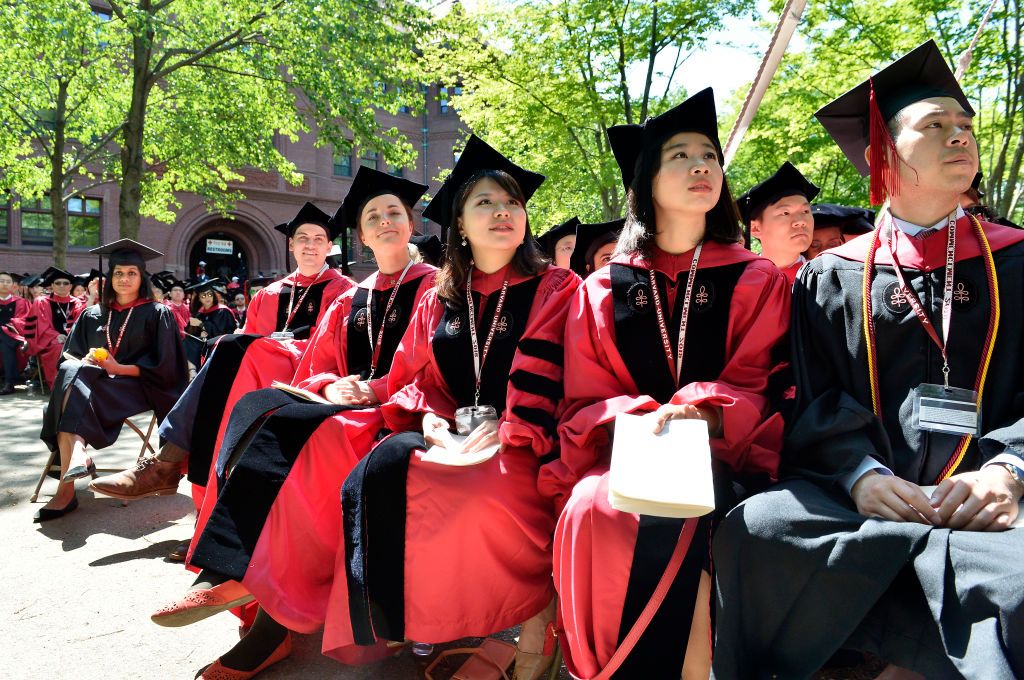 President Donald Trump painted a positive picture of the United States economy and job market in a Sunday afternoon tweet congratulating recent and upcoming graduates of colleges, universities and other educational programs.
"With the wonderful college, university and other graduations taking place all over the USA, there has never been a better time than now to graduate. Best jobs market ever, great housing and financing. Go out there, work hard and have a GREAT life. You deserve it. Congratulations!," he wrote.
While some who responded to Trump's tweet thanked the president for the sentiment and applauded the U.S. economy and job market, others derided the president's comments by referring to student loan debt that tops $1.5 trillion dollars.
According to Forbes, 44.7 million Americans have student loan debt that totals $1.57 trillion. Of those numbers, 50.1 million borrowers, who owe about $101.4 billion, are in default on their loans. An additional 2.6 million people have loans in forebearance, meaning that $111.1 billion worth of loans have monthly payments that have been placed on hold due to various circumstances such as financial hardship.
Credible reports that 77 percent of borrowers owe less than $40,000 in student loan debt, while 2.7 million owe at least $100,000. Those individuals with six-figure debt make up approximately 34 percent of all student loan debt.
Trump's statement about the "best job market ever" has been reflected by the lasted unemployment numbers released by the U.S. Department of Labor. As of May 3, when the most recent report was released, Graduates of the Class of 2019 are entering a job market with a 3.6 unemployment rate, the lowest since a 3.5 percent rate in 1969. Additionally, new hires for April 2019 outperformed estimates at 263,000.
However, CBS News reports that 2019 college graduates will see just a 2 percent increase in wages compared to their 2018 counterparts, highlighting the reluctant expansion of pay across the U.S. According to the Economic Policy Institute, college graduates have seen just a 14 percent increase in pay from 1969 to 2019.
"If it hadn't been for the expansionary economy of the late 1990s and 2000, wages would be no higher today than in 1989. Wages at the last business cycle peak in 2007 were just below where they were in 2000. And then the Great Recession hit, and young college graduates experienced the loss in wages felt throughout the economy," the study says, before adding that wages have increased since 2012 and that a tighter job market will help that trend to continue and "help make up for losses experienced by young college graduates in the aftermath of the Great Recession."
"But a high-pressure labor market will have to be sustained for quite some time to offset the longer-run wagestagnation facing this group," the study adds.
According to the Economic Policy Institute, 2019 graduates will earn an average salary of $51,347. Earlier this month, CNBC compiled the living wage needed for a family of three in all 50 states, only Alabama, Mississippi, Tennesee, Arkansas, West Virginia and South Dakota were less than the estimated salary for a recent graduate.
Data collected by the National Center for Education Statistics said that 19.9 million people were enrolled in higher education institutions in 2018. During the 2018-2019 school year, aproximately 3.8 million degrees were awarded at colleges and universities across the United States.