Donald Trump Kept Mistakenly Thanking the Congressional Black Caucus During His CBP, ICE Event
President Donald Trump, in a salute to immigration officials Monday, repeatedly referred to U.S. Customs and Border Protection as … the Congressional Black Caucus? Or perhaps the Canadian Broadcasting Corporation?
Multiple journalists and other social media users pointed out that Trump in his speech seemed to be saying "CBC" instead of "CBP," which is the acronym for one of the world's largest law enforcement agencies, tasked with overseeing border control.
Trump on the campaign trail promised to bolster border security and has followed through with his efforts toward that as well as stricter immigration policies.
"From saving victims from human smugglers, drug cartels, and criminal gangs to protecting American citizens from crime spilling across our border, President Trump understands the dangerous conditions our border officers face each day," the White House wrote in a release Monday. "To show his appreciation for their service, the President will highlight the life-saving missions of these heroes."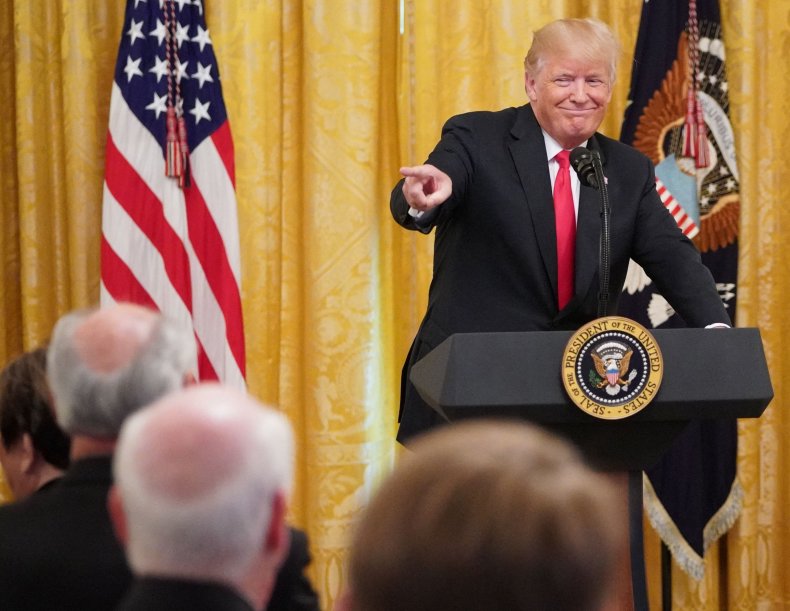 The president often makes typos in his tweets. Mistakenly thanking the CBC is particularly awkward given his poor relationship with the Congressional Black Caucus. Caucus members looked annoyed or gave blank expressions when Trump stated that "African-American unemployment stands at the lowest rate ever recorded" in his State of the Union address.
Slightly under two-thirds of the caucus supported impeachment votes for Trump in the House forced by caucus member Representative Al Green.
"Saying that certain countries of color are s-hole countries … and then saying it as you're discussing a 'merit-based' immigration policy. Is it really a merit-based policy, or a race-based policy masquerading as merit-based?" Green said. "This bigotry is being evinced in policy."
Caucus spokeswoman Kamara Jones said: "Members voted in support of debating impeachment of the president. Some of the members who voted against tabling that motion might ultimately support impeachment itself."
Trump has also attacked two caucus members personally. He tweeted that Representative John Lewis is "all talk, talk, talk, talk—no action or results. Sad!" He has also called Representative Federica Wilson "wacky."
Trump on Monday had another awkward moment Monday while thanking a Hispanic border patrol agent.
"Adrian come here, I want to ask you a question," Trump said. "Come here, you're not nervous are you, speaks perfect English. Seventy-eight lives, you saved 78 people."