Donald Trump's Week Is Off to a Rough Start
Former President Donald Trump on Monday was hit with several pieces of bad news that could have deep and long-lasting repercussions.
First came a CNN story about thousands of text messages that Trump's White House chief of staff Mark Meadows allegedly sent and received between the day of the 2020 presidential election and President Joe Biden's inauguration on January 20, 2021, many of which included discussions about the riot at the U.S. Capitol. Next, a New York judge held Trump in contempt of court for failing to comply with a subpoena related to the state attorney general's investigation into his organization.
While both of those events could potentially leave a black eye on any future political aspirations for Trump—including if he decides to seek the Oval Office again in 2024—the contempt decision hits the former president with both a legal headache as well as a costly financial impact. Judge Arthur F. Engoron ordered Trump to be fined $10,000 per day until he satisfied the court's requirements of supplying documents requested for the investigation.
But that's not the only financial damage Trump incurred on Monday. Stock tied to his social media company, Truth Social, fell by more than 12 percent on the same day Twitter announced it had accepted Elon Musk's offer to buy the company in a $44 billion deal. According to CNBC, shares of Digital World Acquisition Corp., the special purpose acquisition company set to take Truth Social public, now has year-to-date losses of over 30 percent.
On Monday afternoon, Trump's interview with Piers Morgan aired on Fox Nation. Prior to its release, the talk was promoted with advertising that suggested Trump walked out on the interview, but Trump has vehemently claimed it was edited to portray a false narrative.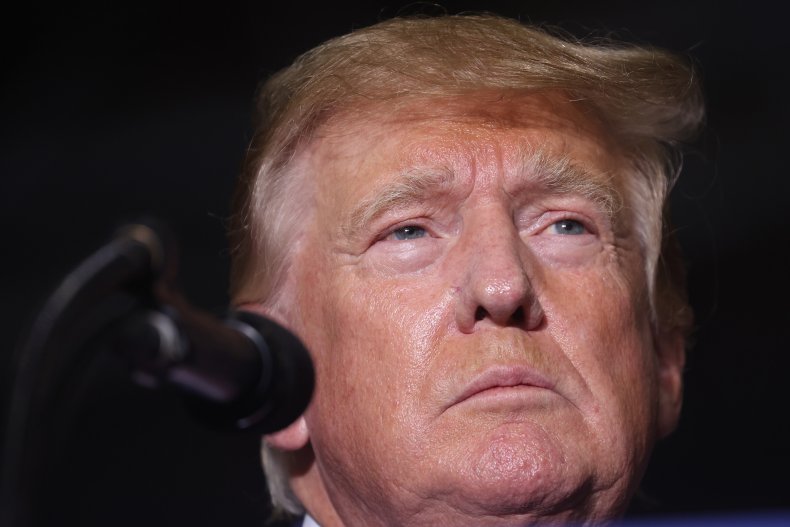 The messages CNN reviewed were turned over by Meadows to the House select committee investigating the January 6 attack on the U.S. Capitol. Aside from Meadows, other key members of Trump's inner circle who were allegedly involved in the texts included Trump's daughter Ivanka and son Donald Jr., as well as numerous members of his White House staff, Fox News hosts and more than 40 current and former members of Congress.
"The texts include everything from plans to fight the election results to surprising and unexpected reactions on January 6 from some of Trump's staunchest allies," CNN wrote of the 2,319 messages it reportedly reviewed that Meadows turned over.
Judge Engoron's contempt of court ruling was seen as a victory for Letitia James, the New York attorney general who is investigating whether Trump fraudulently inflated the value of his assets in annual financial statements of the Trump Organization. In February, Engoron also ordered Trump and his children to be deposed for James' probe.
Trump appealed February's ruling, and one of his lawyers on Monday said she will appeal the contempt of court decision.
"We respectfully disagree with the court's decision. All documents responsive to the subpoena were produced to the attorney general months ago," Trump attorney Alina Habba said in a statement.
Truth Social, meanwhile, has reportedly struggled since its launch in February. Mired with performance issues when it first became available, the app is still facing complaints from many users who say recent updates haven't been sufficient.
Newsweek reached out to Trump for comment.