What Donald Trump Said About COVID-19 Before Testing Positive
President Donald Trump and First Lady Melania Trump have tested positive for COVID-19, and the president's previous controversial statements about the disease are getting renewed attention.
Trump has been accused of downplaying the seriousness of the pandemic and said on several occasions that it would just go away "like a miracle." Now that he has the disease, remarks like that coming into renewed focus.
The president has said COVID-19 will go away at least 34 times, according to the Washington Post. He's also claimed the virus is no more harmful than the flu and that a vaccine is imminent, perhaps as soon as election day on November 3.
Conservative George Conway, who is a strong Trump opponent, took to Twitter to compile some of those comments. Many journalists also began highlighting them.
At the first presidential debate with former Vice President Joe Biden on Tuesday, Trump mocked the Democrat for wearing a mask. Fox News National Correspondent Jacqui Heinrich reported Thursday that administration officials at the debate refused to wear masks.
"I don't wear masks like him," Trump said. "Every time you see him, he's got a mask. He could be speaking 200 feet away from them and he shows up with the biggest mask I've ever seen."
Dr. Anthony Fauci, director of the National Institute of Allergy and Infections Disease, told ABC News on Wednesday that people should wear masks.
"Anybody who has been listening to me over the last several months knows that a conversation does not go by where I do not strongly recommend that people wear masks," he said.
As recently as September 22, Trump told a rally crowd that the virus "affects virtually nobody." More than 200,000 Americans had died by that time.
"It affects elderly people. Elderly people with heart problems and other problems. If they have other problems, that's what it really affects," Trump told a crowd at an airport outside Toledo, Ohio.
"That's it. You know, in some states, thousands of people, nobody young. Below the age of 18, like, nobody," he went on. "They have a strong immune system, who knows. You look — take your hat off to the young, because they have a hell of an immune system. But it affects virtually nobody. It's an amazing thing."
The president is 74-years-old and therefore in a high risk category. Those over 60 are considered to be more at risk from COVID-19 but the virus affects people of all ages and states of health.
Trump has now tested positive for COVID-19 but he told a rally on June 20 that testing was a "double-edged sword." He would go on to claim several times that the U.S. had more cases because it had more testing.
"I said to my people, 'Slow the testing down please," Trump told the crowd. White House officials later said he was joking but CNN reported that the president told officials the country would look better if there were fewer tests
"You have 15 people, and the 15 within a couple of days is going to be down to close to zero," Trump said on February 26, toward the very beginning of the pandemic.
"Well, it will go down to zero, ultimately," he said. There are now more than 7 million cases in the U.S., including the president and the first lady.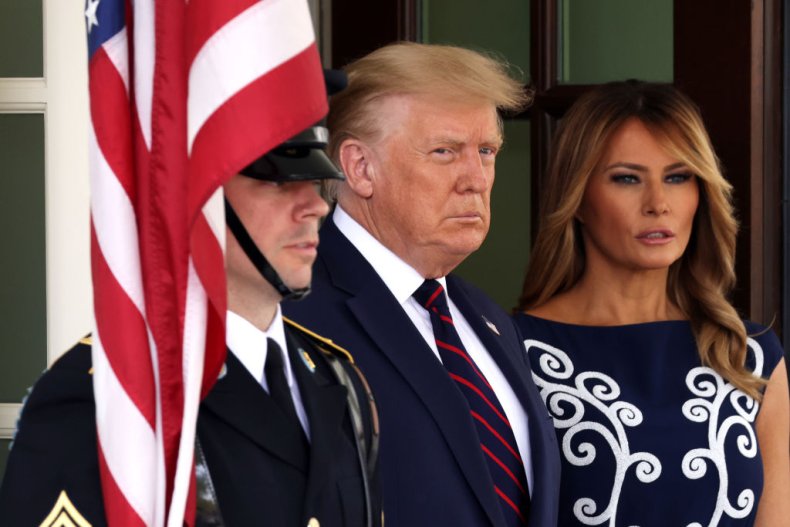 Update 10/2/20, 7 a.m. ET: The headline of this article was updated for clarity.