Joe Biden's Lead Over Donald Trump Falls: Poll
Former Vice President Joe Biden's lead over President Donald Trump has fallen by three points over the last week, according to new polling data.
The latest survey by Reuters and Ipsos found that Biden led Trump by six points among registered voters, with 45 percent backing the challenger and 39 percent favoring the incumbent.
The former vice president also had a four-point lead among Independent voters. A third of the group (33 percent) said they would back Biden, while 29 percent said the same of Trump.
When the same poll was published last week, the presumptive Democratic nominee had a nine-point lead on the president, with 47 percent of polled voters saying they would back Biden as only 38 percent opted for Trump.
The former vice president also had a stronger eight-point lead among Independent voters polled last week.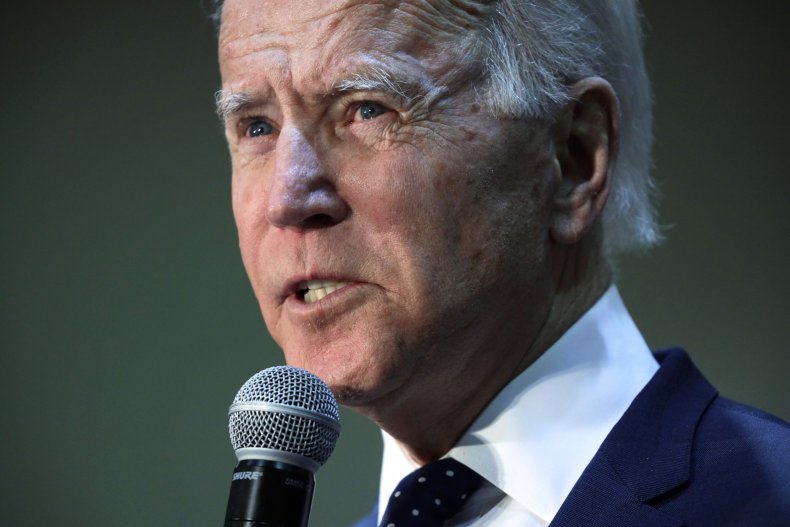 However, the Real Clear Politics head-to-head polling average still puts Biden ahead of Trump by 5.3 percentage points nationwide. The former vice president is also leading the president by several points in key battleground states—including Florida, Michigan and Pennsylvania.
In their latest survey, Ipsos pollsters also found that President Donald Trump's coronavirus approval rating remained steady this week as the U.S. death toll topped 100,000 on Wednesday.
Forty-one percent of polled U.S. adults said they approved of the president's handling of the COVID-19 pandemic—down by just a single point on last week.
Fifty-three percent told Ipsos they disapproved of Trump's handling of the outbreak, giving the commander-in-chief a net disapproval rating of 12 percentage points.
When the same poll was conducted the week before, the president's net coronavirus disapproval rating was at 10 percentage points.
Trump's rating on healthcare reform will make harder reading for the president and his team—with just 38 percent of polled Americans approving of his handling of the issue and 52 percent disapproving.
However, the president recorded net approval ratings on the economy and employment, despite almost 40 million Americans filing initial jobless claims since March.
Half of Americans said they approved of Trump's performance on employment and jobs as only 43 percent said they disapproved.
By comparison, a little less than half (49 percent) of polled U.S. adults approved of the commander-in-chief's economic record as 44 percent disapproved.
Asked for their view on Trump's overall performance in the Oval Office, 41 percent of U.S. adults backed his record while 54 percent said they disapproved.
The new Reuters/Ipsos poll was conducted between May 20 and May 27, surveying 4,429 Americans—including 3,732 registered voters.
Trump's latest coronavirus approval ratings were released as the U.S. COVID-19 death toll surpassed the 100,000 mark and confirmed global infections neared 5.7 million.
According to the Johns Hopkins University COVID-19 tracker, the number of confirmed cases in the U.S. has reached almost 1.7 million as of early Thursday morning.
A total of 100,442 people have died from the novel coronavirus in America thus far, while more than 391,000 have recovered from the disease.