Majority of Americans Say Donald Trump's Coronavirus Response Is 'Erratic': Poll
A majority of American voters believe President Donald Trump's response to the coronavirus pandemic is erratic and chaotic, and that he was unprepared for the crisis, according to new polling data.
A survey published by Navigator on Tuesday found that 57 percent of registered voters think the president is "erratic" in his response to the outbreak of COVID-19, the disease caused by the new strain of coronavirus.
But 38 percent said the word did not apply to Trump's handling of the pandemic and a further 5 percent told pollsters they were unsure.
Navigator surveyed 1,014 registered voters across the country between April 29 and May 4. Its margin of error is 3.1 percentage points.
Although the share of U.S. voters who say the president's response is erratic has risen by nine points since March 23, it declined slightly over recent days.
In Navigator polling from April 30, six-in-ten Americans described Trump's handling of the pandemic as erratic and 59 percent said the same on April 29.
In the new poll, when asked what other words and phrases in a list of negatives and positives they would apply to the commander-in-chief's handling of the outbreak, 61 percent said Trump was unprepared and 57 percent felt his reaction had been "chaotic."
A further 52 percent believed President Trump had been "irresponsible" in dealing with the disease. Almost two-thirds (63 percent) said his response had been "self-absorbed."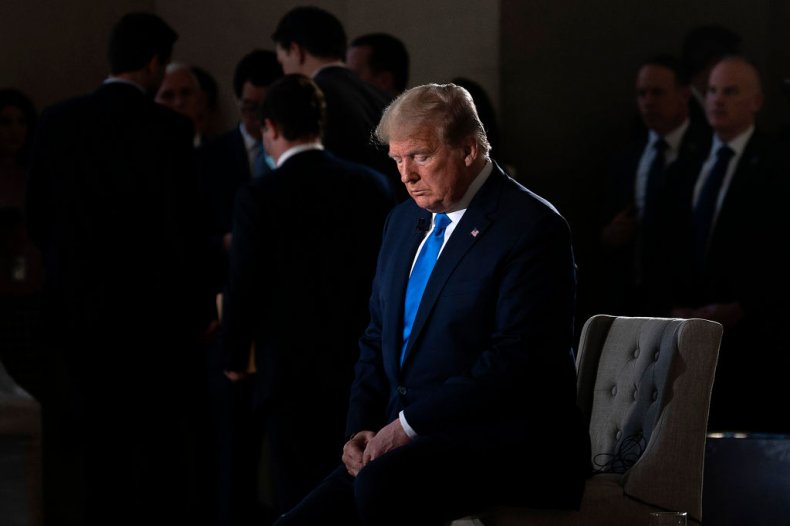 Presented with positive descriptions, less than half of those surveyed said any one of the words applied to Trump's coronavirus response.
Forty-nine percent of voters said Trump's reaction had been "serious" compared to 48 percent who said the word did not apply.
Asked if the words "presidential" or "competent" could be used to describe his handling of the pandemic, 52 percent said neither word applied.
Only 43 percent believed Trump had been honest about the virus and 42 percent felt he had been compassionate.
Overall, most voters associated the president's response to the COVID-19 pandemic with negative words rather than positive descriptions.
A plurality of 50 percent said he was not doing enough to combat the spread of infection, while 39 percent suggested he was "getting it about right."
Fifty-nine percent also said they felt the president and his administration did not take the pandemic seriously enough at first. Just over a third (34 percent) said they had "got it about right" when the coronavirus first began spreading.
Navigator released the data as the global number of confirmed COVID-19 cases rose to 3.6 million, according to the Johns Hopkins University tracker.
More than 1.1 million cases of the novel coronavirus have been recorded in the U.S. so far, along with 68,934 related deaths and 187,180 total recoveries.
The graphic below, provided by Statista, shows the number of confirmed cases by country as of Tuesday morning.