What is a National State of Emergency? Trump Officially Declares National Emergency Amid Coronavirus Pandemic
President Donald Trump declared a national state of emergency on Friday, increasing the ability for state and municipalities to receive federal aid of up to $50 billion.
"To unleash the full power of the federal government I am officially declaring a national emergency," Trump said on Friday.
Trump's announcement signaled an increasing shift in the president's stance on the coronavirus situation. Early on, he appeared to downplay the global outbreak, comparing it to the flu and rejecting claims that it would take hold in the United States. In his address to the nation Wednesday night, the president assured the public that COVID-19 will not be detrimental to American lives or the economy.
In making the emergency declaration, Trump invoked the Stafford Act. Signed into law in 1988, which Senate Democrats said would free up more than $42 billion in the Disaster Relief Fund to assist efforts to mitigate the spread of COVID-19.
"We have very strong emergency powers under the Stafford Act," Trump said during a meeting with Irish Prime Minister Leo Varadkar Thursday. "I have it memorized, practically, as to the powers in that act. And if I need to do something, I'll do it. I have the right to do a lot of things that people don't even know about.
National emergency declarations are most often used during a natural disaster, but they can also be used in times of a public health crisis. The decision comes at the sole discretion of the president and is intended to boost the federal government's powers until the emergency passes.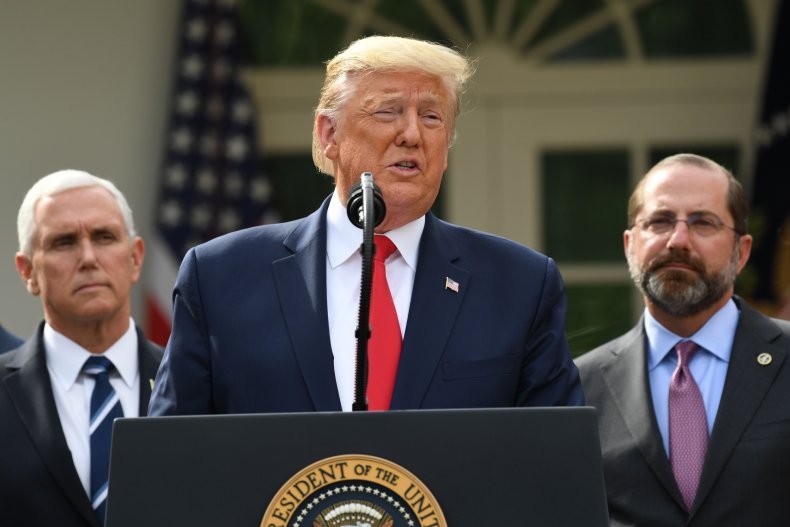 Making the declaration allows the Federal Emergency Management Agency (FEMA) to take a leadership role and assist with the coronavirus response, such as transporting residents and putting up temporary medical facilities. It would also enable states to use additional FEMA resources.
The declaration empowered Health and Human Services Secretary Alex Azar to waive revisions of applicable laws and regulations to give hospitals and health care providers "maximum flexibility" to respond to the virus and care for patients. Among the actions Azar could take are waiving:
laws to enable telehealth
certain federal license requirements so out-of-state doctors can provide services in states with the greatest need
requirements that limit the number of beds in critical access hospitals to 25 and the length of stay to 96 hours
requirements of a 3-day hospital stay prior to admission to a nursing home
rules hindering hospitals ability to bring additional physicians on board
rules that severely restrict where hospitals can care for patients within the hospital
In 2000, President Bill Clinton enacted an emergency declaration for areas of New York that were affected by the West Nile virus. A late August 1999 outbreak of the virus killed at least seven people in New York City and spread to at least seven states. Clinton's declaration provided local governments in affected areas with up to $5 million in reimbursements.
More than 1,600 people have tested positive for the new coronavirus and 41 have died since the first case was reported in January. Washington, California and New York are experiencing the biggest domestic outbreaks and officials have closed schools, implemented restrictions on large gatherings and even mobilized the National Guard to help.
Only three states—Idaho, Alabama and West Virginia—have not reported any cases, according to the Centers for Disease Control and Prevention (CDC).
On Thursday, Washington Governor Jay Inslee requested the federal government declare a national emergency during a conversation with Vice President Mike Pence.
"It is incumbent on all of us to acknowledge the gravity of this public health emergency and take the necessary actions now—not tomorrow, not next week—to slow the spread of the virus and save lives," Inslee said ahead of Trump's announcement. "By declaring a national emergency, the federal government can provide states with direct assistance to meet our residents' needs for health care, shelter, food and cash assistance, and more."
To provide financial relief to those who cannot work either because they are ill, quarantined or caring for other who are sick, Trump said Wednesday that he would be taking "unprecedented" emergency action. He also instructed the Small Business Administration to offer low-interest loans to small businesses in affected areas to help them survive during the economic disruption and instructed the Treasury Department to defer tax payments for certain individuals and businesses.
"We will remove or eliminate every obstacle necessary to deliver our people the care that they need and that they're entitled to. No resource will be spared," Trump said on Friday.