As President Trump Fends Off Corruption Allegations, GOP Members Are Trying to Pass a Sweeping Anti-corruption Law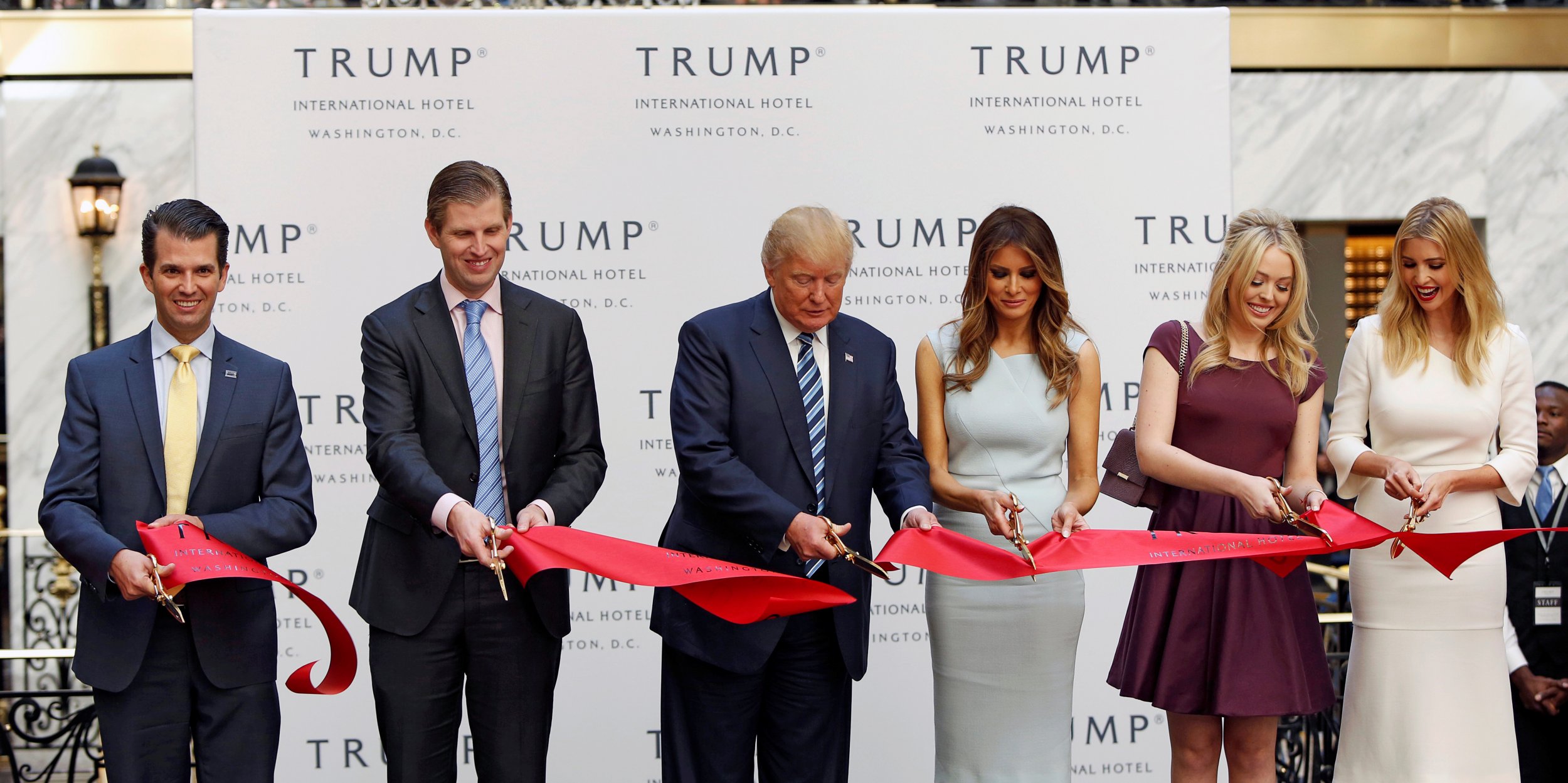 U.S. President Donald Trump prides himself on being a dealmaker. In his old life, one he says he misses, he was the only person in charge—free to market his own brand of steaks or approve the construction of a hotel in Azerbaijan, a country riddled with corruption.
As president-elect, he seemed to think this singular role would continue, that he'd move smoothly from running the Trump Organization to running America the same way. But his party—which controls both houses of Congress—seems to have other ideas.
Republicans have stymied and frustrated Trump since the start of his presidency. They have questioned his immigration travel ban; refused to support his proposed wall along the border with Mexico and blocked his attempts to repeal and replace the Affordable Care Act, also known as Obamacare.
Now, three Republicans have introduced legislation to combat global corruption—even though the commander-in-chief has criticized similar efforts.
Republican Senator David Perdue has teamed up with Democrat Ben Cardin to put forward a bill intended to fight corruption and ensure greater transparency in U.S. aid-giving. Named the Combating Global Corruption Act of 2017, it was introduced on April 5 and has been referred to the Committee on Foreign Relations. Five Democratic senators and two Republicans—including former presidential hopeful Marco Rubio—are co-sponsors.
Read more: Meet the billionaires who run Trump's government
If it passes and is signed by Trump, the bill would ensure two things. Every year, the U.S. State Department would have to publish a three-tiered ranking of the world's countries based on their attempts to tackle corruption. Tier one would mean a government has met minimum standards, tier two that it has tried to meet them but fallen short, and tier three that it has made no effort at all.
Secondly, Perdue and Cardin's bill also proposes specific measures the state and defense departments and USAID should implement when assisting tier-three countries. Among the suggestions: conducting corruption risk assessments and including the option to claw back money if it is used for corrupt purposes.
The anti-corruption organization Transparency International is one of the groups backing this bill. In an emailed statement, Zoe Reiter, program manager for the Americas, told Newsweek that the U.S. must continue to lead the way in promoting global anti-corruption efforts. This, says Reiter, "is more important than ever as we see corruption around the world as a critical threat to national security and a leading driver of inequality."
Corruption, as Transparency International and other good-governance organizations have noted, has far-reaching consequences. It prevents foreign aid from reaching the people who need it most; it erodes people's trust in their governments, worsens political instability and fuels violent extremism. (The Islamic State militant group (ISIS) has tried to attract supporters by declaring itself against state corruption, positioning itself as a morally virtuous alternative.)
For the U.S., this relationship between corruption and extremism is of particular concern. Groups like ISIS that support carrying out violent attacks around the world pose a clear threat to America's national security. It is therefore in Washington's interest for corruption to be addressed.
The U.S. has long been a leader in attempts to stamp out corruption. In 1977, Washington implemented the Foreign Corrupt Practices Act (FCPA), which prevents U.S. citizens and companies working abroad from bribing foreign entities. The first legislation of its kind, the FCPA also prevents foreign companies from doing the same in the United States.
The act, which has inspired similar laws across the world, has been remarkably effective. In 2016, the U.S. collected a record $2.43 billion in total fines and penalties from people and organizations who had fallen afoul of the legislation.
Trump, however, is not a fan of the FCPA. In 2012, he told CNBC that the law was "horrible" and put the U.S. at a disadvantage when doing business abroad. In March, a New Yorker report suggested that Trump's activities in Azerbaijan might have violated the FCPA, since U.S. companies cannot benefit, even unknowingly, from a foreign partner's corruption. (The Azeris involved in the Trump project had a reputation for corruption and there was little evidence the Trump Organization had thoroughly vetted them.)
Whether Trump will try to dilute the FCPA is unclear. Jeff Clayton, Trump's pick to lead the Securities and Exchange Commission—which enforces the FCPA—has criticized the act. In 2011, he co-authored a paper that said the law placed "significant costs on companies" subject to it. (In addition to fines and penalties, the legislation requires companies to carry out due diligence efforts to ensure compliance.)
If Trump does go after the act, it won't be the first time he has attacked anti-corruption legislation. On February 14, he signed a resolution repealing the Cardin-Lugar regulations. This law, which was part of the wider Dodd-Frank financial regulations act, had been due to go into effect in 2018. It would have forced all oil, gas, and mineral companies on the U.S. stock exchange to detail any payments they made to foreign governments. Trump's secretary of state, Rex Tillerson, the former CEO of oil and gas company Exxon-Mobil, supported repealing the legislation.
Trump's critics have expressed concerns that the repeal, and Trump's ambivalence toward the FCPA, can be traced to the president still maintaining links to his international business empire.
Though Trump has stepped down from his organization, he has not divested from it. His sons Eric and Donald Jr. remain in control of the company, prompting concerns that they might be keeping their father up-to-date with its operations. (If they are, then it is feasible, and possibly unconstitutional, that Trump could alter his diplomatic efforts in a way that would benefit his businesses.) When Trump first announced his plans for leadership succession at the Trump Organization, Norman Eisen, an ethics adviser under Barack Obama, commented: "Mr. Trump's ill-advised course will precipitate scandal and corruption."
Since then, allegations of corruption and nepotism have dogged the president. When he took office, high-level administration employees skipped a planned ethics training course that has been in place—and attended by previous administration staffers—since 2000.
Meanwhile, many foreign dignitaries have made sure to stay in Trump's new Washington hotel —a potential violation of the Constitution, which prevents the president from benefiting financially from foreign governments. The legal group Citizens for Responsibility and Ethics in Washington, which counts Eisen and George W. Bush's chief ethics lawyer, Richard Painter, as board members, has filed suit against Trump over this. (Though Trump didn't personally ask foreign officials to stay in his hotel, Brian Klaas, a fellow at the London School of Economics tells Newsweek that "the law denies any foreign payments to the president that could endanger their impartiality to foreign policy.")
Trump's appointment of his daughter, Ivanka Trump, and his son-in-law, Jared Kushner, to senior positions in the White House sparked further allegations of possible corruption as well as nepotism. In February, Trump used his Twitter account to chastise Nordstrom for "unfairly" pulling his daughter's accessories and clothing lines. The same day that she met with the Chinese President Xi Jinping, Ivanka also received lucrative Chinese trademarks. Though Klaas notes there is no proof that Ivanka asked for the trademarks, her position is still problematic. "There is nobody in the world who believes that Ivanka Trump would be in the White House advising the president if she wasn't his daughter," Klaas says. "It undercuts the U.S.'s ability to lecture foreign regimes on nepotism and corruption."
Trump himself has acknowledged that when it comes to one country, his position is somewhat compromised. In 2015, during an interview with the executive chairman of Breitbart News at the time, Steve Bannon, Trump admitted that he has "a little conflict of interest" when it comes to Turkey, because "I have a major, major building in Istanbul." His critics have said his proposed travel ban, which covers six Muslim-majority countries, might also involve conflicts of interest. The ban omits any states in which the Trump Organization has business interests.
The most recent allegation of corruption against Trump came in late April, when U.S. embassies and the State Department shared posts about his Florida resort, Mar-a-Lago, on their official websites—a potential violation of federal law preventing the government from promoting private organizations. The post's swift removal, Klaas says, was telling. "I don't think anyone in the White House would agree that it is acceptable for tax payers dollars to promote Trump's business interests," he adds.
The problem with all these potential violations is that Trump's actions are so unprecedented that no one knows quite what to do, beside taking the president to court. "It's just so odd that Trump is regularly flouting certain laws and there seems to be no consequences," Klaas says.
Though Trump has not faced legal censure for his actions, they have affected America's standing abroad. Earlier this month, Mother Jones reported that when Jessica Tillipman, a dean at the George Washington University Law School and an expert on government ethics and compliance, gave anti-corruption training to some Latin American officials, they laughed at her. "It was almost a bit of a joke," Tillipman told Mother Jones . "To have countries with their own distinct corruption issues laughing at our current issues—it's embarrassing."
Despite these countries' mockery, senators Cardin and Perdue are pushing on with their bill. But, while it has bipartisan support, it is unclear how successful it will be—assuming the legislation does pass. Under Trump, the U.S. State Department remains understaffed and lacking in experienced officials. Expecting it to produce an annual tiered ranking of countries' efforts to tackle corruption might be a difficult ask. So too might expecting USAID to vet the tier-three countries to which it provides assistance, given Trump is yet to appoint a head of the department and has spoken about wanting to slash its funding.
Cardin and Perdue's act could reduce corruption around the world—but not if Washington is unable to enforce it.