Donald Trump Is 'No Doubt' Staging a Coup in Venezuela, Nicolás Maduro Claims
Nicolas Maduro is either Venezuela's president or a dictator who is illegitimately maintaining an iron grip of control over the country by squashing his opponents, depending on whom you ask. But on Thursday he accused President Donald Trump of attempting to launch a coup against him.
In a live video released a day after the country's opposition leader declared himself the interim President, Maduro blamed the challenge to his leadership on President Donald Trump, saying that the country was experiencing a provocation directed personally by the United States and that there was "no doubt" that Trump was trying to stage a coup against him. The statement mimicked language from Venezuela's military, which blamed the events on far-right elements supported by imperialists.
President Trump, along with leaders from Canada and the European Union, has come out in support of opposition leader Juan Guaido, who was named interim President on Wednesday. Venezuela's constitution says that the leader of the National Assembly, in this case Guaido, will take over the power of president if there is a dispute over leadership.
Venezuela's allies in Russia have accused the U.S. of provoking unrest in the country. On Thursday, Russian Deputy Foreign Minister Sergei Ryabkov gave an interview toCNNin which he said the U.S. is "pouring gas" on the fire in Venezuela.
"We warn everyone, not just the US, but some others that can entertain these ideas from this type of action. The resort to military power would be catastrophic...We face a scenario that may lead to further bloodshed in Venezuela," Ryabkov said.
But experts say that much of the pressure on Maduro comes from within the country.
"Hundreds of thousands of people participated in nationwide protests on January 23 in support of Venezuela's opposition-led National Assembly and the swearing-in of its president, Juan Guaido, as interim President of Venezuela," Jose De Bastos, Regional Analyst for the Americas at WorldAware, a global risk management firm, told Newsweek.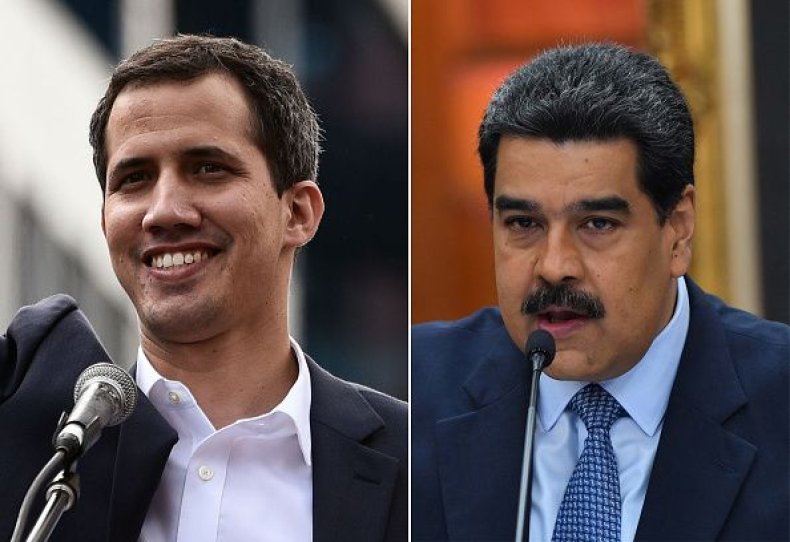 "This has reinvigorated critics of President Maduro, and further large-scale protests are likely to occur in upcoming weeks, with demonstrators likely to respond to calls by Guaidó and his allies to take to the streets in order to increase pressure on Maduro," Bastos added.
Protests have rocked Venezuela for years as Maduro's economic policies have been blamed for hyperinflation and major shortages of food and other basic goods. Bastos noted that the protests are now spreading across the country to smaller villages.
"These spontaneous demonstrations have occurred mostly in low-income neighborhoods, which had until recently been bastions of support for Maduro's administration," Bastos said. "Despite their small scale, these protests have been very disruptive and violent, with frequent clashes between protesters and police and the military. They have also mostly occurred at night, increasing the threats to participants given the cover of darkness, and human rights organizations say most of the at least 26 people who have been killed in the recent protests have died during these smaller and more violent demonstrations."
On Thursday, Secretary of State Mike Pompeo gave a speech to the Organization of American States, an organization that promotes regional solidarity, in which he said the U.S. is a friend of Venezuela.
"We have watched Venezuelans suffer for far too long. We know what they know, that the tyranny of the now-defunct Maduro regime has far too long—for far too long choked the country and its citizens," Pompeo said.
"The time for debate is done. The regime of former president Nicolas Maduro is illegitimate. His regime is morally bankrupt, it's economically incompetent, and it is profoundly corrupt. It is undemocratic to the core. I repeat: The regime of former president Nicolas Maduro is illegitimate. We, therefore, consider all of its declarations and actions illegitimate and invalid," he continued.