After Getting Call From President, 'Cowboys For Trump' Organizer Hopes to Embark on Nationwide Horseback Tour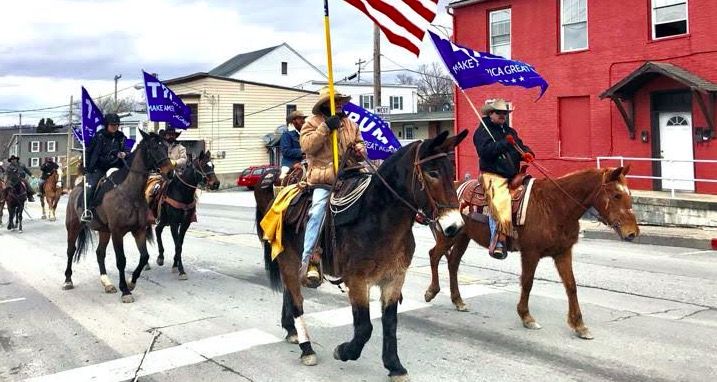 After a horseback ride from Maryland to Washington, D.C., garnered the attention of President Donald Trump, the leader of the Cowboys for Trump hopes to embark on a nationwide tour.
A native of New Mexico, Couy Griffin grew up riding horses and spent a few years working at the Buffalo Bill's Wild West Show at Disneyland in Paris. His affinity for traveling miles on horseback took him across the country twice, through Europe and into Jerusalem.
In February, after putting out a few pleas on Facebook for co-riders, Griffin led a crew of 12 men and one woman from Cumberland, Maryland, to Washington, D.C. Based on his past experiences, Griffin knew a horseback ride can attract attention and this time, he used the platform as an expression of support for Trump.
Now, Griffin's hoping to take the Cowboys for Trump on a nationwide tour to all 50 state capitals, dubbed the "Circle the Wagons" tour, as an homage to their heritage.
"If you know anything about the old west when they circle their wagons that's usually when they're under attack and that's what we feel like right now, that we're under attack," Griffin said.
One of their first stops was to Santa Fe, New Mexico, where the number of cowboys – and cowgirls – grew from 13 to about 98. Unfortunately, they weren't able to meet with Governor Michelle Grisham because of logistics. Griffin claimed she wouldn't come outside to meet them and they couldn't accept her invitation to come inside because of their horses.
Along with being an expression that people stand behind the president, Griffin said the initial ride and the national tour is a way to express support for Trump's policies, specifically when it comes to border security. Living in New Mexico, Griffin said his state is directly affected by illegal immigration. He pointed to his aunt and uncle, who he said had a ranch on the border that was passed down over five generations. However, about five years ago, Griffin said they sold it after they were repeatedly woken up by people, many of whom were hungry and lost, who crossed the border and broke into their home.
"We have political leaders that have the audacity to stand up there and say there's no problem down here," Griffin said. "It's ludicrous, it's politics at its finest and I don't say that in good light. It's the dirty in the politics."
He added that if someone doesn't consider there to be a problem at the border, "they're probably sitting in a studio apartment in downtown Manhattan."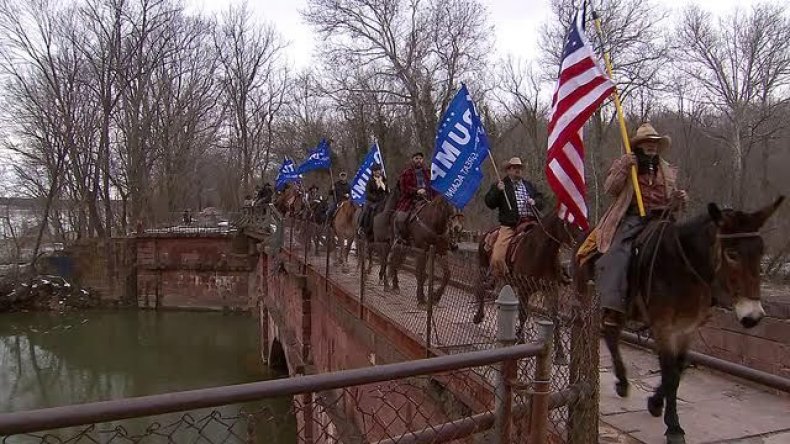 In February, Lujan Grisham ordered the majority of the National Guard troops deployed at New Mexico's southern border to withdraw and rejected Trump's claim that there was an "overwhelming national security crisis at the Southern border." She added that New Mexico has some of the safest communities in the country.
"However, I recognize and appreciate the legitimate concerns of residents and officials in southwestern New Mexico, particularly Hidalgo County, who have asked for our assistance, as migrants and asylum-seekers continue to appear at their doorstep," Lujan Grisham said.
Lujan Grisham isn't alone in her opposition to Trump's call for a stronger response to illegal immigration at entry points and prominent legislators, journalists and pundits argued that, despite what Trump said, there is no crisis on the border.
"Not a single one of us is against immigration. We know we have to have immigration, that's what makes our country strong, but it has to be proper and it has to be vetted and there has to be organization to it," Griffin said. "You can't just let them flood in here and then what?"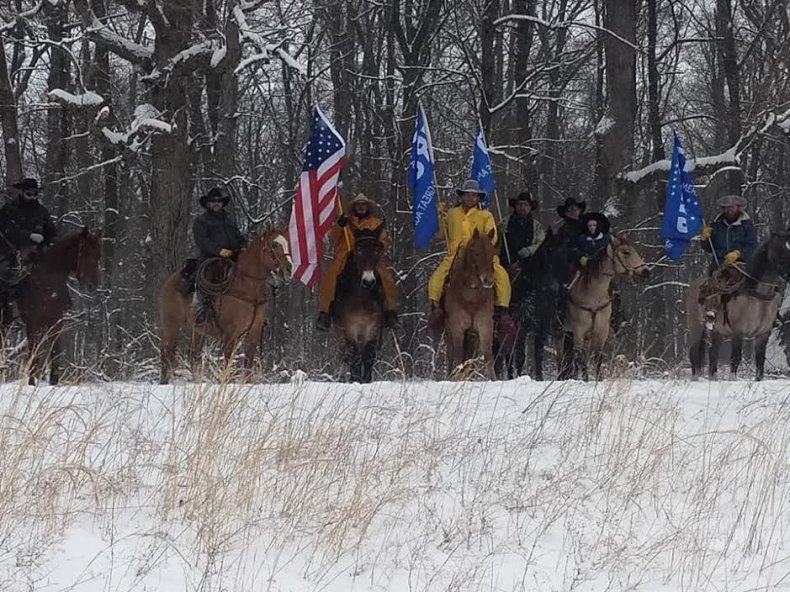 The Cowboys for Trump didn't have the opportunity to meet the president, but Griffin had the chance to share his ideas on border security with Trump when he received a call from the White House. While he was on his way back to New Mexico in February, he saw a call from a 202 area code coming through and someone from Trump's office was on the other end of the line.
"I still get choked up thinking about it. I just got a frog in my throat and I couldn't talk and trying to keep from crying," Griffin told Newsweek.
Shortly after that first call, he received another one, this time from Trump himself. After expressing the immense respect he had for the president, he delivered a message on behalf of the president's supporters.
"Mr. President, I know that you get armchair quarterbacked by everybody around you, everybody's a critic and everybody wants to try to tell you to do things differently," Griffin said he told Trump. "But, I'd like to speak to you on behalf of myself, as well as, millions of others just like me, 'keep doing exactly what you're doing because you're doing a fantastic job and we are honored to be able to call you our president.'"
During the call, Trump made a comment that Griffin admitted churned around in his mind for a few days. When Griffin expressed the belief that it seemed the republic was "coming alive" and "waking up" Trump responded, "So, it's starting to come back to us?" Ultimately, Griffin reasoned that the president meant the power was shifting from the government back to the people.
"The beauty of what he said was that, 'it was starting to come back to us,' because the president considers himself one of us," Griffin said. "He's the people's president in office and that's what makes him so special."
Along with the national tour, which he hopes will stop in Austin, Texas, next, this summer Griffin plans to be back in Washington, D.C., once the logistics can be worked out with the president.