WATCH: Mona Charen, CPAC Speaker, Heckled for Questioning Trump's Record on Women and Alleged Sexual Misconduct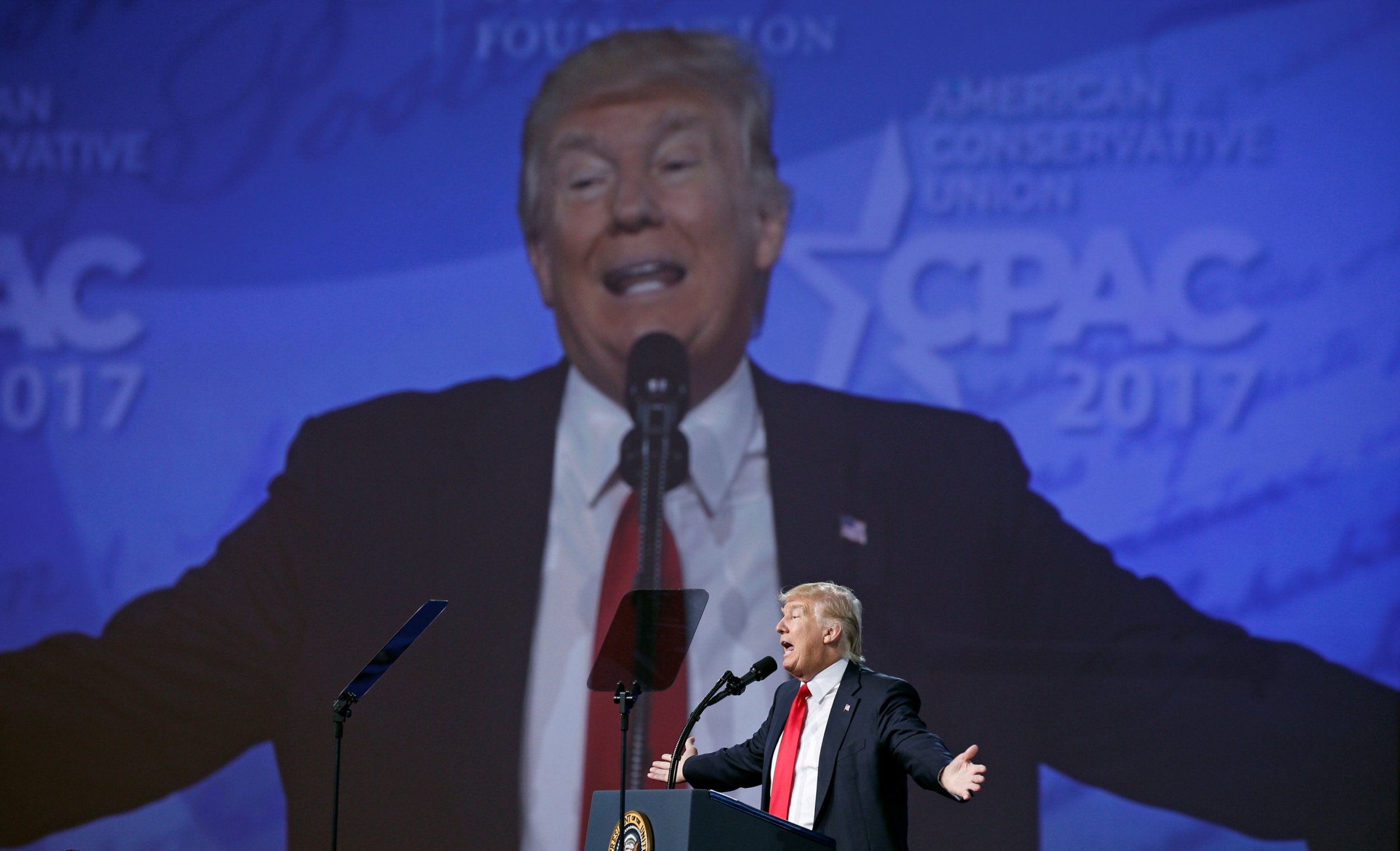 It was near the end of the Conservative Political Action Conference, at the end of four adulatory days on the Maryland shore, that President Trump received a rare dose of criticism from one of the conservative speakers on the main stage. The criticism, from writer Mona Charen, came during a panel titled "#UsToo: Left out by the Left." Charen was one of four women on the panel, which focused on how conservatives should approach and grapple with the #MeToo movement.
"I'm disappointed about our side about being silent about serial harassers and abusers, including the one sitting in the White House," Charen said, "because they happen to have an R beside their name." This was an obvious reference to President Trump, who has been accused of sexual harassment and misconduct by more than a dozen women. He has denied all those allegations.
The hall erupted in booing and some shouting, a stark break from the cheering and applause that have marked the four-day conservative conclave. Charen is a National Review writer who worked in the White House of Ronald Reagan. But although Reagan was—and always is—repeatedly invoked during CPAC, this is now the party of Trump, and to question his conduct towards women amounted to an act of treason.
Seemingly unfazed by the crowd's dismay, Charen continued, "You can't endorse Roy Moore, credibly accused of child sexual abuse," a reference to former chief Alabama judge Roy S. Moore, who lost a senatorial race in that state last December. He was defended by many prominent Republicans, among them President Trump, despite credible evidence of misconduct against young women, including teenagers.
"Not true," someone in the audience shouted, as the panel's moderator, publisher of conservative Regnery Books, Marji Ross, tried to steer the conversation towards safer topics: the excesses of the #MeToo movement, Harvey Weinstein's history of sexual assault.
Charen would not have it. She urged conservatives to "separate" themselves from "the men on our side who've behaved atrociously towards women." Not quite done yet, she wondered why French ultranationalist Marion Marechal-Le Pen had been invited to speak at CPAC. "The Le Pen name is a disgrace," she said of the family behind the National Front Party in France.
Until then, the strongest criticism of Trump had come from Daily Wire editor Ben Shapiro, who called Trump's frequent tendency for untruth "immoral." Virtually every other speaker portrayed Trump in glowing terms, suggesting that his first year in the White House has been one of unrivaled greatness.
As such, Charen's eleventh-hour attack on Trump's record of alleged mistreatment of women proved a jarring reminder that many conservatives remain uneasy about the president.
"Why are you here?" asked one of the CPAC attendees of Charen, even as her sharp criticism punctured, with just a few sentences, the celebratory aura that had been building since Wednesday night.