Trump Cries 'Prosecutorial Misconduct' as Letitia James Remains AG to Investigate Him
Donald Trump lashed out at New York Attorney General Letitia James on Wednesday, calling her investigation into his business "prosecutorial misconduct."
In a statement released by his Save America political action committee, the former president said James "wants to politically weaponize her position as Attorney General instead of exemplifying impartiality and protecting the interests of all New Yorkers."
"It's called Prosecutorial Misconduct," Trump said. "Rather than continue to waste her time and taxpayer resources on a long continuing Witch Hunt against the Republican Party and me, she should focus her attention on helping to resurrect the once Great State of New York where crime and poverty continue to wreak havoc, with murder, rape, drug sales, and just about every other form of crime at record levels, and now with a just-announced highest unemployment rate in the Nation."
James dropped out of the governor's race last week after launching a bid in November. Instead, she will be seeking re-election to remain the Empire State's attorney general.
Her decision to withdraw from the gubernatorial contest came amid reports that her office is seeking to formally question Trump on January 7 as part of its civil investigation into the Trump Organization. James is looking into whether the business committed fraud by misstating assets to receive loans and tax benefits.
"I have come to the conclusion that I must continue my work as attorney general," James wrote on Twitter. "There are a number of important investigations and cases that are underway, and I intend to finish the job. I am running for re-election to complete the work New Yorkers elected me to do."
The attorney general has also joined forces with Manhattan District Attorney Cy Vance on a criminal investigation into Trump and his business.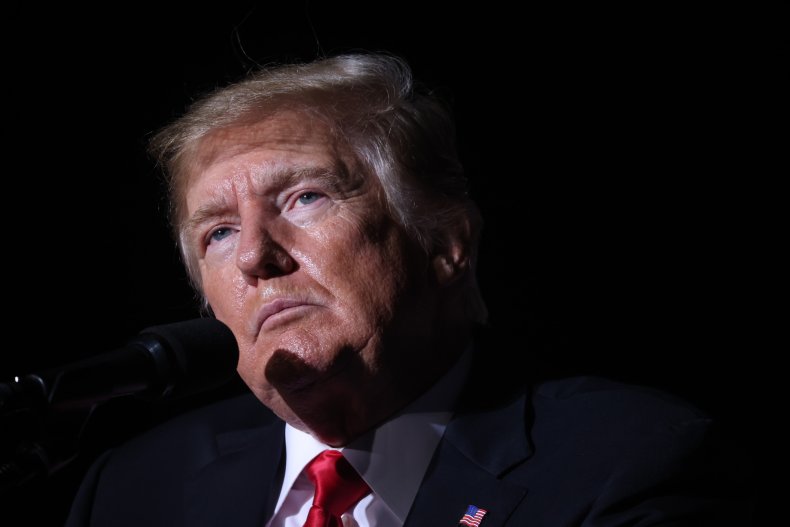 Trump claimed that James' dropped out of the race because of "abysmal" poll numbers.
"She didn't drop out of the race for a higher purpose, or to 'finish existing business' [I wonder what that would be?]," Trump said in the statement.
But James was consistently polling in second place behind Governor Kathy Hochul. Hochul took over the top position in August after former Governor Andrew Cuomo resigned amid a sexual harassment scandal.
A Siena College poll released last week showed Hochul with 36 percent support among New York registered voters in a potential Democratic primary contest while 18 percent backed James. The next closest candidate was New York Public Advocate Jumaane Williams, who garnered 10 percent support.
Update 12/15/21, 11:20 a.m. ET: This story was updated with additional information and background.