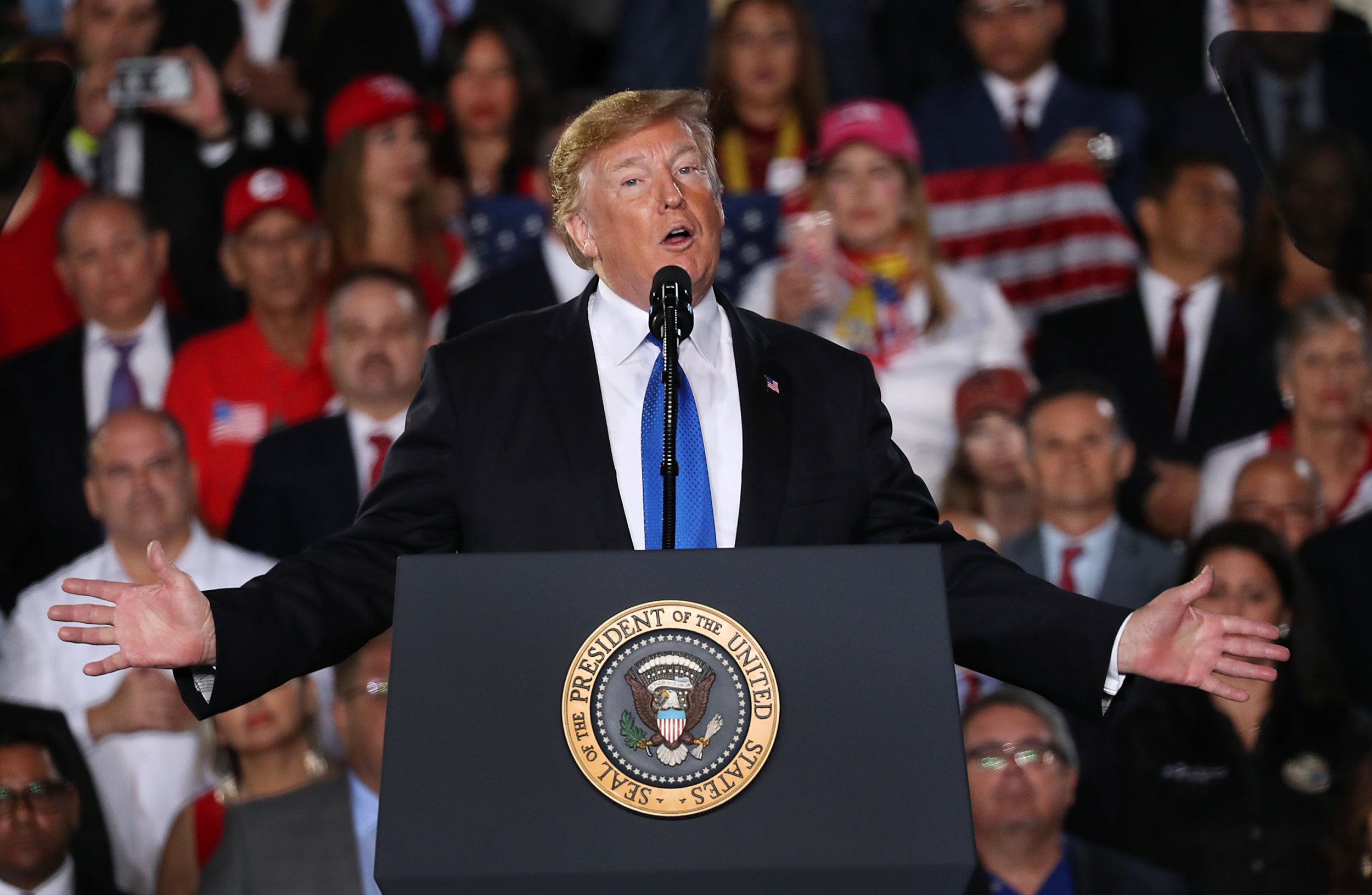 President Donald Trump has criticized renewable energy sources, claiming people would have to turn off their TV sets if there wasn't a strong enough breeze to move wind turbines.
Speaking to workers at a tank factory in Lima, Ohio, on Wednesday afternoon, Trump appeared to confuse wind turbines with windmills, and told the audience: "Hillary [Clinton] wanted to put windmills all over the place."
Mocking the renewable energy resource, he continued to speak as if he were a man watching TV with his partner at home: "Let's put up some windmills. When the wind doesn't blow, just turn off the television darling, please. There's no wind, please turn off the television quickly."
The president also went on to suggest that having a wind turbine near a residential area would cause property values to drop, although he provided no source for his claims.
Trump said: "Put the windmills up, and watch the value of your house if you're in sight of a windmill—watch the value of your house go down by 65 percent.
"Wonderful to have windmills. And solar's wonderful too, but it's not strong enough, and it's very very expensive," he continued without clarifying what he meant by "strong."
Trump made the comments after he told the workers in Ohio that the U.S. produced more crude oil and natural gas than any other country, The Hill reported.
The graphic below, provided by Statista, illustrates the U.S. energy mix.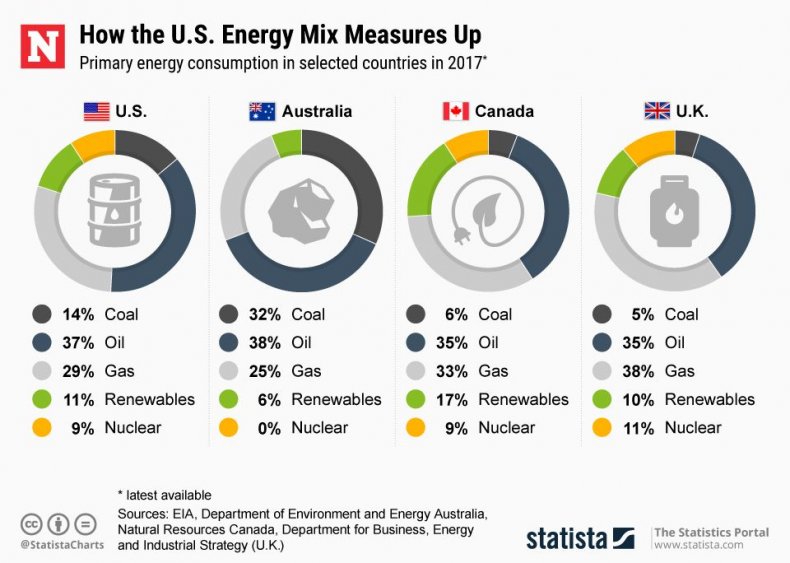 Trump made a similar joke earlier this month. The president took aim at the idea of the U.S. adopting more sources of renewable energy by criticizing the Green New Deal spearheaded by Representative Alexandria Ocasio-Cortez of New York and Senator Edward Markey of Massachusetts. The policy, inspired by President Franklin Roosevelt's New Deal economic reforms following the Depression, aims to tackle climate change.
If put in place, the measure would see the U.S. powered by "clean, renewable and zero-emission energy sources" in the next 10 years, The Guardian reported. The initiative also aims to get the U.S. to hit net-zero greenhouse gas emissions.
Addressing the annual Conservative Political Action Conference in Maryland, Trump jokingly told the audience: "The Green New Deal—I encourage it.
"I think it's something [Democrats] should really promote...no planes, no energy. When the wind stops blowing, that's the end of your electric. 'Darling is the wind blowing today? I'd like to watch television.'"
Trump also compared the plan to "a high school term paper written by a poor student."
At a rally in El Paso, Texas, in February, Ocasio-Cortez hit back, saying the president was "a man who can't even read briefings written in full sentences."
This article was updated to include an infographic.