Politicians Pounce on Newsweek's Report of Donald Trump's 1998 Cuba Foray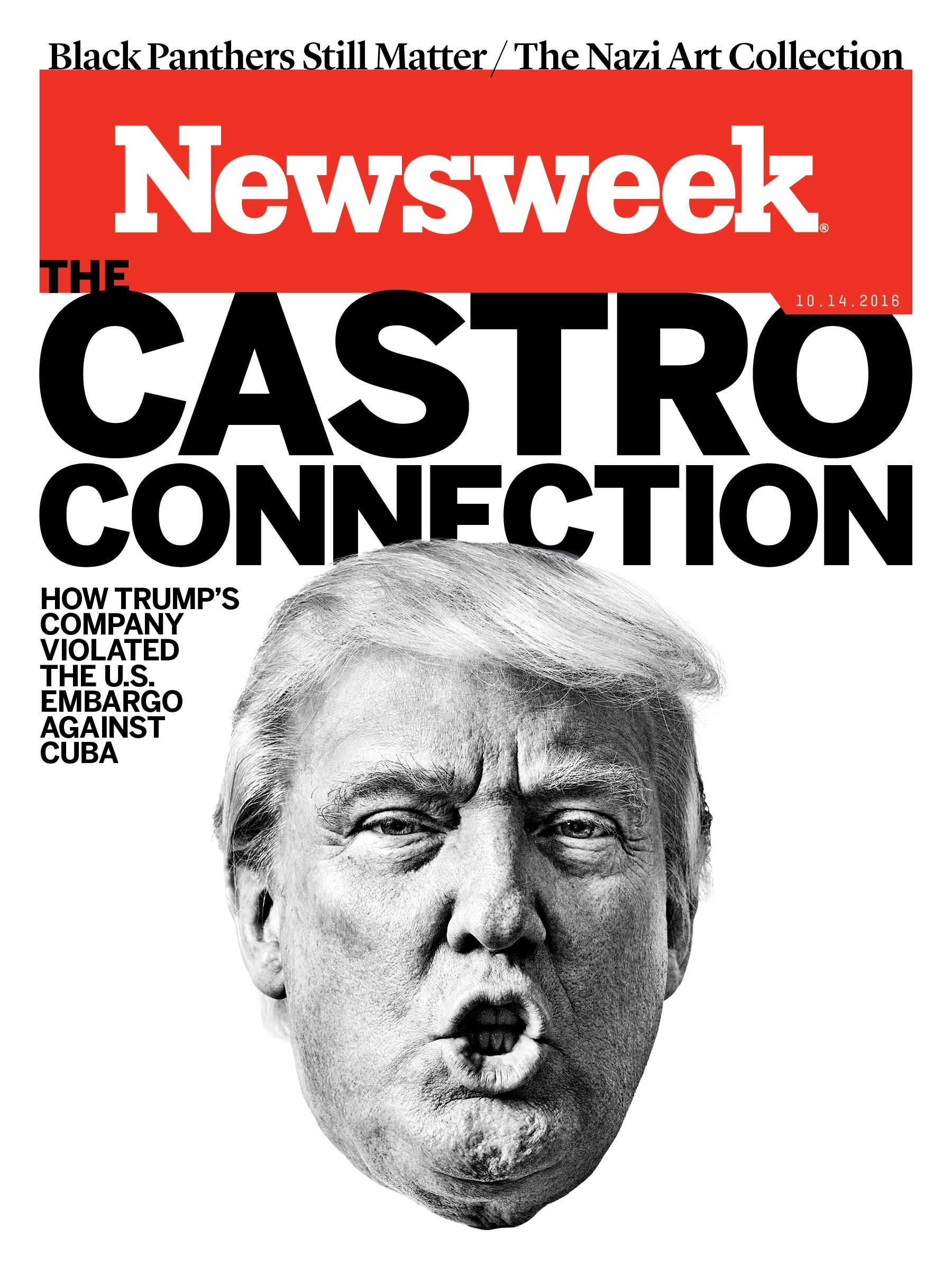 Republicans and Democrats are reacting strongly to a Newsweek story that charges Donald Trump indirectly did business with Cuba in the 1990s, violating the embargo that the U.S. has had with the Communist nation for decades. The story by Kurt Eichenwald reported that Trump had violated the embargo by hiring a consulting firm to probe the possibility of doing business on the island, an action that the story concludes violated U.S. law at the time but which is no longer punishable because the statute of limitations has expired.
Democratic presidential nominee Hillary Clinton spoke to reporters late afternoon on Thursday aboard her campaign plane and addressed the controversy. The former Secretary of State said was aware of the story "about his efforts to do business in Cuba which appear to violate U.S. law and certainly flout American foreign policy. He has consistently mislead people about doing business in Cuba. So this adds to the long list of actions and statements that raise doubts about his temperament and qualifications to be president and commander in chief.
"No I never did business in Cuba," Trump said when asked about the story during a campaign trip to New Hampshire. "I never did a deal in Cuba. I heard about it last night for the first time." Trump took aim at Eichenwald, accusing him of being "this guy who has a very bad reputation as a reporter."
Related: How Donald Trump's Company Violated the United States Embargo Against Cuba
Earlier on Wednesday, Trump campaign manager Kellyanne Conway addressed Newsweek's cover story during an appearance on The View. "Read the entire story. It starts out with a screaming headline, as it usually does, that he did business in Cuba. And it turns out that he decided not to invest there. I think they paid money, as I understand from the story, in 1998—and we're not supposed to talk about years ago when it comes to the Clintons," Conway stated.
Conway's public acknowledgement that Trump "paid money" appears to confirm that the Republican presidential candidate spent funds on a "foray" into Cuba, thus violating the embargo. Those fees, as reported by Eichenwald's investigation, were paid by Trump Hotels & Casino Resorts through Seven Arrows Investment and Development, a consulting firm.
Also on Thursday, Trump campaign surrogate Steve Cortes, who serves on the Republican nominee's Hispanic National Advisory Council, said during an appearance on MSNBC that Trump "had no reason to cozy up to a dictator" and pointed to a 1999 statement by Trump that he favored the embargo—even though its being lifted would be a lucrative business opportunity for the real estate mogul..
A statement from the Clinton campaign used Newsweek's reporting to question Trump's legitimacy as a presidential candidate. Jake Sullivan, one of Clinton's top foreign policy advisors, said the story showed how "Trump will always put his own business ahead of the national interest."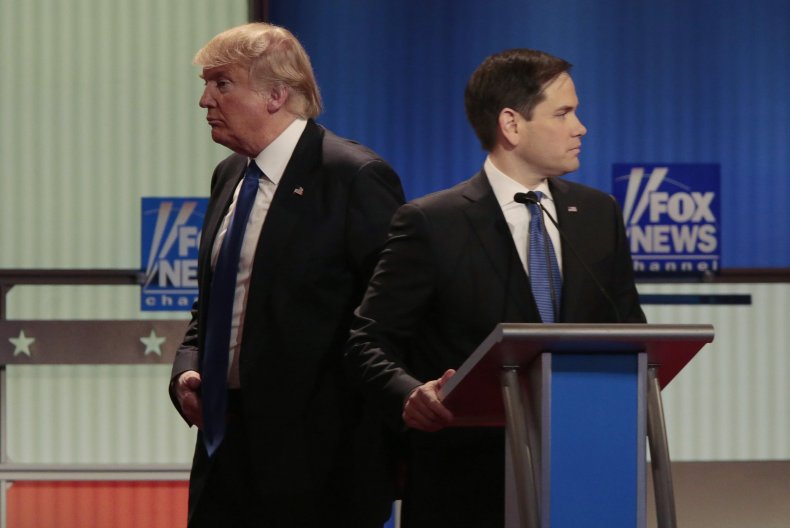 Newsweek's report presented an uncomfortable moment for Florida Senator Marco Rubio. For much of the past year, Rubio and Trump engaged in a bitter primary battle. That race ended with Rubio endorsing his rival with little enthusiasm only weeks after announcing a Senate bid for reelection. Rubio finds himself like many GOP candidates at once bound to and distancing himself from his party's presidential nominee.
Rubio said of the Newsweek story that it's "something [the Trump campaign] is going to have to give a response to. I mean, it was a violation of American law, if that's how it happened," Rubio made his remarks on the ESPN/ABC Capital Games podcast. "I hope the Trump campaign is going to come forward and answer some questions about this, because if what the article says is true—and I'm not saying that it is, we don't know with a hundred percent certainty—I'd be deeply concerned about it. I would," he said.
Related: Marco Rubio Calls Accusations 'Troubling' After Newsweek Cover Story on Trump's Company Violating Cuban Embargo
"Perhaps, after months of Donald Trump's bigoted attacks and misogynistic comments, Marco Rubio will finally disavow him," said Galia Slayen, a spokeswoman for Rubio's opponent, Democratic Rep. Patrick Murphy, told Politico. "Or, more likely, there is no issue too sacred for Marco Rubio if it comes between him and his own political ambition. Our guess? He will respond with more of the same: silence."
Florida Gov. Rick Scott, a Republican and Trump supporter, said, "I haven't seen the article. I've not talked to Trump about it. I assume this is more of what Hillary Clinton keeps doing," Scott said Thursday. "She doesn't want to talk about job creation because she didn't get it done. She doesn't want to talk about ISIS because she failed.
Newsweek reached out to prominent Cuban-American political figures. Rep. Ileana Ros-Lehtinen is traveling to the funeral of Israeli President Shimon Peres and would not be able to comment, a spokesman told Newsweek.
Sen. Robert Menendez (D-NJ) was preparing to speak out about Newsweek's cover story on the Senate floor on Thursday morning when he had to cut short his plans and rush to his home state where a commuter train crash injured more than 100 in Hoboken. Sen. Mendendez's staff offered the following statement to Newsweek before releasing it more widely:
"It is ludicrous that anyone, let alone someone seeking the highest office in the land, would knowingly and willingly subvert U.S. law, all for the purpose of propping up a dictatorial and repressive regime," Menendez said. "As a Cuban-American, to hear that a major Party's candidate for President secretly conducted business with Castro's Cuba is quite frankly offensive." The senior Senator from New Jersey added: "I hope that every one of my colleagues, Republicans as well as Democrats, will condemn such violations of U.S. law. Leading this nation is not a business and supporting dictators who jail and suppress their own people to make a profit for themselves is not a quality that we can tolerate in a President. This is yet another example of Donald Trump's inexcusable approach to business, approach to the law, his approach to the rules, and his willingness, apparently, to break them for his own benefit."
Rep. Mario Diaz-Balart (R-FL) said Thursday he needs further evidence to know whether Donald Trump's company violated the U.S. trade embargo. "They're very serious allegations," Diaz-Balart said, adding that "up to now, it looks like there wasn't business" done in Cuba.
Frank Calzon, Executive Director of the Center for a Free Cuba, thought the allegations pale in comparison to what he says is a crackdown on human rights by Castro's regime since Obama Administration's opening to Havana in 2013. Calzon contended that the story did not prove illegality. "The facts do not support this over the top story," he wrote to Newsweek via email.
Calzon also pointed to an entry on an anti-Fidel Castro blog, Capitol Hill Cubans, which offered a critique of the Newsweek story. On Thursday, Rubio retweeted that very same critique.