'The Daily Show' Compares Trump on USPS and Mail-in Voting to Bond Villain Revealing Their Master Plan
The Daily Show sees a resemblance between President Donald Trump and one of James Bond's most iconic villains, Ernst Stavro Blofeld.
In a tweet shared on Thursday, the Comedy Central show's official Twitter account joked about comments Trump made about the U.S. Postal Service and mail-in voting during a Thursday morning interview on Fox News. The account tweeted out an image of Ernst Stavro Blofeld (played by Donald Pleasance) from the 1967 Bond film You Only Live Twice, and subtitled it with an approximation of Trump's remarks.
"You see, Mr. Bond, they need that money in order to make the Post Office work. But if they don't get those two items that means you can't have universal mail-in voting. [Evil laugh]," the faux-subtitle reads. Above the image, the tweet itself reads, "It's so unrealistic how movie villains just announce their evil plot."
The tweet's satirizing comments Trump made on Fox Business' Mornings with Maria. In the interview, Trump spoke against funding for the postal service, and also referenced that the extra funding is needed for the post office to process the anticipated mail-in votes that will be necessary for the 2020 U.S. presidential election, because of the coronavirus pandemic.
Trump said that the post office would need $3.5 billion to accommodate the mail-in votes. He also said that Democrats want $25 billion for the post office, and that the $25 billion funding was also intended to make mail-in voting accessible.
"They need that money in order to have the post office work, so it can take all of these millions and millions of ballots," Trump said. "If they don't get those two items, that means you can't have universal mail-in voting because they're not equipped to have it."
While Trump has spoken out against the post office, calling it a "joke" and a "laughing stock," The Daily Show took this morning's comments as an admission of his plan to suppress mail-in voting.
Trump has long been an opponent of mail-in voting, often saying that the process will allow for increased voter fraud in the upcoming election. On August 5, he also expressed speculation that the surge in ballots sent by mail could take "months" or "years" to get results, in response to Nevada's plans for mail-in voting.
This isn't the first jab that The Daily Show has made at Trump's stance on the USPS. On Wednesday, the show created a parody commercial for the president's supporters to support the postal service with commemorative stamps.
"Specifically designed by the U.S. Postal Service in a desperate attempt to earn his approval, each stamp commemorates one of our president's great achievements, like the time President Trump defeated the sun in a staring contest, or the night that President Trump personally killed Osama Bin Laden," the narrator of the spoof commercial said.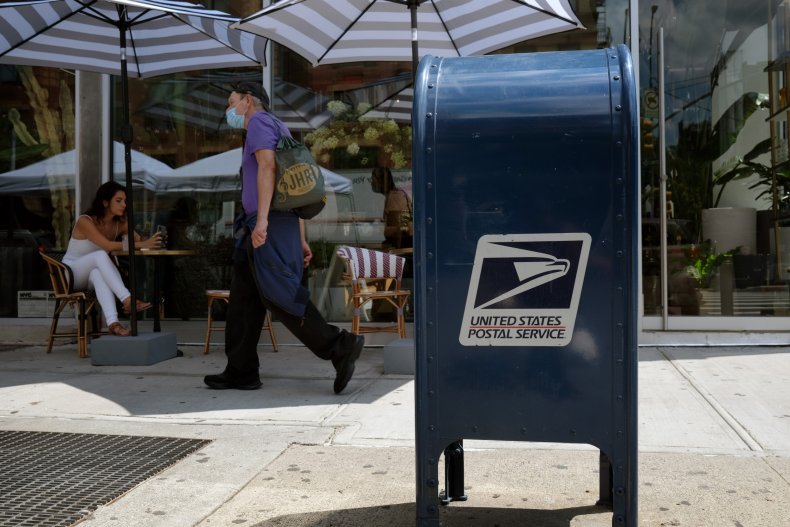 The White House and Trump campaign did not respond to Newsweek's emailed requests for comment in time for publication. Press contacts for Comedy Central did not respond to Newsweek's emailed request for comment in time for publication.