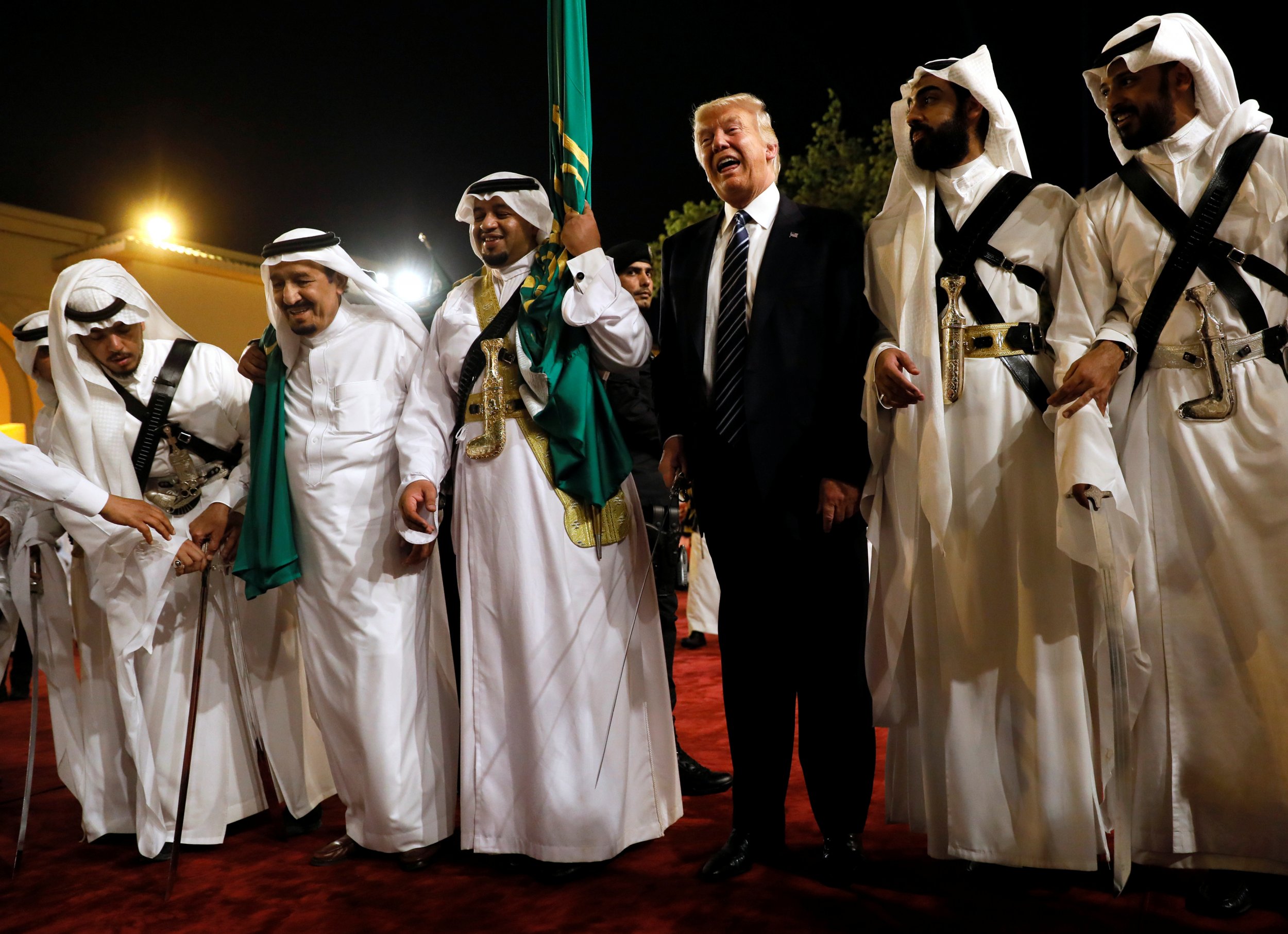 Things for President Donald Trump back home might be rocky—what with an investigation into his administrations ties to Russia and a controversy over his firing of former FBI Director James Comey—but that didn't mean he couldn't take a nice dance break Saturday during his first overseas trip as leader of the free world. Trump danced—or at the very least swayed along—as Saudi dancers performed a traditional ardha dance.
Video posted online shows Trump moving along with a line of dancers as people chanted. He was eventually handed a sword as he danced, as were other members of his administration, including Secretary of State Rex Tillerson and Commerce Secretary Wilbur Ross.
Trump, not necessarily known for his fun-loving, footloose nature, did some conservative side-stepping to the drum beat. He did make sure to smile widely and move his head side-to-side as well.
The ardha dance is common for public events in Saudi Arabia and is often performed at celebrations.
"The dance begins with a single line of poetry that is repeated with drums beating in the background and swords wielded as part of the national ceremony," notes Saudi news service Al Arabiya. "Dancers express their joy and pride, re-pledging allegiance to the King."
Trump arrived to fanfare in Saudi Arabia Saturday. King Salman bin Abdulaziz greeted Trump and soon after the two countries signed a weapons deal. Saudi Arabia agreed to purchase $110 billion in U.S. arms with an option to up it to $350 billion over a decade.
Meanwhile, in the states, the Trump administration continues to deal with the fallout of an explosive New York Times article that revealed Trump reportedly told Russian officials firing "nut job" Comey relieved "great pressure" he was feeling "because of Russia." The Washington Post also reported that an unnamed White House official was now a person of interest in the investigation into possible Trump administration collusion with Russia, which intelligence agencies determined worked to get the Republican candidate elected in the 2016 election.