Donald Trump Makes 'Life More Dangerous' for 'Every European Country' With INF Withdrawal: Russian Politician
A leading Russian politician has warned that President Donald Trump's decision to withdraw from the Cold War-era Intermediate-Range Nuclear Forces Treaty will make Europe "more dangerous."
Pyotr Tolstoy, the deputy speaker of the Russian State Duma (lower house of parliament) made the comments on Thursday during an address. He warned that an end to the decades-old INF Treaty would signal problems for "all countries."
"Our American colleagues are confident they defeated everything and everyone in the Cold War and can continue to impose their will on European countries like they did before, and so they have decided to leave the treaty," Tolstoy said, Russia's Tass news agency reported. "I would like to point out that this move will make life more dangerous for people in every European country."
However, Tolstoy said that Russia did not plan to be the first nation to carry out a strike. "We all will find ourselves in a situation when a decision must be made in 10 minutes," he said, explaining that Russia "will deploy neither interceptor missiles nor other weapons if the other party—NATO member states—refrains from taking such steps."
Concluding his remarks, the politician said that the end of the INF Treaty was "a highly unpleasant situation." He pointed out that "it is very dangerous for all countries."
The Trump administration announced its withdrawal from the Cold War–era agreement at the beginning of February, accusing Russia of violating the treaty's terms. The deal was signed in 1987 by former President Ronald Reagan and Soviet leader Mikhail Gorbachev. Following the collapse of the Soviet Union, the treaty has remained in place.
Russian President Vladimir Putin warned in a national address on Wednesday that his country would not hesitate to aim its missiles at U.S. "decision-making centers" if Washington moved to deploy more missiles in Europe. He asserted, however, that Moscow did not seek confrontation with its arch-rival and would only respond if threatened.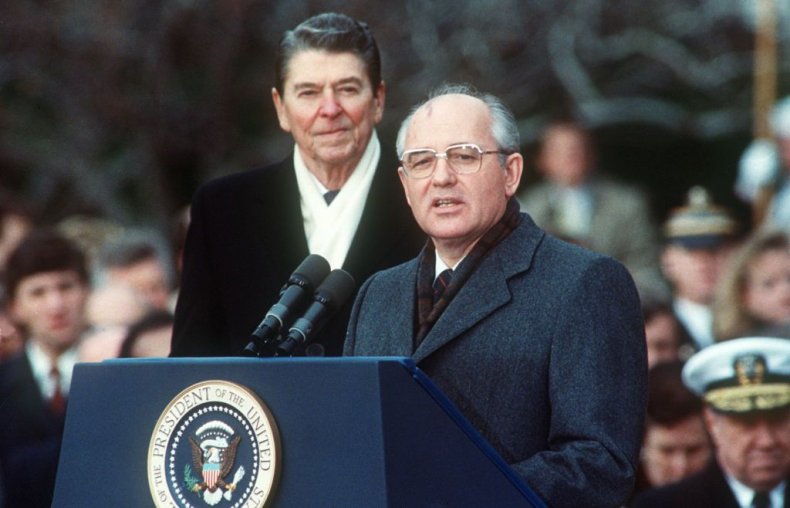 "We don't want confrontation, particularly with such a global power as the U.S.," Putin said.
NATO spokesman Pierce Casalet said that Putin's comments were "unacceptable."
But the Russian Foreign Ministry's official spokeswoman Maria Zakharova mocked NATO's concern, asking what the alliance expected from her country.
"Did they really think that we will make selfies with them after NATO enlargement, after U.S. withdrawal from the missile defense treaty, after the build-up of U.S. military contingent in Europe and endless interference of the collective West into internal affairs of sovereign states?" Zakharova asked, according to Tass.