Donald Trump's Adviser Seeks Deal to Protect Syria Allies From Forces Once Backed by U.S. Under Obama
President Donald Trump's top security adviser arrived in Turkey in an attempt to secure a deal to protect Pentagon-backed Syrian Kurdish fighters from rebel forces once supported by the CIA under former President Barack Obama.
White House national security adviser John Bolton's trip to Ankara came just a day after he appeared to reverse the president's calls for a timely pullout from Syria, where the U.S. has led a coalition battling the Islamist State militant group (ISIS) since 2014. Before that, the U.S. had offered tacit support for insurgents in the wake of a 2011 rebel and jihadi uprising against Syrian President Bashar al-Assad, who has been accused by the West and its allies of human rights abuses. Some of these same opposition fighters, however, now primarily backed by Turkey, threaten Kurdish fighters that have led the U.S.-backed fight against ISIS on the ground in Syria.
Trump had announced last month that he had ordered the Pentagon to begin pulling U.S. troops out of Syria as ISIS had been defeated. Speaking to reporters in Jerusalem, Bolton said Sunday that "there are objectives that we want to accomplish that condition the withdrawal," as reported by NBC News. This included ensuring ISIS's lasting defeat and protecting Kurdish groups viewed as terrorist organizations by Turkey because of their alleged links to a decades-long separatist insurgency at home.
"We don't think the Turks ought to undertake military action that's not fully coordinated with and agreed to by the United States, at a minimum so they don't endanger our troops, but also so that they meet the president's requirement that the Syrian opposition forces that have fought with us are not endangered," Bolton said.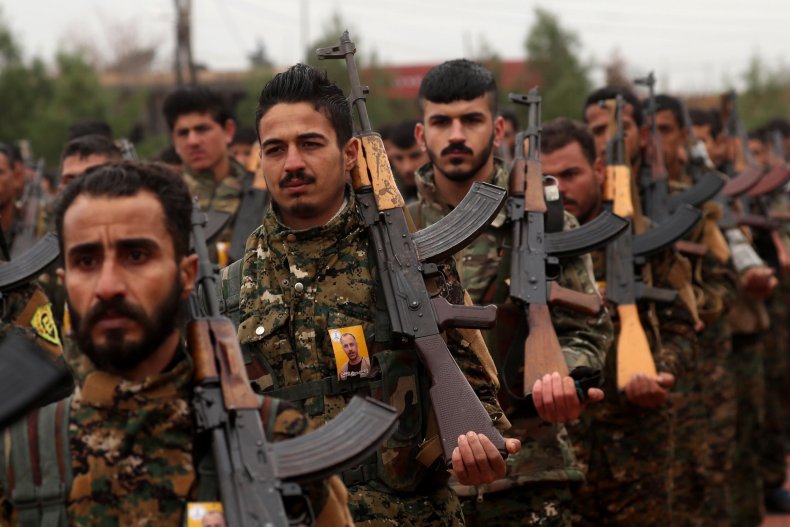 The Syrian Democratic Forces, a mostly Kurdish group of fighters that also includes other minority groups as well as Arabs, have actually fought both alongside and against the Syrian government at various points throughout the country's ongoing civil war. The leader of one of the most dominant Kurdish political forces, Kurdistan Workers' Party (PKK) head Abdullah Öcalan, once found refuge in Syria as his group waged war with Turkey, but was eventually expelled in 1998 and was captured by Turkish authorities the following year in Kenya.
In the years leading up to the 2011 civil war, tensions between the Syrian government and Kurds had escalated, especially in mixed Arab-Kurdish regions throughout the northeast, where the Syrian Democratic Forces now mostly rule. This Kurdish-led militia, however, did not receive direct U.S. backing until 2015 as the largely Arab and Sunni Muslim insurgency grew increasing Islamist and ISIS began taking over large swaths of eastern and northern Syria. Trump, who had previously blasted Obama for backing rebels, officially cut this line of assistance in 2017.
A newfound alliance with Kurdish forces, however, strained U.S. ties with Turkey, which doubled down on its support for the opposition, even as a Russian intervention in 2015 and assistance from various Iran-backed groups helped the Syrian armed forces reassert control over much of the country east of the separate U.S.-led campaign. With ISIS now largely isolated to a far eastern pocket, Turkish President Recep Tayyip Erdogan declared the jihadis defeated and vowed a new offensive against Kurdish forces.
Though the Pentagon had shored up defenses near Kurdish-held territories in order to deter such an attack, Trump reportedly made his decision to remove the roughly 2,000 U.S. ground troops in Syria shortly after a call with Erdogan over rising friction between the two NATO Western military alliance members. The Syrian Democratic Forces described Trump's decision as "a stab in the back" and have since attempted to accelerate existing talks designed to rebuild their relationship with Damascus as both continued to fight ISIS on separate fronts.
Responding to Bolton's remarks Monday, Turkish Defense Minister Hulusi Akar argued that Ankara's battle was not against the Kurdish people, but against the PKK and People's Protection Units (YPG)—the Kurdish force that forms a core part of the Syrian Democratic Forces—as well as ISIS, all three of "which pose a threat to all ethnic and religious communities."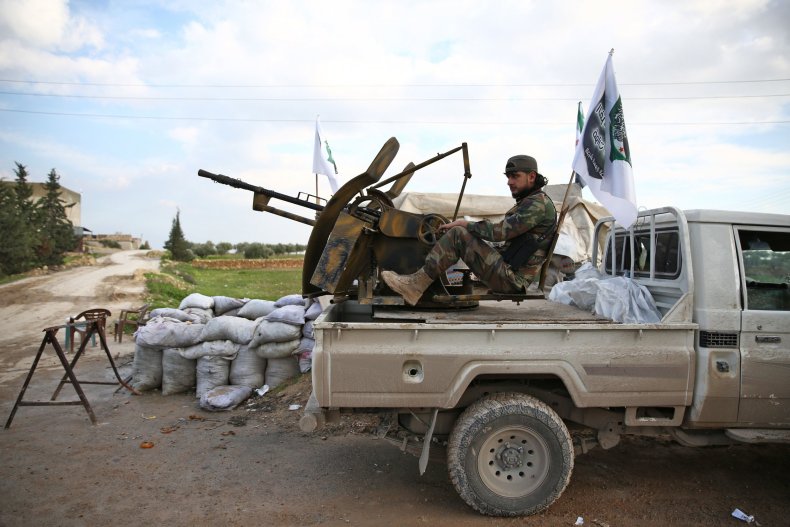 Much of Syria now has been split between the Syrian government, which claims up to three-quarters of the population, and the Syrian Democratic Forces. What remains of the opposition are two adjacent enclaves in the northwest. One is northern Aleppo's district of Afrin that is under direct Turkish control alongside successors of what was once the CIA-backed Free Syrian Army, and the other being mostly located in the province of Idlib, which has become dominated by Al-Qaeda-tied groups such as Haras al-Din and Hayat Tahrir al-Sham, with other groups directly sponsored by Turkey also present.
Turkey has deployed observation posts around Idlib facing the frontlines of pro-Syrian government forces, which have generally allowed Kurdish groups to operate in spite of their U.S. ties. Russia and Iran, which work with Turkey as part of a tripartite peace process, also maintain observation posts in the region.
While limited clashes between the Syrian government and opposition have persisted in this area, the latest major bloodshed has erupted within rival factions of the insurgency itself. Hayat Tahrir al-Sham has reportedly begun to seize territory from other Islamist forces such as Ahrar al-Sham and the formerly U.S.-backed Nour el-Din Zenki Movement, both of which are members of the Turkey-backed National Front for Liberation, in Idlib.