Donald Trump's Debate Performance Fails to Shift the Odds as Joe Biden Remains Overwhelming Favorite
President Donald Trump's performance at the second and final presidential debate in Tennessee failed to move the odds in his favor with Joe Biden remaining the firm favorite among bookmakers to take the presidency, according to a leading betting site.
Oddschecker, which compares dozens of bookmakers, said there was "very little shift at all" in the market overnight on Thursday.
Biden headed into the final debate as the "overwhelming favorite" to win, with his final debate odds of 1-6, implying he had an 85.69 percent chance of coming out on top in Tennessee, Oddschecker said.
By comparison, Trump's odds only implied he had a 36.4 percent chance of winning the debate.
Bookmakers started to cut Trump's odds when the debate turned to how both candidates would handle the foreign policy brief, and specifically China, the betting site said. Of the seventeen bookmakers on Oddschecker's UK site, six of them (35 percent) cut Trump's odds following the segment on China.
By the time both candidates began discussing the minimum wage, 65 percent of bookmakers had cut Trump's odds of winning the election.
However, despite several bookmakers cutting the odds on Trump winning the election, the highest price available did not budge for the president.
Post-debate, Trump could still be backed at 15-8; however, only one bookmaker held that price, compared to three before the event.
Whereas for Biden, while pre-debate only one bookmaker had his odds at 1-2, after the event six bookmakers (out of 17) showcased that price.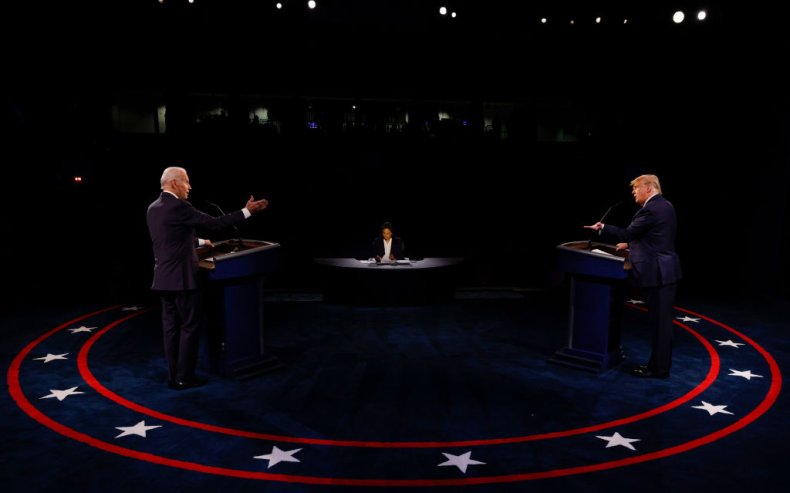 "The muted microphones during the debate had a significant impact on proceedings," said Oddschecker's Sam Eaton.
"The opening exchanges were a lot more civil compared to the chaotic arguing witnessed in the first election debate. Both candidates were asked about future plans to handle the coronavirus pandemic, which was swiftly followed by discussions on reports suggesting Iran and Russia are impacting the November election. As expected it didn't take long before both Donald Trump and Joe Biden started to point fingers regarding relations overseas."
With just 11 days to go until the election, the president continues to lag in the polls and among bookmakers.
However, in a glimmer of good news for Trump, throughout the presidential debate 73 percent of bets were placed on the incumbent winning re-election.
Just 25 percent of wagers went to Biden, while the remaining two percent was made up of more speculative bets on Vice President Mike Pence and Biden's running mate, Kamala Harris.