Donald Trump Declares Sunday National Day of Prayer: 'We Are a Country That Has Looked to God in Times Like These'
President Donald Trump announced that Sunday would be a National Day of Prayer on Friday, not long after he officially declared a state of emergency over the COVID-19 coronavirus pandemic.
After declaring a national emergency, Trump took to Twitter to announce his "great honor" in declaring that a National Day of Prayer would be taking place two days later. An annual National Day of Prayer normally takes place on the first Thursday of May, which falls on May 7 this year, although Trump has previously given other days the designation during emergencies.
"It is my great honor to declare Sunday, March 15th as a National Day of Prayer. We are a Country that, throughout our history, has looked to God for protection and strength in times like these," Trump tweeted. "No matter where you may be, I encourage you to turn towards prayer in an act of faith. Together, we will easily PREVAIL!"
A few hours before the president suggested Americans turn to God for protection against the pathogen, Trump appeared at a press conference to announce that he would be freeing up federal resources to combat the virus by declaring the "two very big words" of "national emergency."
"To unleash the full power of the federal government ... I am officially declaring a national emergency- two very big words," said Trump. "The action I am taking will open up access to up to $50 billion of... very important, a large amount of money for states and territories or localities in our shared fight against this disease."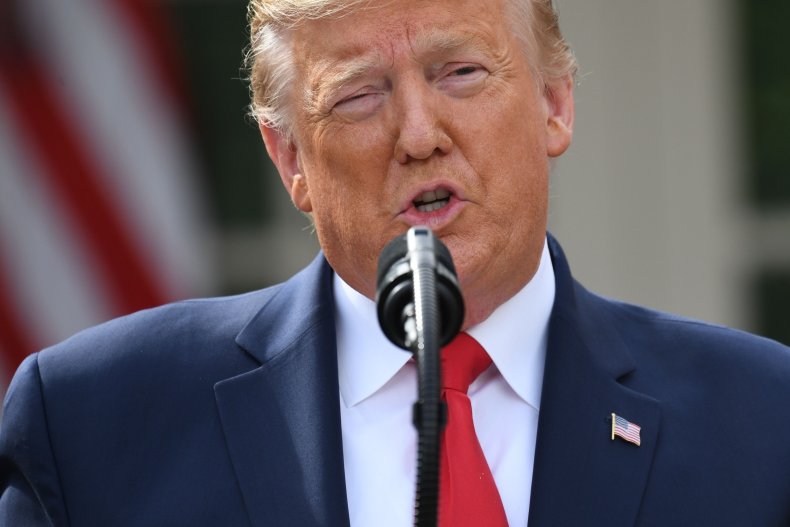 Trump also said he was "likely" get tested for COVID-19 himself, after recently coming into contact with multiple people who have since been diagnosed. However, he was not seen to hesitate in shaking hands with several people invited to speak during the announcement.
The official National Day of Prayer was signed into law by former President Harry S. Truman in 1952. Some critics deemed the observance unconstitutional, arguing that it violates the establishment clause of the Constitution's First Amendment, which says that "Congress shall make no law respecting an establishment of religion, or prohibiting the free exercise thereof.
The Freedom From Religion Foundation, an atheist activist group, launched a series of legal challenges against the law which were ultimately unsuccessful in 2011. A judge ruled that the observance was unconstitutional, but the decision was quickly overturned by an appeals court, who found that the group did not have legal standing to bring the complaint.
Cases of COVID-19 continued to rapidly multiply as of Friday night, with a global total of over 145,000 including more than 5,400 deaths and almost 71,000 recoveries. In the U.S., cases numbered 2,269 including 48 deaths and 41 recoveries.
Newsweek reached out to the White House for comment but did not receive a response in time for publication.