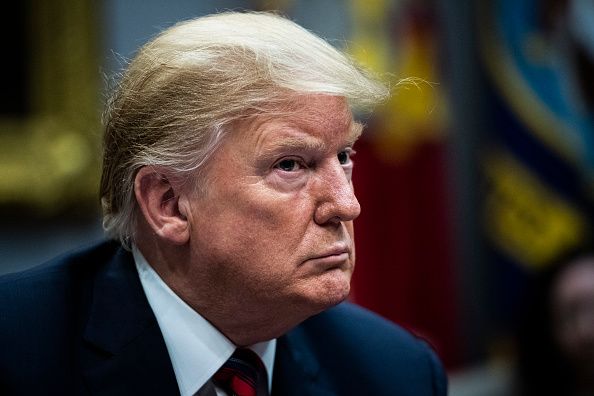 Donald Trump's efforts to get a defamation lawsuit thrown away have been dismissed by an appellate court in New York, which officially rejected the idea that a sitting president cannot be sued in state court.
"Despite the suggestion in his brief that he is the 'embodi[ment of] the Executive Branch,' and though he is tasked with significant responsibilities, the President is still a person, and he is not above the law," the court wrote in their decision on Thursday.
The ruling stems from a defamation lawsuit filed by former Apprentice contestant Summer Zervos, who has accused Trump of making unwanted sexual advances toward her in 2007. On one occasion, she claimed that Trump groped her in a hotel, even after she tried to push him away.
Trump denied the allegation, writing in a statement at the time that he "never met her at a hotel or greeted her inappropriately."
Zervos first came forward about the incidents during the 2016 campaign, after an infamous Access Hollywood tape emerged showing Trump boasting about grabbing women's genitals. Zervos was among over a dozen women to come forward with allegations of sexual misconduct against Trump, who denied the accusations and called all the women liars.
In the lawsuit, Zervos alleged that Trump "wrongly smeared her" and subjected her to threats by claiming that the accusations of sexual misconduct and harassment were lies.
The president's attorneys have said that the case should not go forward while Trump is in office, arguing that the Constitution does not allow state courts to interfere with the operations of the federal government.
But the court ruled on Thursday that the case will move forward, finding that Trump's argument that a sitting president cannot be sued in state court "conflicts with the fundamental principle that the United States has a 'government of laws and not of men.'"
In October, during oral arguments for the case, judges wondered if Trump could be arrested for contempt. But in their ruling on Thursday, the court said that finding the president in contempt would be a "hypothetical scenario that is highly unlikely to occur in the context of this lawsuit."
Zervos's lawyer, Marianne Wang, said in a statement to ABC News that they were "very pleased" at the court's decision.
"We look forward to proving to a jury that Ms. Zervos told the truth about Defendant's unwanted sexual groping and holding him accountable for his malicious lies," Wang added.