Trump, Democrats Deserve Equal Blame for Government Shutdown, Poll Says
President Donald Trump spent much of the government shutdown laying blame on congressional Democrats, accusing them of putting illegal immigrants ahead of the American military. But a poll released Tuesday found he hasn't escaped the public's ire over the shutdown, with Americans saying he's as guilty as his rivals.
Related: Government shutdown 2018: when might the government close next?
The NBC News/SurveyMonkey poll found that a majority of Americans fault either Trump or Democrats for the shutdown, with congressional Republicans emerging rather unscathed. Of the 3,450 adults polled between January 20-22, 39 percent said Democrats are "more to blame" for the shutdown, and 38 percent pointed to the president. Just 18 percent said Republicans were most responsible for the gridlock.
The blame game was split among party lines, with 85 percent of Republican respondents blaming Democrats and 95 percent of Democrats blaming either Trump or the GOP. Among independents, the numbers favored Democrats, with 64 percent faulting either the president or Republicans and just 31 percent pointing their finger at Democrats.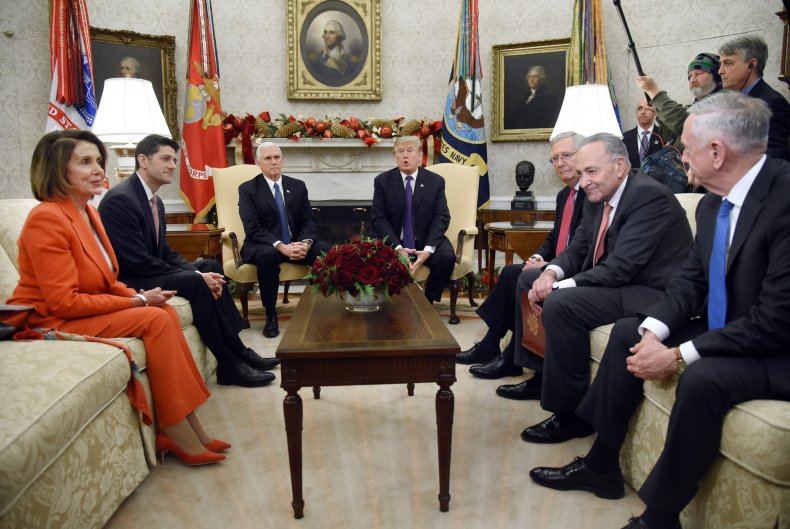 Sixty percent said the president did not show "strong qualities of leadership" during the weekend shutdown, while just 37 percent gave him a vote of confidence.
The government shuttered Friday at midnight after Democrats and Republicans were unable to reach a funding agreement. The main issue that separated the two parties was DACA, the Deferred Action for Childhood Arrivals program, which allows undocumented immigrants brought into the country to register with the government and remain in America. Trump in September said he would end the program if Congress could not pass immigration reform to replace it in six months.
A temporary funding deal was reached Monday, reopening the government through February 8, but the chance of another shutdown looms in just three weeks if no deal is reached.
During the shutdown, Trump constantly blamed the Democrats, firing off tweets accusing them of cheating the American people.
"Democrats are far more concerned with Illegal Immigrants than they are with our great Military or Safety at our dangerous Southern Border. They could have easily made a deal but decided to play Shutdown politics instead. #WeNeedMoreRepublicansIn18 in order to power through mess!" he tweeted Saturday.
Once the deal had been struck, Trump on Twitter said the Democrats had "caved."